A Classic Chilled Soup
By Andrew Zimmern
I add Worcestershire sauce, Tabasco and fresh herbs to this gazpacho, giving extra layers of flavor to the classic summer soup. This gazpacho recipe is popular in my house, during the warm weather months I always have a pitcher of this addictive soup on hand in the fridge. It's refreshing, healthy and great as a snack.
Like this recipe? Save it on Pinterest!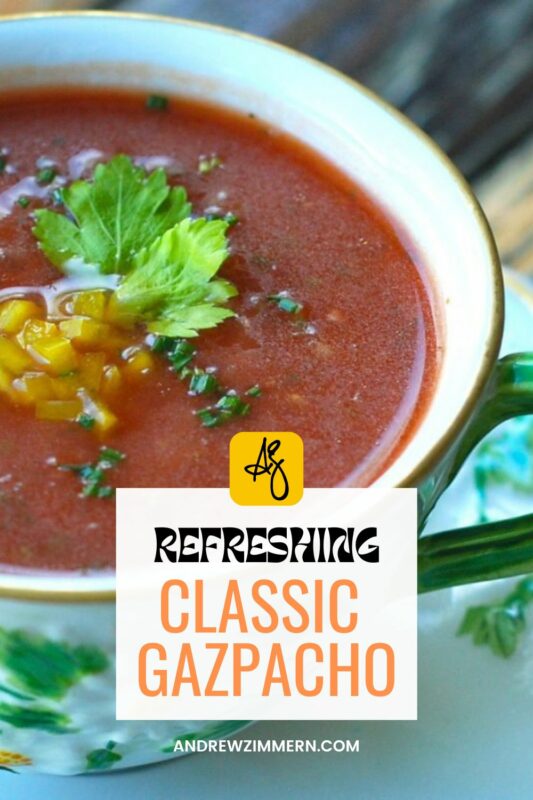 Gazpacho
---
Ingredients
7 medium tomatoes (about 3 pounds), peeled and seeded
2 cucumbers (about 1 pound)—peeled, halved, seeded and coarsely chopped
1 green bell pepper, coarsely chopped
1 small red onion, coarsely chopped
4 garlic cloves, chopped
1/4 cup chopped parsley, plus whole leaves for garnish
6 basil leaves
1 teaspoon dried basil
1 teaspoon dried oregano
1/2 cup extra-virgin olive oil
1/4 cup red wine vinegar
1  1/2 tablespoons Worcestershire sauce
2 tablespoons fresh lemon juice
1 tablespoon Tabasco
One 46-ounce jar tomato juice
Salt
Freshly ground black pepper
Finely chopped yellow bell pepper and snipped chives, for garnish
Instructions
In a large bowl, toss the tomatoes with the cucumbers, green bell pepper, onion, garlic, chopped parsley, fresh basil, dried basil, oregano, olive oil, vinegar, Worcestershire sauce, lemon juice and Tabasco.
In a blender, puree the mixture in batches until nearly smooth. Transfer to a large bowl. Stir in the tomato juice and season with salt and pepper. Refrigerate the gazpacho for at least 4 hours or overnight.
Season the soup again if necessary and transfer to bowls. Garnish with yellow bell pepper, chives and parsley leaves and serve.
MAKE AHEAD The gazpacho can be refrigerated for up to 2 days.
Originally published in Andrew Zimmern's Kitchen Adventures on foodandwine.com.
Photograph by Stephanie Meyer.