Flan de Huevo
By Katie Button
Flan is the classic Spanish dessert found all over the country. This recipe is unadulterated because I love the pure, simple flavor of eggs with milk and sugar. I add just a bit of lemon peel to give the custard more complexity and a bright citrus note.
Recipe from the book CÚRATE by Katie Button with Genevieve Ko.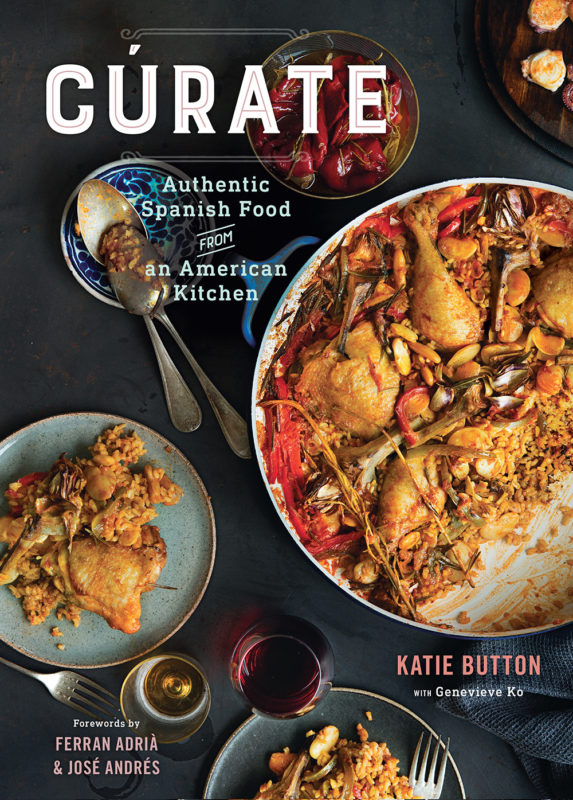 Spanish Egg Flan
---
Ingredients
2  1/2 cups sugar, divided
3 cups whole milk
2 strips lemon zest, removed with a vegetable peeler
1/8 teaspoon salt
6 large eggs
2 large egg yolks
Instructions
Preheat the oven to 325°F. Place a 9- by 5- by 4-inch loaf pan inside a 9- by 13-inch baking dish or pan. Bring a large kettle or pot of water to a boil.
Stir 1 cup sugar and 2 tablespoons water in a medium saucepan over medium heat until well-combined. Cook, without stirring but brushing and sugar crystals off the sides of the pan with a wet pastry brush, until deep amber in color. Swirl the pan occasionally to caramelize evenly. Immediately pour into the loaf pan and tilt the pan to evenly coat the bottom and a few inches up the sides.
Bring the milk, lemon zest, salt, and ¾ cup sugar to a simmer in a large saucepan. Meanwhile, whisk the eggs and yolks with the remaining ¾ cup sugar in a large bowl. Continue whisking while adding the hot milk mixture in a slow, steady stream. Strain through a fine-mesh sieve into a 2-quart liquid measuring cup or bowl with a spout. Skim any foam on the surface. Pour into the caramel-lined pan. The mixture will come all the way to the top. Very carefully place the dish in the oven, then carefully pour the boiling water into the dish so that it comes halfway up the sides of the loaf pan.
Bake until just set, but still slightly wobbly in the center, about 1 hour and 5 minutes.
Carefully remove the flan from the water and cool on a wire rack for 30 minutes. Refrigerate uncovered until cold and set, at least 8 hours or up to 3 days.
To unmold, run a sharp knife around the edges. Center a serving plate on top of the pan and carefully and quickly flip the pan and plate together. Lift off the pan and let the caramel run all over the top.
Excerpted from the book CÚRATE by Katie Button with Genevieve Ko. Copyright © 2016 by Katie Button with Genevieve Ko. Reprinted with permission from Flatiron Books. All rights reserved. Photography by Evan Sung.
• Flan with Caramel & Orange
• Creme Caramel with Cheese
• Greek Yogurt Panna Cotta with Strawberries