Berenjenas Fritas
By Katie Button
Traditionally, this Andalusian dish is served with cane syrup, but I think honey has a more complex flavor. Throughout Spain, there's a range of honey as varied as the landscape. Any type accents the salty crisp shell of these eggplant rounds. My personal touch here is the rosemary leaves, which bridge the savory bite of eggplant with the sweetness of honey. The salty-sweet crunch of this dish makes it the ideal appetizer to any summer or fall meal.
Recipe from the book CÚRATE by Katie Button with Genevieve Ko.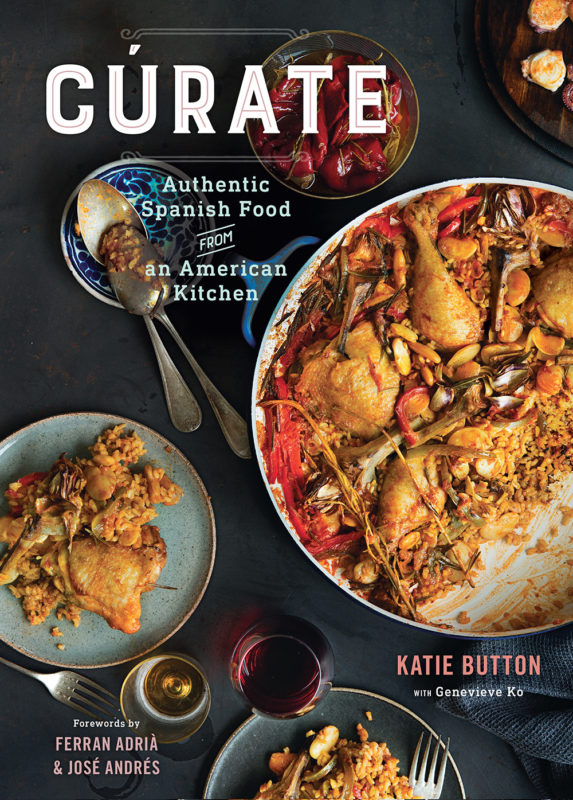 Fried Eggplant with Rosemary & Honey
---
Ingredients
2 to 3 cups whole milk
1 medium eggplant
2 to 3 cups vegeta­ble oil
1/2 cup all-purpose flour
1/4 cup pure honey
1 rosemary sprig
Kosher salt
Instructions
Pour the milk into a medium bowl. Trim the top and bottom of the eggplant, then peel. Cut the eggplant into 3/8-inch-thick slices. As you slice the eggplant, put the slices into the bowl with the milk. You should get about 12 slices, but it's fine to have more or less. The milk should cover the eggplant. If it doesn't, add more. Weigh down the eggplant with a heavy plate that fits snugly over the bowl to keep the eggplant submerged. Cover with plastic wrap and soak overnight in the refrigerator.
When ready to cook, fill a large skillet with the vegetable oil. It should be about ½ inch deep; if not, add more. Heat the oil over medium heat un­til an instant-read thermometer registers 350°F. A pinch of flour should sizzle when it hits the oil.
Spread the flour on a plate. Drain the egg­plant. Dredge a slice in the flour and tap off the excess. Carefully drop into the hot oil. Repeat with more eggplant slices, being careful to not crowd the pan. Fry, turning once, until golden brown, 2 to 3 minutes per side. The eggplant shouldn't get too dark; reduce the heat if needed. Transfer to a wire rack to drain and immediately sprinkle with salt and drizzle with honey. Repeat with the remaining eggplant and flour.
Arrange the fried eggplant on a serving plate. Top each piece with 2 to 3 rosemary leaves. Serve immediately.
Excerpted from the book CÚRATE by Katie Button with Genevieve Ko. Copyright © 2016 by Katie Button with Genevieve Ko. Reprinted with permission from Flatiron Books. All rights reserved. Photography by Evan Sung.
• Fried Artichokes with Lemon Aioli
• Chicken Paella with Artichokes
• Scallops with Jamon Iberico Fat & Vinaigrette