By Andrew Zimmern
The end of summer in Minnesota means prime tomato and corn season! This sweet corn succotash with pan con tomate is the perfect way to cap off an amazing harvest season and highlight the produce at its peak flavor.
Like this recipe? Save it Pinterest!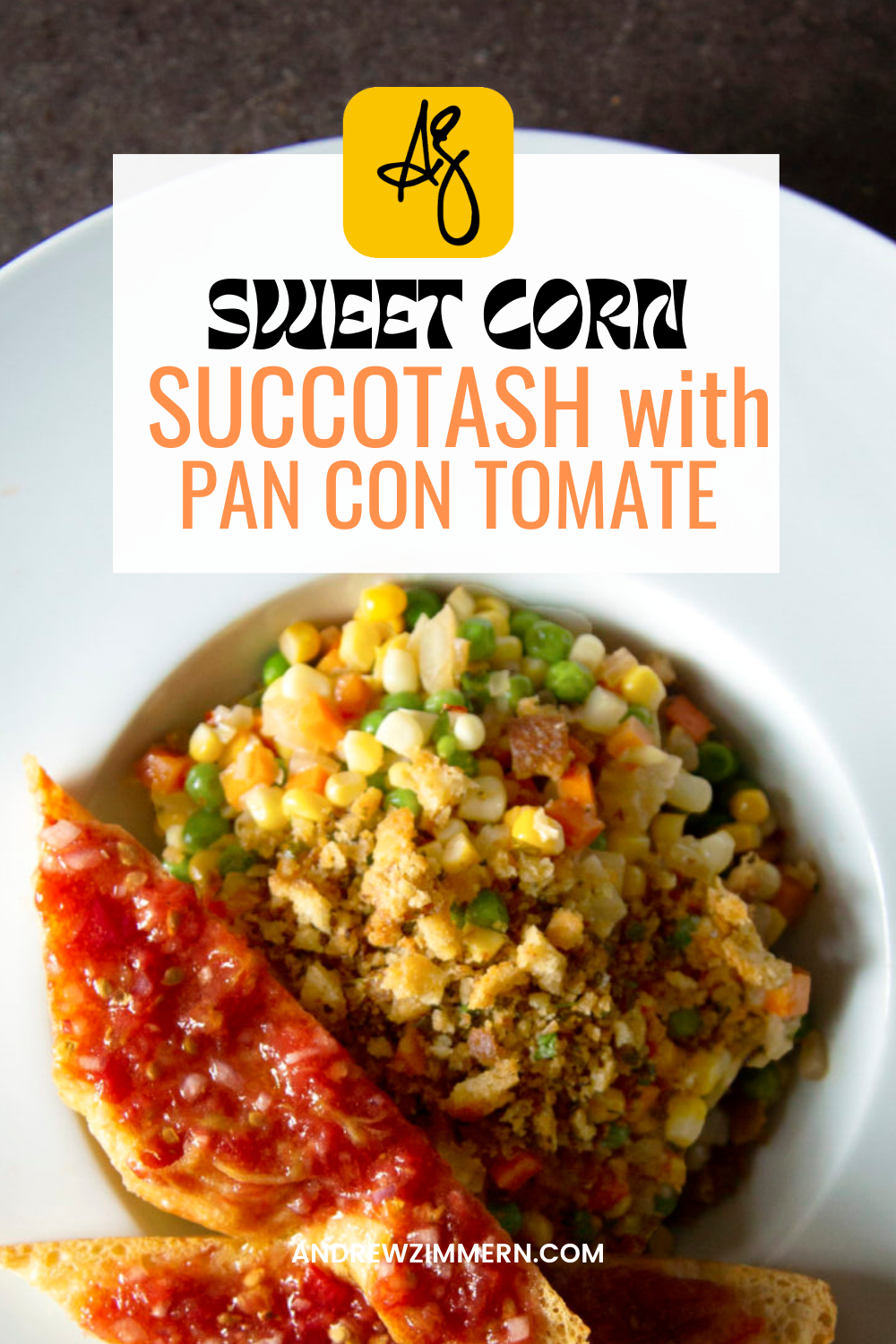 Sweet Corn Succotash with Pan Con Tomate
---
Ingredients
The Succotash
4 tablespoons butter
1  1/2 cups diced onion
Several sprigs marjoram
Several pinches thyme
Several pinches chile flakes
1 cup diced carrots
1 cup diced fennel bulb
3 cups corn kernels cut from the cob
1/4 cup heavy cream
1 cup fresh green peas, blanched
Salt and pepper
Pan Con Tomate
4 or 5 whole large heirloom tomatoes
1 teaspoon sea salt
1 large shallot, finely minced
1/4 cup olive oil
1 small loaf focaccia, cut into 4-5" strips
Instructions
Place the butter over high heat in a large saute pan. When foaming add the onions, herbs, chile flakes and carrots.
When caramelized add the fennel and corn, cook for several minutes and add the cream. Cook for a few minutes more and add the beans/peas, heat through, season with salt and pepper and serve, sprinkling with my lemony breadcrumbs.
To make the pan con tomate: preheat the oven to 475 degrees F.
Grate the tomatoes on a box grater, starting with the bloom end against the large holes and the stem end in your palm. Discard the skins and stem plugs. Lightly drain for 30-45 seconds and reserve the juice.
Place the pulp in a small bowl and add the salt, oil and shallots. Set aside while you make the toasts. Do NOT refrigerate.
Brush the focaccia with olive oil. Place on a baking tray. Bake until well browned in a 475 degree oven.
Rub each piece of toast with a cut raw garlic clove. Spoon tomato mixture onto each piece of toast and serve immediately.