Grilled Paella with Shrimp, Mussels & Clams
Paella is traditionally cooked over an open fire. The crust develops superbly, while the aroma and flavor of the fire convect into the open pan. Grilled paella may seem intimidating, but it's easy to accomplish if you follow a few simple rules. Make sure you have all of your ingredients prepped and set up by the grill before you start cooking. Use a wide flat-bottomed paella pan or sauté pan, placed over an even bed of hot coals. Keep a watchful eye on it as it cooks. To develop the prized socarrat, or crispy rice crust, stop stirring about halfway through the cooking process. It's a versatile one-pot meal, feel free to use any combination of vegetables and proteins that you like—chicken, rabbit, shellfish, squid, lamb, snails, artichokes, peas and mushrooms are all excellent in paella.
Watch Andrew make this recipe:
Like this recipe? Save it on Pinterest!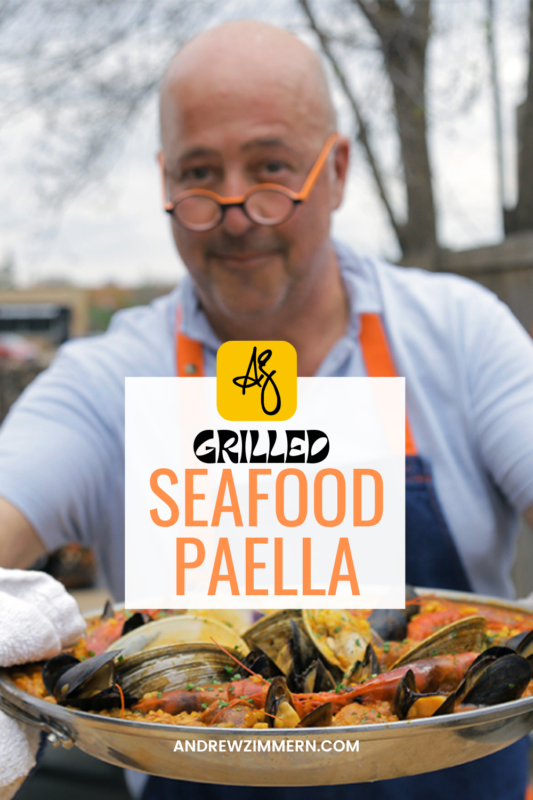 Grilled Paella with Shrimp, Mussels & Clams Recipe
---
Ingredients
3 tablespoons olive oil
1 small onion, minced
1  1/2 cups short grain Spanish rice, such as Valenciano or Bomba
2 pinches of saffron
2 tablespoons chives, minced
2 tablespoons parsley, minced
2 tablespoons tomato paste
3 cups clam juice
3 cups chicken stock
1 tablespoon smoked paprika
1/2 pound fresh chorizo, cut into 1-inch chunks
3 to 4 large cherrystone clams (or more if using smaller clams)
1 pound red carabinero shrimp, or other whole shrimp
1/2 pound mussels, scrubbed and beards removed
Instructions
Prepare a grill for medium direct cooking. For a charcoal grill, light a chimney full of natural hardwood charcoal. When white hot, spread evenly over the base of the grill.
Place a 12-inch paella pan or two-handled sauté pan in the middle of the grill. Add the olive oil and onions. Cook for a couple minutes, then add the rice. Stir, to evenly coat the rice with the oil, then add the saffron, chives, parsley and tomato paste. Stir, cooking until ingredients become toasty and aromatic.
Next, pour in half of the clam juice and half of the chicken stock, reserving the rest to add as needed throughout the cooking process. Bring to a simmer, then add the smoked paprika and chunks of chorizo. Season with salt and simmer for 5 minutes.
Add the clams and cook for another five minutes. At this point you want to stop stirring the paella so that it can develop a nice crust, called the socarrat. Continue to cook the rice until al dente and clams begin to open. Nestle the shrimp and mussels into the pot, and add an additional 1/4 cup of liquid at a time until mussels are open and rice is cooked—another 5 to 7 minutes. Rice should be just past 'toothy' but not mushy and the remaining liquid should have nice creamy saucy texture.
Garnish with additional herbs and serve!