A Vibrant Raw-Fish Salad
I first tasted this dish on the island of Cat Hai, off the Vietnamese coast. My crew and I fell into a small restaurant that was really the front porch of a family home. They walked us out back to their "kitchen," pointed at a few raw ingredients and looked at me. I waved my arms in the international traveler's code indicating "all of it."
Over the next hour, we had a superb sour fish soup, chicken in hot chiles with lemongrass, small fresh shrimp spring rolls, smaller fried pork and bean thread egg rolls, grilled fish and this salad. I have made it ever since. You can also make this dish with shrimp, salmon, crab, snapper or scallops. I think that the Asian fish salad concept—combining vegetables and fish with bold seasonings, like toasted rice powder, lime, fish sauce and chiles—is one of the world's truly great food genres, and it gives the cook a ton of leeway when it comes to playing with his food.
Like this recipe? Save it on Pinterest!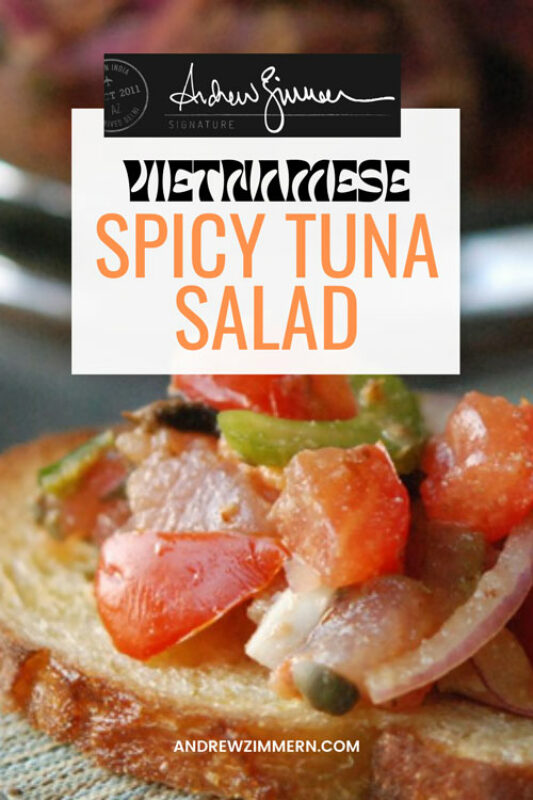 Vietnamese Spicy Tuna Salad
---
Ingredients
1  1/2 tablespoons fresh lime juice
Half of a 14-ounce can hearts of palm, drained and thinly sliced crosswise (about 1 cup)
2 tablespoons Asian fish sauce
2 tomatoes, cut into 1/2-inch dice
1/4 cup olive oil
2 tablespoons roasted rice powder, for garnish (optional; see Note)
1 teaspoon finely grated lime zest
3 celery ribs, thinly sliced
1 teaspoon sugar
3 tablespoons salt-packed capers—rinsed, soaked in water for 1 hour, drained and coarsely chopped
2 serrano chiles, seeded and coarsely chopped
1 small red onion, quartered and thinly sliced
2 ancho chiles, soaked in hot water for 25 minutes and drained
Salt
Fresh mint and cilantro leaves, for garnish
1 tablespoon vegetable oil
2 pounds center-cut, sushi-grade tuna steaks, cut into 1/2-inch dice
Baguette toasts or sticky rice, for serving
Instructions
Remove the stem and seeds from the ancho chiles and pat dry. In a small skillet, heat the vegetable oil until shimmering. Add the anchos and fry over moderately high heat, turning once, until blistered and fragrant, about 2 minutes. Blot the anchos with paper towels and transfer them to a food processor. Let cool.
Add the serrano chiles, fish sauce, lime zest and juice and sugar to the food processor and puree until smooth. With the machine on, drizzle in the olive oil. Season with salt and transfer to a large bowl.
Add the tuna, onion, tomatoes, celery, hearts of palm and capers to the chile dressing and toss well to coat. Season with salt. Cover and refrigerate for at least 20 minutes.
Transfer the salad to a serving dish. Sprinkle with the rice powder and garnish with mint and cilantro leaves. Serve chilled, with toasts or sticky rice.
Notes
Roasted rice powder, known as khao kua pon in Thailand, is popular in East Asian cooking for its toasty flavor and its binding effect. It's available at Asian markets. Or, you can make it: In a small skillet, toast raw glutinous (sticky) rice over moderately high heat, stirring occasionally, until golden brown and fragrant, 3 to 4 minutes. Transfer the rice to a mortar or spice grinder and let cool completely. Grind the rice to a coarse powder.
Originally published in Andrew Zimmern's Kitchen Adventures on foodandwine.com.
Photograph by Stephanie Meyer.