I'm thrilled to share my new Knife Skills video series, presented by Shun Knives.
We've been working on this series of 10 videos for months, and I think you're going to love them. A nice, sharp knife makes such a huge difference. But the thing is, you also need to know how to use it. Food cut correctly just tastes better. The texture is better, and it looks better (we all know we eat with our eyes first).
Shun has been my knife of choice for decades.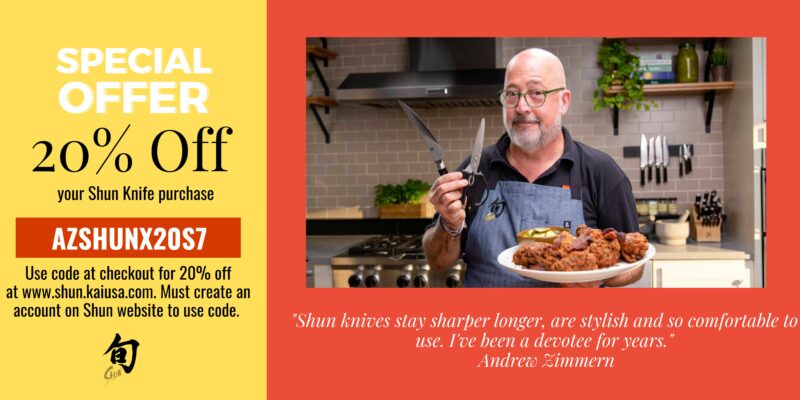 And I'm not the only one— Kai Corporation, the makers of Shun, started over 112 years ago. Shun handcrafts each knife in Seki City, Japan. Each piece of this fine kitchen cutlery takes at least 100 individual steps to complete. But this isn't your grandma's knife; they've evolved to take advantage of thoroughly modern, premium materials and state-of-the-art technology. They're beautiful, they work, and most importantly, they last.
Over the next 10 weeks, I'll be sharing these knife skills videos. From breaking down a chicken and chopping onions, to making a stunning charcuterie board, you're going to learn a lot.
Knife used in this video:
Shun's 6.5" Master Utility Knife
If I could only use one knife in this recipe, it's this one. I love using this knife to julienne/chiffonade for a variety of reasons. First, it's a short blade, in terms of top to bottom. I can choke up on it, just like you would with a baseball bat, which gives me more control. The nose has a slight point, which makes slicing the knife through vegetables easy.
TL; DR: This is a comfortable knife.
In this video, you'll learn:
The easiest way to rehydrate rice paper.
Why choking up on a knife is important.
Proper hand position so you don't cut your finger tips.
How to thinly slice peppers.
How to chiffonade.
How to make matchstick cuts.
How to mince.
How to julienne (plus my best tip for julienning carrots).
How to slice shrimp in half.
Tips & Tricks:
Go slow! This is not a race, and nothing wrecks your pace like a trip to urgent care. Once you master these moves, you can start going faster.
Don't over-stuff your spring rolls. They will burst, and no one wants that. If you have leftover fillings, make a salad tomorrow. Or more spring rolls!
Like this post? Save it on Pinterest!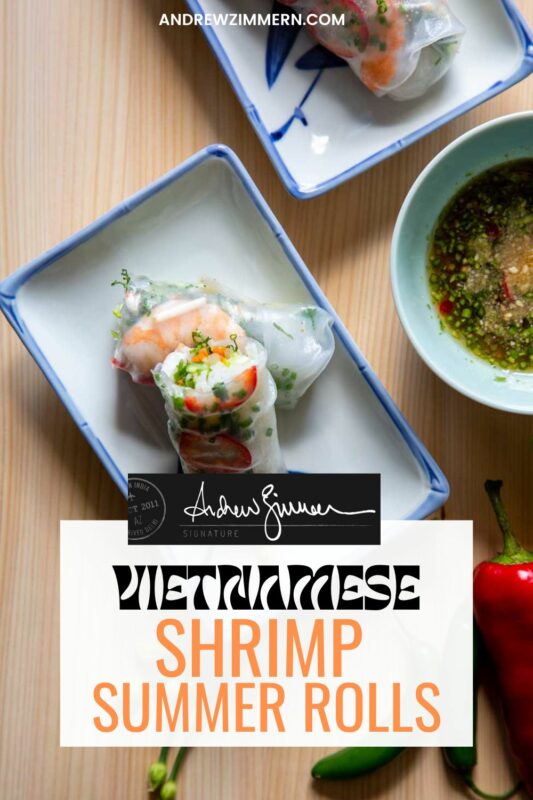 Vietnamese Shrimp Summer Roll Recipe
---
Ingredients
For the Nuoc Cham
1/2 cup sugar
1/4 cup water
1/4 cup fish sauce, or more to taste
Juice of 2 limes, or to taste
1 fresh red chile, minced (use a hot one!)
2 tablespoons sesame seeds, toasted and ground
3 tablespoons scallions, minced
For the Summer Rolls
1 head romaine lettuce, in chiffonade
1/2 bunch mint, in chiffonade
1/2 bunch cilantro
8 ounces fresh bean sprouts
4 tablespoons peanuts, toasted and ground
1 cucumber, seeded and julienned
2 carrots, peeled and julienned
2 cups rice stick noodles, cooked and cooled
1 pound cooked shrimp, cut in half lengthwise
Fresh garlic chives, cut an inch longer than the width of your final rolls
8-inch Banh Trang rice paper sheets
Instructions
First, make the dipping sauce. Bring the sugar and water to a boil in a small pan, cool. Stir in the fish sauce, lime juice, chiles, ground sesame seeds and scallions. Reserve.
Next, prepare all of your spring roll stuffings. Julienne the lettuce. Pull leaves from mint and cilantro. Wash and dry the bean sprouts. Toast and grind the peanuts. Julienne the cucumber and carrots. Cook the rice stick noodles according to the directions on the package. Cut the shrimp in half lengthwise. And finally, place all of the fillings on a tray, so it's easy to grab them while you make your spring rolls.
Wet a paper towel and place on the counter or cutting board. Place one rice paper sheet on top of the wet paper towel. Top with another wet paper towel, and continue alternating paper towels and remaining rice paper sheets until you have a big stack in front of you. (Alternatively, you can work one at a time, allowing each rice paper to sit in warm water until soft.)
Place refreshed rice paper on a work surface covered with a damp towel in front of you. Place a small portion of noodles on the bottom third of the sheet, along with lettuce, herbs, a pinch of ground peanuts, a scattering of bean sprouts, a couple pieces of julienned carrot and cucumber.
Roll, burrito style, top to bottom, folding in the sides of the rice paper as you roll. Add the halved shrimp cut side down, after you've made the first rolling motion so when they are served you can see them through the translucent skins. Add a few chives at this point (they should be cut so they extend over the edges). Keep rolling the wrapper in a cylinder until it is sealed.
Serve with the dipping sauce.