Celebrate spring with this delicious and easy Spanish classic.
I love paella. It's easy and more forgiving than risotto for the home cook. Paella is typically cooked over an open fire. I often do mine on my grill, over cherry and hickory hardwood coals. The crust develops superbly, while the aroma and flavor of the fire convect into the open pan.
That being said…for the past three months I have cooked paella indoors and while it's not the same, it's still an A-minus, and that's pretty awesome. If you can do it outside, go for it. If not, you will still be thrilled.
My last thought: I often add Spanish chorizo or other sausage to this recipe because the pairing of sausage and shellfish is a sublime combination and muy auténtico as well.
Like this post? Save it on Pinterest!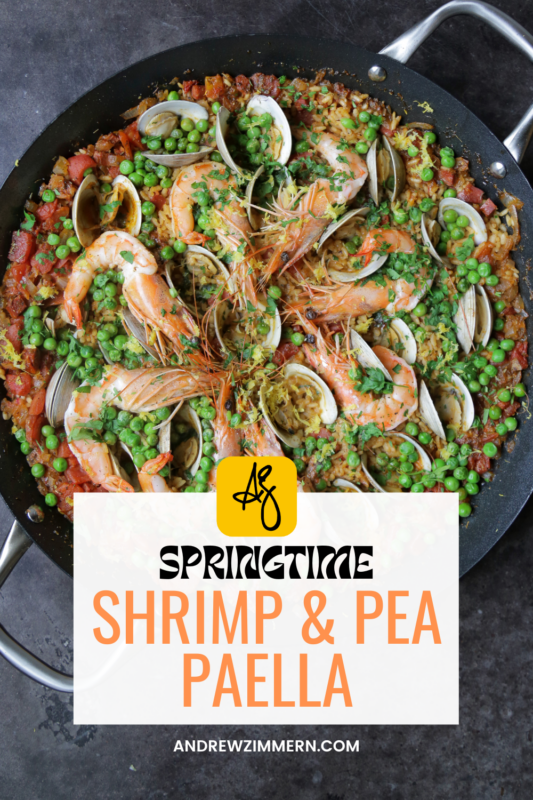 Spring Paella with Shrim, Peas & Morels
---
Ingredients
1 ounce dried morels
Hot water
3 tablespoons extra-virgin olive oil
1 pound large head-on shrimp
Kosher salt
Freshly ground pepper
1 small onion, minced
2 garlic cloves, minced
Small pinch of saffron
1 cup Bomba rice (see Note)
1 tablespoon tomato paste
1 teaspoon Pimentón de la Vera (sweet smoked Spanish paprika)
2 cups fish stock or clam juice
2 cups chicken broth or low-sodium stock
1 cup frozen peas, thawed
1 tablespoon finely chopped parsley
1 tablespoon finely chopped chives
Instructions
In a medium heatproof bowl, cover the morels with hot water and let stand until softened, about 15 minutes. Lift the morels out of the soaking liquid and rinse under water to remove any grit; discard the liquid or strain and reserve for another use. Half the morels lengthwise and pat dry.
In a large skillet, heat 1 tablespoon of the olive oil until shimmering. Add the shrimp, season with salt and pepper and cook over high heat, turning once, until nearly white throughout, about 3 minutes total. Transfer to a plate.
Wipe out the skillet and heat the remaining 2 tablespoons of olive oil in it. Add the morels, onion, garlic and saffron and cook over moderate heat, stirring, until the onion is softened and just starting to brown, 3 to 5 minutes. Add the rice, tomato paste and pimentón and cook, stirring, until glossy and the rice is opaque, about 2 minutes. Stir in the fish stock and chicken broth and bring to a boil. Simmer over moderate heat until nearly all of the liquid is absorbed, about 15 minutes. Fold in the peas, then nestle the shrimp on top and cook for 4 minutes longer. Season the paella with salt and pepper, scatter the parsley and chives on top and serve.
NOTES  Bomba rice, also called Valencia rice, is a short-grain rice with a pearly color. It's highly absorbent, so it's often used to make paella.
Photograph by Madeleine Hill.
• Simple Shellfish Paella
• Catalan Noodle Paella
• Asopao with Chicken & Shrimp