Cape Gooseberry Preserves
By Madeleine Hill
I was introduced to cape gooseberries (a.k.a. ground cherries) last year at Empellón Taqueria in NYC. Paired with shrimp and chipotle oil, I was instantly hooked on the fruit that was an undefinable cross between cherry tomatoes and pineapple. Native to South America, they're not related to cherries or gooseberries of the Indian or Chinese variety, but rather tomatillos. Like a tomatillo, the cape gooseberry has a husk that turns papery on maturation and is easily pulled back to reveal the orange-yellow round fruit filled with edible seeds. After scouring the city, I found a few to plant in my garden last spring, and have been pleasantly surprised by the yield, even well into October. Beyond eating them raw, this easy, citrusy jam is my favorite way to use up the harvest.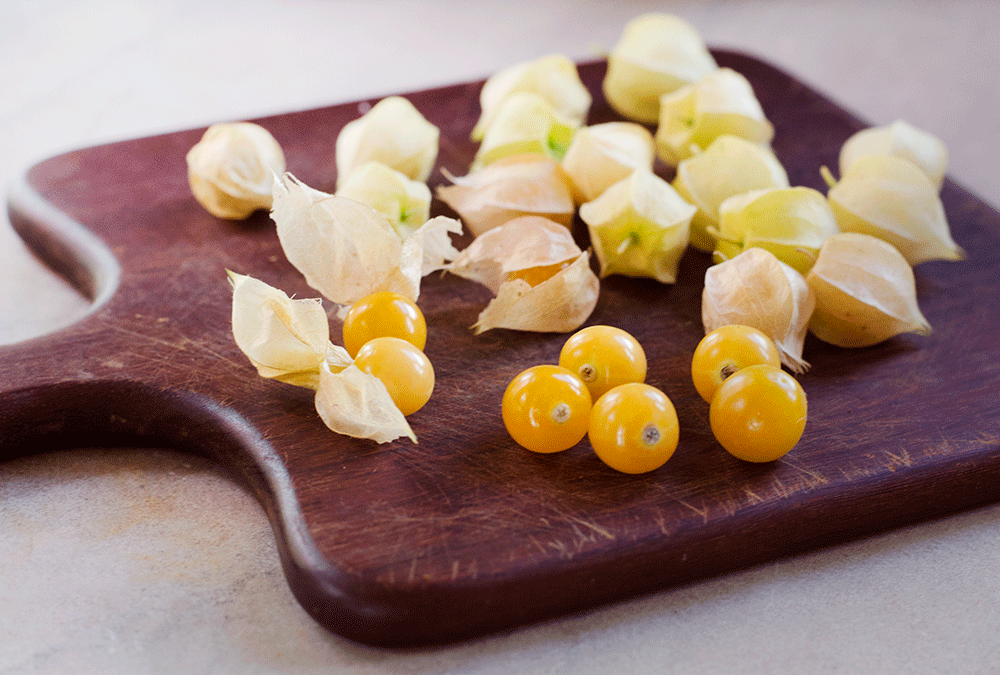 Easy Cape Gooseberry Preserves
---
Ingredients
4 cups cape gooseberries, husked
1 lemon, juice and zest
1  1/2 cups sugar
Instructions
SERVINGS: YIELDS 5 QUARTER-PINT JARS
Combine the cape gooseberries, juice and zest of one lemon, and sugar in a heavy-bottomed sauce pan over medium heat. Bring to a boil, stirring occasionally, and reduce heat to maintain a simmer for 30 to 40 minutes. You can mash the gooseberries toward the end if you want a smoother jam, but I love the textural quality of leaving some of the fruit whole.
Pour the preserves into sterilized canning jars. Seal the jars, then submerge them in a pot of water and boil for 5 minutes. Carefully remove the jars and let cool. Check the lids to make sure they've fully sealed; refrigerate any jars with imperfect seals. The jam will keep in the fridge for several months, so you can skip the canning process and simply refrigerate your final product after it's cooled to room temperature.
Photographs by Madeleine Hill.
• Strawberry-Vinegar Jam
• Rhubarb Marmalade with Figs & Lemon
• How to Make Apple Butter