Bitter Greens Citrus Salad
By Andrew Zimmern
This is what I call my "house" salad, the one I serve most often that pairs well with almost anything. It's a base of bitter greens, like radicchio, frisee and endive, topped with grapefruit and orange slices, red onion, fresh dill and a slightly sweet citrus vinaigrette to balance it all out. For a nice textural crunch, I add a healthy dose of seasoned breadcrumbs. Make a double batch of these lemony-herb breadcrumbs and keep the leftovers in your freezer, they'll transform your salads, pastas, roast vegetables, you name it.
Watch me make this recipe:
Watch Me Make Crispy Breadcrumbs:
Like this recipe? Save it on Pinterest!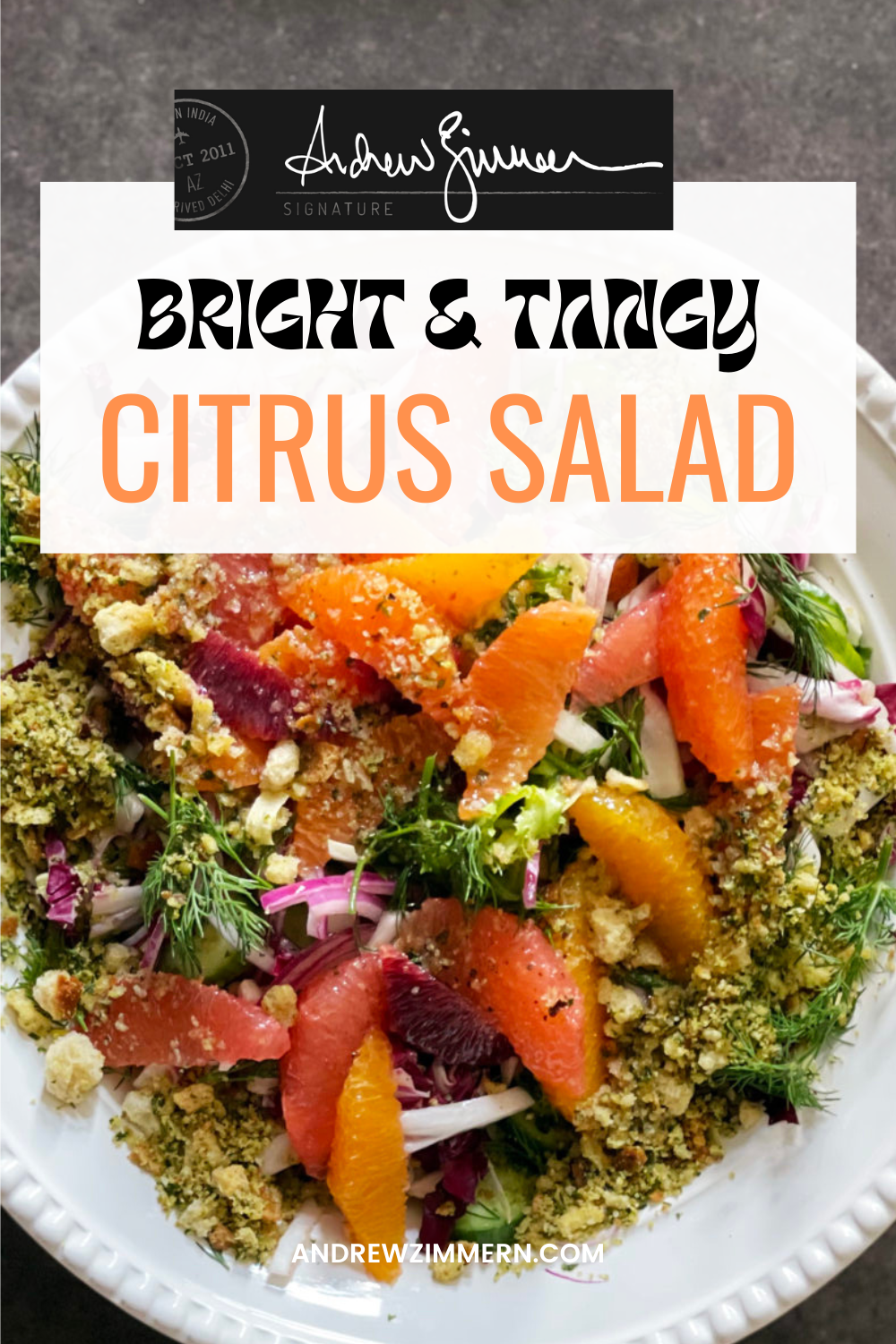 Bitter Greens Citrus Salad Recipe
---
Ingredients
Bitter Greens Salad
4 heads endive, sliced thinly, cores discarded
1 head frisee, trimmed, root end discarded
1 small red onion, halved and sliced
2 cups of julienne radicchio
3 Persian cucumbers, sliced
Assorted orange and grapefruit supremes, juice reserved
Fresh dill
1 cup seasoned breadcrumbs (try my lemon and herb breadcrumbs)
Citrus Vinaigrette
1/2 cup citrus juice from the supreme process
2 tablespoons honey
1/4 cup citrus vinegar
1/2 cup olive oil
1 tablespoon Dijon mustard
Salt
Freshly ground black pepper
Instructions
Arrange all of the bitter greens in a large salad bowl. Top with sliced red onion, Persian cucumbers, citrus supremes, fresh dill and the seasoned breadcrumbs.
To make the citrus vinaigrette, place the juice, honey, vinegar, olive oil and mustard in a canning jar or salad cruet. Season with salt and pepper. Shake to mix well. Taste and adjust seasoning as needed.
Drizzle the dressing over the salad to taste. Reserve remaining vinaigrette in the refrigerator for another use. Serve immediately.