Banana Pudding with Swiss Meringue Recipe
By Andrew Zimmern
Banana pudding is one of my all time favorite desserts. It helps that this crowd pleaser is super easy to put together and can be made in advance. Top it with meringue for a dramatic presentation, or keep it simple with a dollop of whipped cream.
Tips for Making Great Banana Pudding:
Unless you're an amazing baker with lots of time on their hands, the good folks at Nilla Wafers have already truly mastered this cookie. Every chef in the south makes it this way. If it ain't broke…
You can top with homemade whipped cream, but I prefer a meringue. It's super easy to make and so delicious. Plus you get to use a blowtorch.
Use an offset spatula to spread the meringue. Use a warm cloth to wipe down the side of the bowl. Use your fingers to pinch and drag meringues into points.
Tricks to keep bananas from turning brown:
Pick bananas that are flavorful, but not overly brown. Light brown specks are good, but if they are too soft, they will oxidize. AKA this is how you help keep the banana pudding from turning brown.
Try to cut bananas and assemble anywhere from zero to four hours before serving. The longer it sits, the more oxidization happens. You can also rinse the bananas with a little club soda. Don't use citrus– it helps keep them from browning, but makes your banana pudding taste like lemon. No thanks.
Watch me make this Banana Pudding Recipe:
Like this banana pudding recipe? Save it on Pinterest!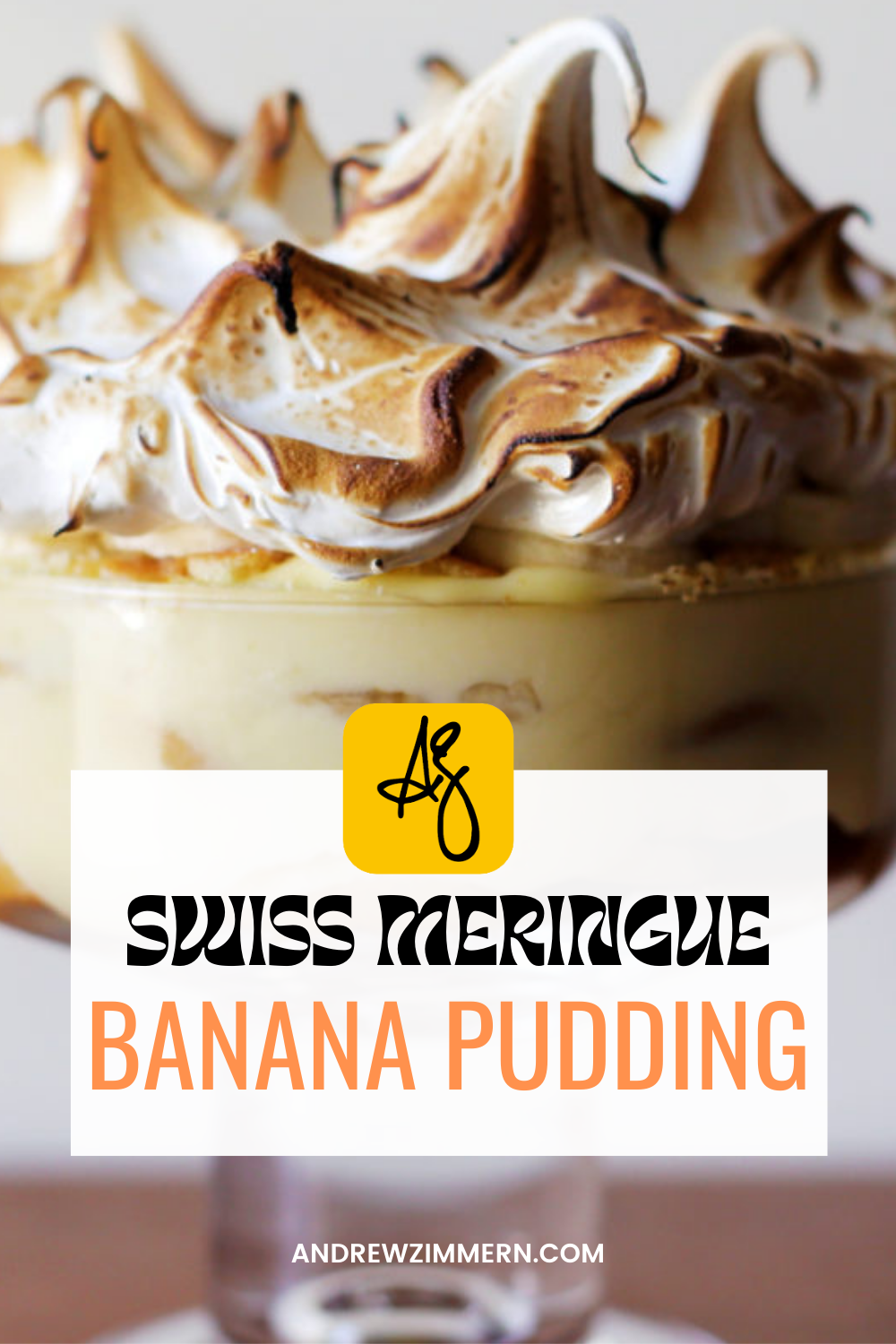 Banana Pudding Recipe
---
Ingredients
2 cups whole milk
1 cup heavy cream
1 egg plus 2 egg yolks
3/4 cup sugar
4 1/2 tablespoons cornstarch
5 tablespoons butter, cut in small dice
1 tablespoon vanilla extract
Pinche(s) of salt
1 box Nilla brand wafers… crucial
4 large bananas, sliced (use ripe, but not overly ripe bananas)
Meringue 
4 large egg whites
1 cup sugar
1 teaspoon pure vanilla extract
Pinch of salt
Instructions
Combine milk and cream in a medium pan and bring to a simmer, while stirring. While that's getting hot, whisk together the eggs, sugar and cornstarch. Very slowly, to temper the egg mixture, drizzle the hot milk mixture into the egg mix whisking as you go.
Return the combined mixture to the saucepan and gently heat, stirring, until thickened and coating the back of a spoon. Do not let it boil!
Immediately whisk in the butter, a few pinches of salt and vanilla. Pour pudding through a sieve into a bowl, place plastic wrap onto surface of pudding and refrigerate for a few hours. Stir it up and put back in fridge for another hour.
Line a square pan (9") or a fun trifle bowl or individual dishes with one layer of wafers. Add sliced bananas. Then a layer of pudding mixture.
Repeat. Sprinkle top with crushed wafers, sliced banana, and refrigerate for 4 hours.
Garnish with whipped cream or meringue, pulled with your fingers to create peaks and hand torched….if you want to get fancy. I have watched Zoe Bakes use this technique all the time and I adapted it for this banana pudding. If you don't want pudding that's sweet, use whipped cream, but if you have a sweet tooth, go for it. If you want to split the difference use meringue sparingly. This meringue recipe I have had for a while now courtesy of Sarah Kiefer, who got it from Susan Spungen… and its foolproof.
While the pudding is chilling, make the topping. In the metal bowl of a stand mixer, set over a pan of simmering water, combine all the ingredients, whisking until sugar is dissolved and it's about 160-165 degrees. Immediately place the bowl into the stand mixer beating on a high speed until glossy/stiff. This will take 3-4 minutes.
Spoon onto the pudding and using your fingers in a pinching motion pull as many little curlicues of meringue as you like. Then use a kitchen torch to brown them.
Serve.