Homemade Strawberry-Vinegar Jam
I'm not a hobbyist cook in the strict sense, but I love to put up food. I don't can many vegetables, I prefer to freeze or process them some other way, but I love making strawberry jam. There is nothing—nothing—like the taste of overripe summer berries. They need to be red all the way through—the type of juicy berry that inspires you to keep napkins around for your elbows and cheeks.
I started putting vinegar in my strawberry jam a while ago because I like the tartness. If you want to omit the vinegar, go right ahead; just knock the sugar down a notch. Sometimes I make this recipe with a cup of slivered basil leaves as well.
Like this recipe? Save it on Pinterest!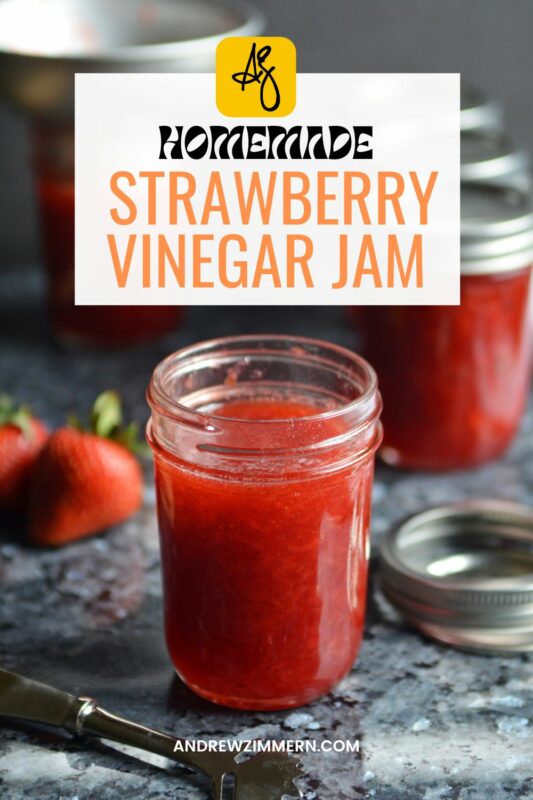 Strawberry-Vinegar Jam
---
Ingredients
2 pounds strawberries, rinsed, hulled and mashed (4 cups)
1/2 cup red wine vinegar
2 tablespoons fresh lemon juice
1/4 cup plus 1  1/2 teaspoon classic powdered pectin (not low sugar)
4 cups sugar
Instructions
In a large saucepan, whisk the mashed strawberries with the vinegar and lemon juice. Sprinkle the pectin evenly on top, then whisk until incorporated. Bring the mixture to a rolling boil over high heat. Whisk in the sugar, return to a boil and cook over high heat until glossy and the sugar dissolves, about 3 minutes. Remove from the heat and skim off any foam.
Pour the jelly into hot, sterilized canning jars to within 1/4 inch of the rims. Seal the jars, then submerge them in a pot of water and boil for 5 minutes. Carefully remove the jars and let cool. Check the jar lids to make sure they've fully sealed; refrigerate any jars with imperfect seals.
Originally published in Andrew Zimmern's Kitchen Adventures on foodandwine.com.
Photograph by Madeleine Hill.
• Waffles with Sweet Cream Ice Cream & Homemade Blackberry Jam
• Greek Yogurt Panna Cotta with Strawberry-Rhubarb Sauce
• Strawberry-Champagne Granita with Macerated Berries