Homegrown Tomato Pie
I call this Homegrown Tomato Pie not as a sourcing requirement, but because the tomato pie is most present in the season where friends are pulling tomatoes daily from their own backyards. I imagine it came to be because, when a fruit is plentiful, people always find a way to bake it into a pie. Basil is a natural complement for this dish (and I've included it as an option), but the thyme is delicious and a bit unexpected. During the months when delicious tomatoes aren't flooding every backyard, our roasted Roma tomatoes sub in nicely. I've made this a recipe for two pies, because in the event that you don't eat them both, gifting one to a friend or neighbor will earn you great favor.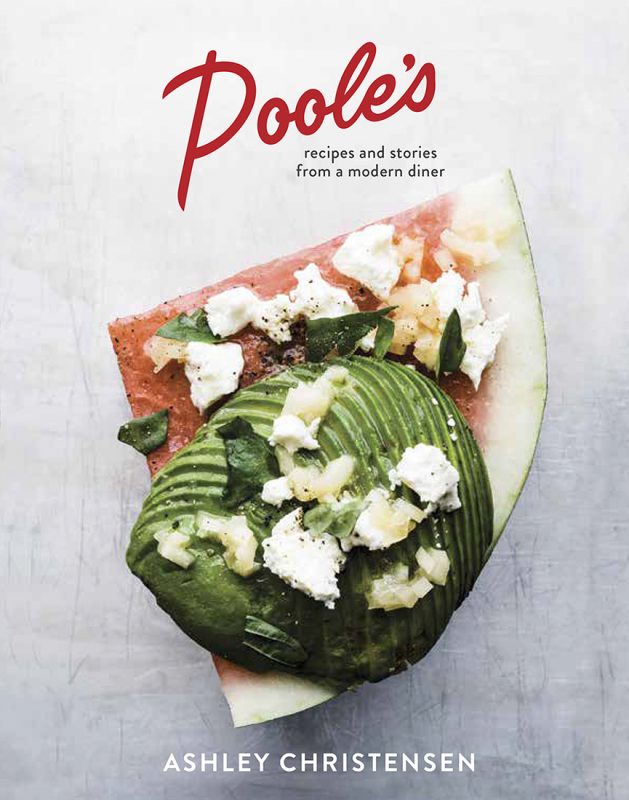 Ashley Christensen's Homegrown Tomato Pie
---
Ingredients
Pie Crust
2 cups unsalted butter, cut into 1/2 -inch cubes
5  1/2 cups all-purpose flour
4 teaspoons sugar
1 teaspoon kosher salt
2/3 cup ice water
Basic Cider Mayo
1 large egg yolk
1/2 teaspoon sea salt
1 teaspoon Dijon mustard
1/4 cup cider vinegar
1  1/2 cups vegetable oil
Tomato Pie
4 pounds tomatoes
Sea salt
2 large eggs
1  1/2 cups basic cider mayo (recipe included)
2 tablespoons dijon mustard
2 tablespoons prepared horseradish
1/4 cup milk
1/4 cup heavy cream
2 teaspoons chopped fresh thyme (or 12 fresh basil leaves, torn small)
1 pound buttermilk cheddar (extra-sharp cheddar is a suitable substitute), grated
Two 9-inch piecrust shells, prebaked and cooled
Black pepper in a mill
Instructions
Make the Pie Crust
SERVINGS: MAKES FOUR 9-INCH PIE CRUSTS
In a large bowl, combine the butter, flour, sugar, and salt. Place the bowl in the freezer for 30 minutes. Use two butter knives to cut the butter into the flour mixture until pea-size pieces form. Massage the butter pieces between your fingers, stretching them into thin ribbons.
Add the ice water to the flour by the tablespoon, stirring to combine. Add water only to the point that the dough holds together when pinched between your fingers; you may not need all of it. Gather the dough into a ball; divide into 4 equal pieces. Press each piece into a disk and wrap in plastic wrap. Refrigerate the dough for 1 hour.
On a well-floured work surface, roll out each piece of dough into a round 11 inches wide and about 1/8 inch thick. Transfer each round to a pie tin; trim the overhang to 1/2 inch and crimp as desired. Wrap each tin in plastic wrap and freeze overnight (the frozen pie shells will keep, frozen, for up to 6 months). When ready to bake, preheat a convection oven to 325°F (or a regular oven to 350°F). Line the shell with parchment paper and fill with pie weights (dry beans or rice works great). Bake for 30 minutes. Remove the weights and parchment and bake another 15 minutes, or until the crust is cooked through and golden brown. Let cool on a rack and use as desired.
Next, Make the Basic Cider Mayo
In a food processor, puree the egg yolk, salt, mustard and vinegar. With the motor running, slowly drizzle in the oil until thick and emulsified. Store in a lidded container in the refrigerator for up to 7 days.
Make the Tomato Pie
SERVINGS: MAKE TWO 9-INCH PIES
Preheat a convection oven to 350°F (or a regular oven to 375°F).
Fill a large pot three-quarters full with water and bring to a boil. While the water is coming up, core the tomatoes and, using a sharp knife, make a shallow X-shaped incision on the bottom of each, doing your best to cut just the skin and not into the flesh.
Once the water reaches a boil, prepare an ice bath by filling a large bowl with ice and water; set it within easy reach of the stove. Working in batches, place the tomatoes in the boiling water and cook until the cut skin at the bottom of the tomato begins to stretch and peel away; this usually takes between 45 and 90 seconds. As this happens, transfer the tomatoes one by one to the ice bath. Once the tomatoes are cool, peel their skins off using your hands and set them into a colander in the sink to drain off any excess liquid.
Slice the tomatoes into 1/4-inch-thick slices and lay them out in a single layer on baking sheets. Generously season both sides of each tomato with sea salt (about twice as heavily as you would season a tomato to put in your sandwich). Allow the tomatoes to sit for 20 minutes. This will draw out moisture, which prevents the pie from being watery. Once the tomatoes have marinated for 20 minutes, transfer them to a salad spinner in three batches and spin the excess liquid off the tomatoes. (My mom taught me this trick; we like to save the drippings to make tomato vinaigrette or to throw into a vegetable sauté or pasta.)
To make the custard, whisk the eggs in a mixing bowl. Whisk in the mayo, mustard, horseradish, milk, cream, and thyme.
Layer a small amount of the cheddar in the bottom of each piecrust, and then make a layer of tomato slices, with each slice's edge overlapping its neighbor's. Using the pepper grinder, crack peppercorns over the face of the tomatoes. Sprinkle on another layer of cheese, then drizzle enough of the custard over the top to drip through and cover all of the ingredients. Repeat these steps, starting with the tomatoes and ending with the custard, until all the ingredients are gone (I usually get three tomato layers). You'll need to bravely stack the ingredients just a bit higher than the edge of the piecrust. Have faith: it won't overflow.
Place the pies on baking sheets and transfer to the oven. Bake for 30 minutes, then rotate the pies 180 degrees and bake for another 30 minutes. Transfer to a cooling rack. Let cool and set for 1 hour before serving. Truth be told, if you can stand the wait, the pie is even better reheated the next day. Reheat the pies in a 350°F convection oven (375°F regular) until warm throughout, about 20 minutes
NOTE  I've made this recipe with store-bought frozen pie shells to great success. When going that route, I use what is referred to as deep-dish 9-inch frozen shells.
Reprinted with permission from Poole's: Recipes and Stories from a Modern Diner by Ashley Christensen, copyright © 2016. Photography by Johnny Autry. Published by Ten Speed Press, an imprint of Random House LLC.