Make this rustic vegetable tian recipe while learning how to chop and slice.
Today, we're making the ultimate Provençal side dish (though let me be clear— it's hearty enough to work as a main). I'm taking zucchini, eggplant, tomatoes, peppers, onions and garlic, tons of fresh herbs, capers, Parmesan breadcrumbs and my Badia Italian Seasoning and turning them into a stunner of a dish.
Want 20% off your Shun Knife purchase?
Use code AZSHUNX20S7 at checkout. You must be create an account and be logged in on Shun's website to activate code.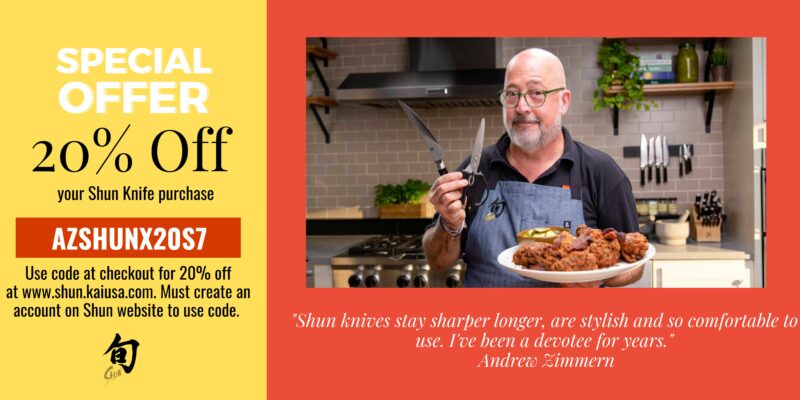 Knives Used in this Video:
These two knives have similar shapes to the one featured in the video.
In Japan, this knife style is known as a gyuto and is the Japanese equivalent of the chef's knife. It is an all-purpose knife ideal for meat and fish, yet it also performs beautifully on vegetables. Although the blade profile is narrower than the traditional chef's knife, it still offers plenty of knuckle clearance when cutting on a board.
In this video, you'll learn:
A casual chop
Slice garlic
Slicing zucchini & eggplant
Why choking up on your knife helps you control your knife
Slicing tomatoes
Fire roasting, cleaning and slicing bell peppers
Like this recipe? Save it on Pinterest.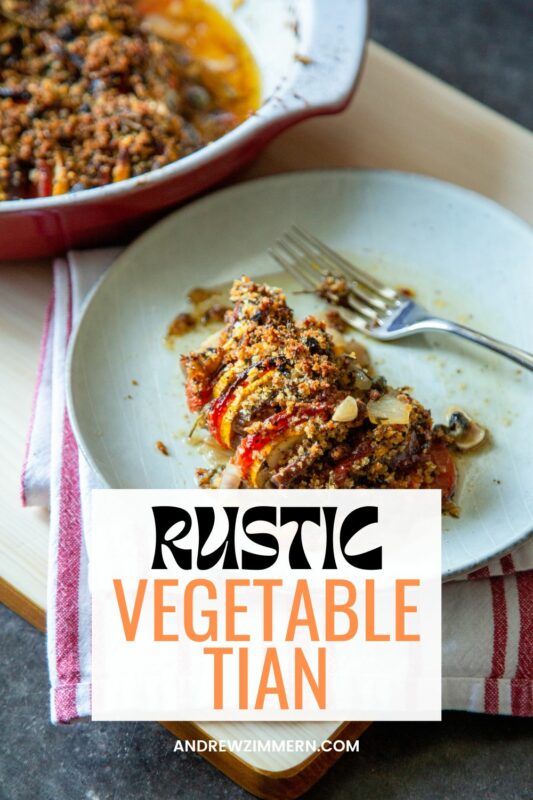 Rustic Vegetable Tian Recipe
---
Ingredients
2 large red peppers
1 cup extra virgin olive oil
1 large yellow onion, chopped
2 cloves garlic, minced
2 tablespoons fresh thyme leaves
2 tablespoons fresh rosemary leaves
2 long, thin Japanese eggplant, cut crosswise into¼-inch slices
2 medium gold bar squash or yellow zucchini, cut crosswise into ¼-inch slices
5 Roma tomatoes, cut crosswise into ¼-inch slices
2 tablespoons capers
1/3 cup panko breadcrumbs
1 tablespoon AZ & Badia Italian seasoning
3 tablespoons ground Parmesan cheese
Instructions
Preheat the oven to 375 degrees F. Char the peppers over open fire or your stovetop. Place in a bowl and cover with plastic wrap for 15 minutes.
Add a few tablespoons olive oil to a large skillet over medium high heat. Add onions and season with salt. Cook until translucent and softened. Add the garlic, and half of the thyme and rosemary, and continue to cook for 2 minutes. Spill the mix in the bottom of the baking dish. You can use a round 12-inch baking dish, a 9×13 pan, pie plate, whatever you have that will fit all of the vegetables.
In your baking dish, arrange the vegetables, alternating eggplant, squash and tomatoes upright in a uniform pattern, to create a tight spiral.
Remove the skin and seeds of the red pepper. Cut into ½-inch strips.Tuck strips in between the eggplant, squash and tomatoes. Drizzle with more oil. Sprinkle with remaining herbs and capers. Cover tightly with foil and bake for 25-30 minutes.
In a small mixing bowl, combine the panko, parmesan cheese,Italian seasoning and a few spoons of olive oil. Remove the foil and sprinkle with the breadcrumb mixture. Return to oven and bake uncovered for an additional 25 minutes until browned. Let sit for 20 minutes on your counter and serve.