Extra Crispy Grilled Cheese Sandwich & Cream of Tomato Soup
Grilled cheese and tomato soup go together like Prince and Purple Rain. For this quintessential pairing, I like to double down on the tomato flavor by adding thinly sliced roasted tomatoes to my sandwich, before schmearing it with mayo and toasting in a pan with parmesan, frico-style. It's the perfect balance of textures and flavor, and the ideally suited to dip into a classic cream of tomato soup.
Watch me make this grilled cheese:
What is frico-style in cooking?
Frico is the Italian technique of melting cheese until it becomes a chip-like texture. It's perfect on the exterior of the slices of bread.
About toasting your sandwich with mayonnaise instead of butter…
Grilled cheese is like pizza– you love the version you grew up with. Growing up, I always ate mine with butter on the outside. I love the flavor of butter, but mayo will render a crispier exterior.
Like this post? Save it on Pinterest!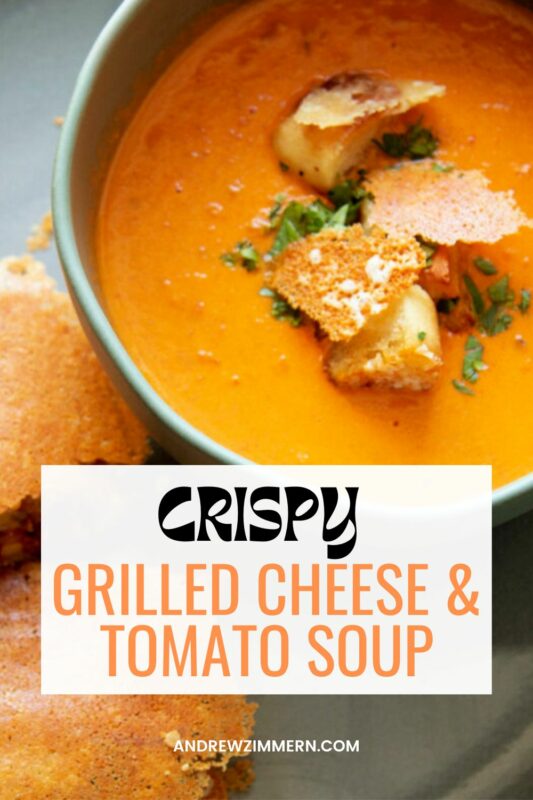 Kraft American Singles…. really, Andrew?
Yes, really. I will do versions with fancier cheese, but every time I make one with American cheese, I am reminded that it does, in fact, make for the best version.
Why oven-dried tomatoes versus fresh?
I love lots of tomato flavor in my grilled cheese. With oven roasted tomatoes, you get concentrated flavor AND less moisture– I hate a soggy grilled cheese with tomato. Here's how I roast my tomatoes for grilled cheese (and anything else).
Extra Crispy Grilled Cheese & Cream of Tomato Soup
---
Ingredients
Cream of Tomato Soup
5 pounds mixed tomatoes, cored and quartered
1/4 cup, plus 2 tablespoons olive oil, divided
Salt
Black pepper
1/3 cup minced shallots
Bouquet garni of rosemary, basil, bay leaves and thyme
4 cloves garlic, thinly sliced
1/2 cup white wine
2 cups tomato puree
5 cups rich stock, chicken or vegetable
2 cups cream
Grilled Cheese
White sandwich bread
Large ripe tomatoes
American cheese
Ground Parmesan cheese
Mayonnaise
Instructions
Instructions
Preheat the oven to 300 degrees F.
Place the mixed tomatoes in a bowl and coat with 2 tablespoons of the olive oil. Season with salt and black pepper. Pour the tomatoes onto a rimmed baking sheet and roast in the oven for 90 minutes.
Place a large soup pot over medium heat.
Add the remaining olive oil, shallots, bouquet garni and garlic. Season with salt and sweat the onions until they begin to color. Add the wine and cook for 2 minutes. Add the roasted tomatoes and juices, cook for 5 minutes. Next, stir in the tomato puree and the stock.
Bring the mixture to a boil, then lower heat to maintain simmer. Cook slowly, covered, for 75 minutes, stirring frequently until a rich consistency is achieved and the tomatoes release their sugars.
Taste the soup and adjust seasonings as necessary. Discard the herb sachet. Using an immersion blender, puree the soup to your liking, you may still want some chunks of tomato in the mix. A blender works too.
If you need to thin your soup, do so with drizzles of stock.
Add the cream and simmer for 5-10 minutes. Taste again for seasoning and serve with croutons.
For the Grilled Cheese:
While the soup is simmering, assemble your grilled cheese.
Preheat a griddle or large saute pan over medium heat.
Grab two slices of white bread. Top one with a Kraft Single. Add your oven-roasted tomatoes– I like to have a thick layer of 5-7 pieces of tomato. Top tomatoes with another slice of American cheese.
Slather the top piece of bread with mayo. Top the sandwich with the mayo side facing up. Place entire sandwich mayo side down in the heated pan.
While the bread toasts, take the top piece of bread and spread mayo the exterior side.
Griddle the sandwiches until the cheese is melted and the bread is toasted. Feel free to push down on the bread lightly for better, even browning.
Once your sandwich is browned on both sides, remove it from the pan. Sprinkle the pan with Parmesan cheese, slightly larger than the surface area of your bread. Once the Parmesan starts to melt, place your sandwich on the melting cheese. When cheese has browned, use a spatula to remove the grilled cheese with the crispy Parmesan attached.
Slice and serve with the tomato soup. I love topping my soup with crispy Parmesan croutons and fresh herbs.
Watch me make homemade croutons: