Banh Mi Pork Burgers
In this recipe, I've turned the craveable flavors of a classic Vietnamese banh mi sandwich into a show stopping burger—a ground pork patty chock full of vegetables, herbs and aromatics, griddled and served on a bun with a schmear of spicy mayo and pâté.
Watch Andrew make this recipe:
Like this recipe? Save it on Pinterest!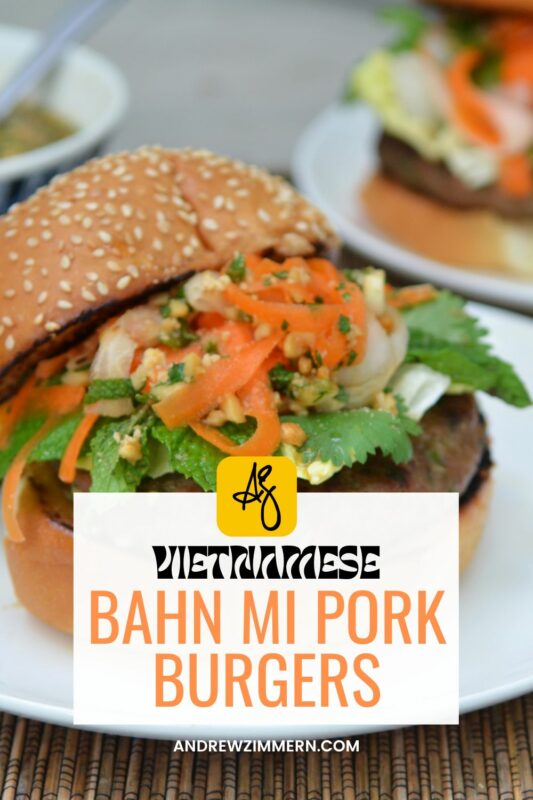 Andrew Zimmern Cooks: Banh Mi Pork Burgers
---
Ingredients
Pickles
1/2 cup rice wine vinegar
1/4 cup sugar
1 cup shaved carrot
1 cup cucumber, thinly sliced
Chile Mayo
1/2 cup mayonnaise
1 tablespoon sambal oelek, or similar chile paste
Salt
Burgers
1 pound ground pork
2 tablespoons fish sauce
Juice of one lime
2 green onions, thinly sliced
2 cloves garlic, minced
2 teaspoons ginger, grated
2 teaspoons fermented black beans, chopped
1 fresh red chile, thinly sliced
1/4 cup cilantro leaves, plus more for garnish
2 teaspoons toasted rice powder
1 carrot, grated
Handful of bean sprouts
Salt
Pepper
3 tablespoons peanut oil
4 buns
Chile mayo, for serving
4 tablespoons pâté
Quick pickles, for serving
Mint leaves, for serving
Cilantro leaves, for serving
Ground peanuts, for serving
Instructions
Mix together rice wine vinegar and sugar, whisking until the sugar is dissolved. Using a vegetable peeler, shave long strips of carrot. Place the carrots and cucumbers in a bowl and add the pickling solution. Allow to marinate for at least 1 hour.
In a small bowl, combine the mayo with the sambal oelek. Season with salt and refrigerate until ready to use.
In a large mixing bowl, combine the ground pork, fish sauce, lime juice, green onions, garlic, ginger, fermented black beans, red chile, cilantro, toasted rice powder, carrots and bean sprouts. Season with salt and pepper. Mix until well incorporated. Cover and let sit in the fridge for 30 minutes.
Form into 4 loose patties.
Add the peanut oil to a large skillet over medium-high heat. Griddle the pork burgers, in batches if necessary, for about 5 minutes per side, until browned and cooked through.
Spread the chile mayo on one side of each bun, and a tablespoon of pate on the other side of each bun. Place a patty on each bottom bun, and top with the quick pickled cucumber and carrots, mint leaves, cilantro leaves and a sprinkling of ground peanuts. Serve!
Photograph by Madeleine Hill.