Roasted, fried, grilled, stuffed, smoked or braised—which cooking technique will you choose?
There are many options when it comes to preparing your Thanksgiving centerpiece. For the traditionalist, check out my tips for brining and roasting a whole turkey in the oven. Those with only a few mouths to feed should try a stuffed turkey breast. If you're tight on oven space or determined to fire up the grill, I'd suggest smoked turkey legs or a grilled spatchcocked turkey. A first-timer should consider my braised turkey with creamy gravy, it's a foolproof technique. If you can't resist the crispy skin of a fried turkey (I don't blame you), please don't fry the whole bird, follow my instructions for fried turkey pieces instead.
If you need a refresher on carving a turkey, check out this tutorial or this video.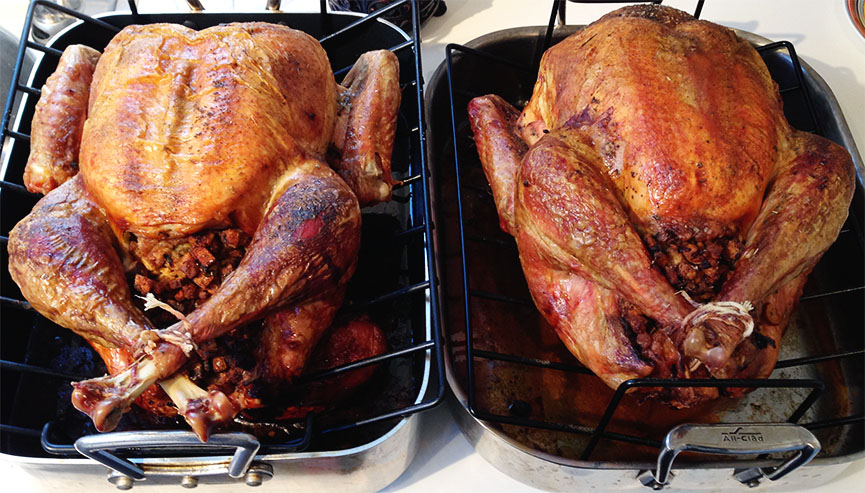 Over the years I have mastered the art of roasting birds. Start by sourcing a great bird, I like the Bourbon Reds because they have the best flavor and largest breast meat of the heritage birds. Brine it, stuff it and roast according to this recipe and you will have a Thanksgiving for the ages.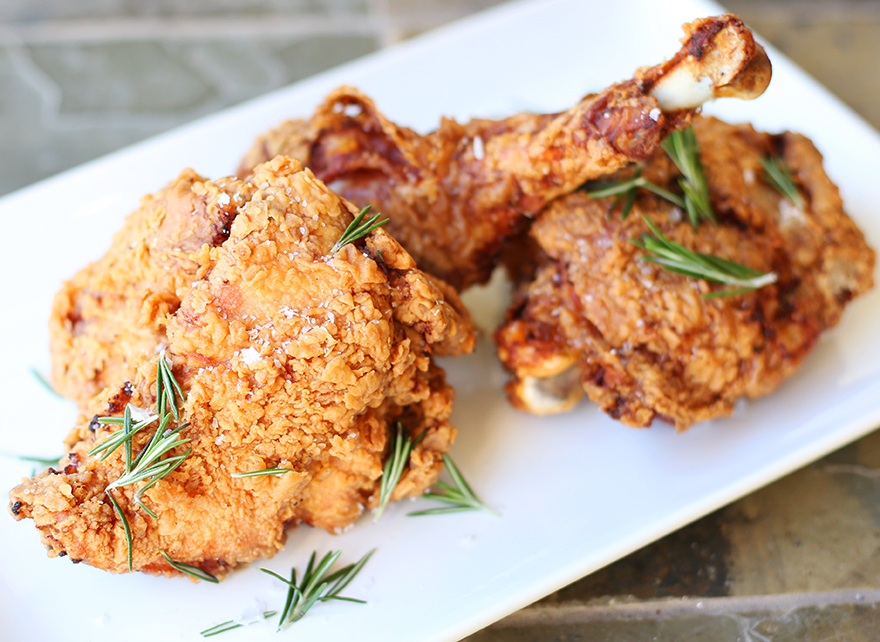 Not only is frying a whole turkey dangerous, but the outside gets overcooked before the inside is tender and the lengthy frying time means the turkey absorbs too much oil. I suggest you break down a turkey into its pieces. Brine the pieces, then dry them out in the refrigerator to ensure extra crispy skin, before simply dipping the turkey in buttermilk and seasoned flour.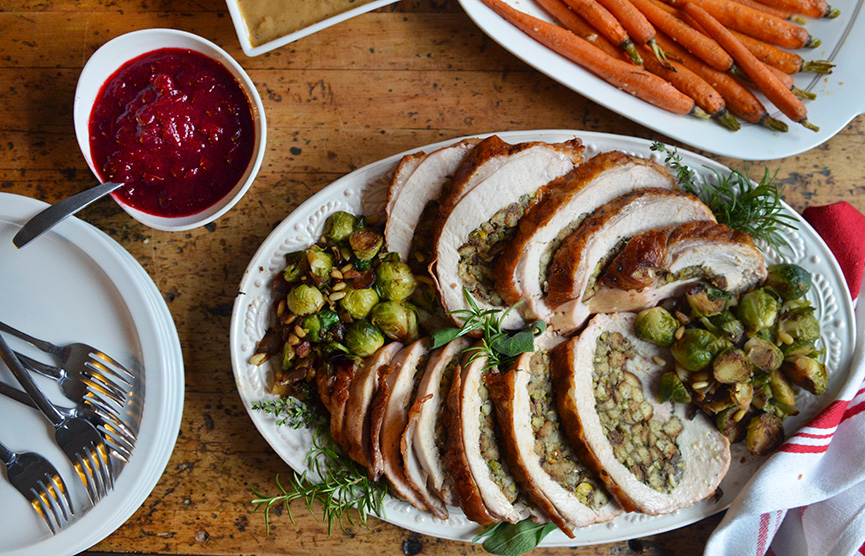 If you don't want to roast a whole turkey, or you're just looking for a new tradition, try this boneless stuffed turkey breast. The butchery is easier than you think, but you can always have the butcher do it for you! The chestnuts and the liver in the stuffing add a great nutty flavor that pairs well with the turkey breast without overpowering the meat.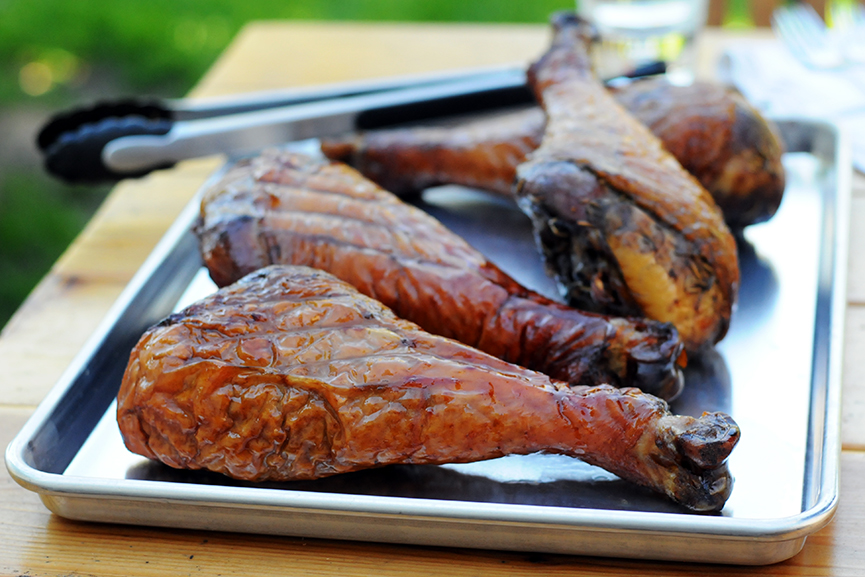 Smoked turkey legs shouldn't just be reserved for walking around the Renaissance festival or Disneyland. As long as you have a little patience, they're easy to make, delicious and economical. The Dr Pepper brine is magic. Once you try it, you'll be hooked.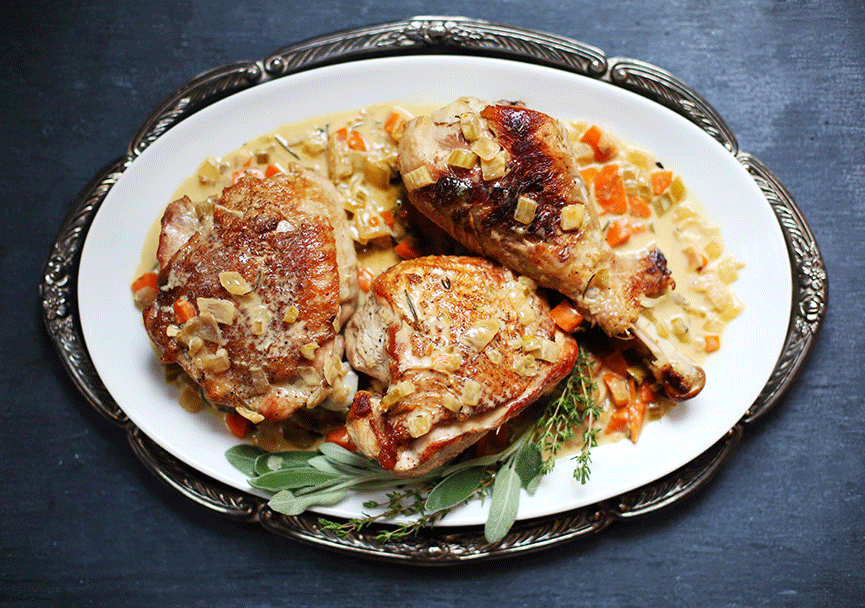 There are many different solutions to the age-old conundrum of how to cook a turkey evenly and successfully. To me, breaking it down into its pieces is the most foolproof and flexible approach. Braising the turkey pieces in wine and aromatics results in a flavorful bird, but the real bonus of this recipe is the creamy vegetable gravy made from the reduced turkey-infused cooking liquid.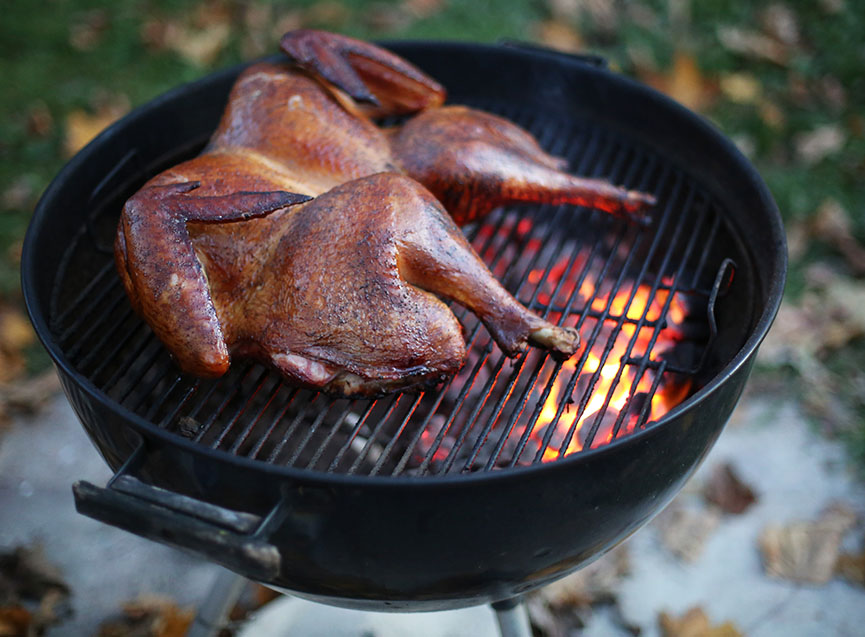 Oven space is always at a premium on Thanksgiving, so why not put the turkey on the grill? Spatchcock and brine the bird before laying it flat on the grill with the dark meat closest to the fire. This method will take less time and leave you with an evenly cooked, moist turkey.
• My Best Thanksgiving Side Dishes
• An Easy Way to Use Up Turkey Leftovers
• Thanksgiving Dessert Recipes