A Foolproof Braised Turkey Smothered in Creamy Gravy
There are many different solutions to the age-old conundrum of how to cook a turkey evenly and successfully. To me, breaking it down into its pieces is the most foolproof and flexible approach. Braising the turkey pieces in wine and aromatics results in a flavorful bird, but the real bonus of this recipe is the creamy vegetable gravy made from the reduced turkey-infused cooking liquid.
Like this Braised Turkey Smothered in Creamy Gravy Recipe? Save it on Pinterest.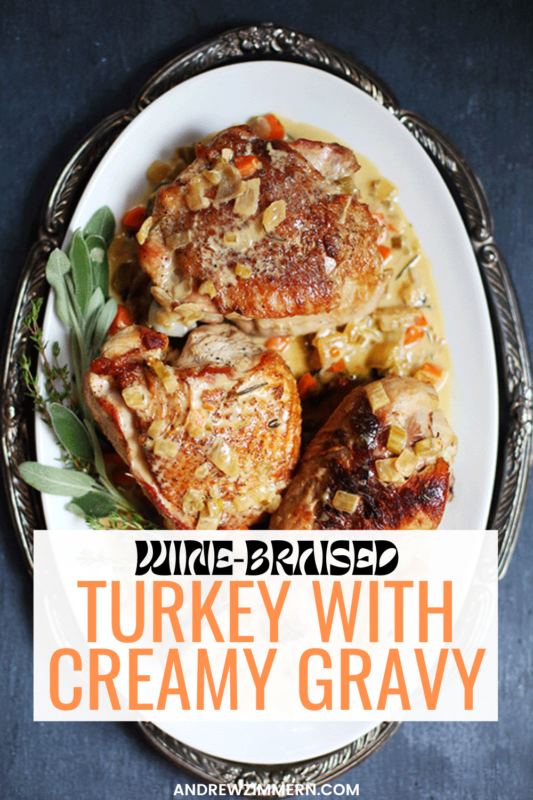 Wine-Braised Turkey with Creamy Gravy
---
Ingredients
3 tablespoons olive oil
1 fresh turkey, broken down into 8 to 10 pieces (legs, thighs, breasts and wings)
Salt
Pepper
1 onion, diced
2 carrots, diced
5 celery ribs, diced
5 cloves garlic, sliced
3 fresh bay leaves
3 sprigs of fresh thyme
1 stem rosemary
2 stems sage
3 cups dry white wine
4 cups chicken stock
1/2 cup heavy cream
Instructions
If your turkey breasts are large, cut them in half. Season the turkey pieces well with salt and pepper. Place a very large stock pot, rondeau or roasting pan with high sides over medium-high heat and add the olive oil. Brown the pieces in the olive oil, skin side down first. You don't want to overcrowd the pan, so do this in batches. Remove to a plate and add the onions, carrots, celery, garlic and herbs to the pan. Cook until slightly browned, about 10 minutes.
Pour in the wine, stirring to incorporate any of the crispy bits stuck to the bottom of the pan. Add the turkey pieces back to the pan. Bring to a boil, then reduce to a simmer and cook for about 10 minutes, or until the wine is reduced by half. Add the stock. Bring to a boil, then reduce to a simmer and cover with a lid, or cover tightly with aluminum foil. Maintaining a simmer, cook for 45 minutes. Remove the white meat, and continue to cook the dark meat for an additional 15 minutes.
Remove all of the turkey to a cutting board or plate, and let rest while you make the gravy. Skim some of the fat from the cooking liquid, and reduce over medium heat for about 10 minutes. Add the cream and cook until until the liquid coats the back of a spoon, roughly 10 more minutes. Taste the gravy, and season with additional salt and pepper if needed. Serve with the turkey.
Photographs by Madeleine Hill. 
• The Best Way to Grill a Turkey
• Perfect Roasted Turkey, Stuffing & Gravy
• Boneless Stuffed Turkey Breast