Juicy Fried Turkey with Crispy Skin
I love fried turkey, but frying the whole bird isn't a good idea. It's dangerous, the outside gets overcooked before the inside is tender and the lengthy frying time means the turkey absorbs too much oil. I suggest you break down a turkey into its pieces, using the thighs, breasts and legs. Brine the pieces, then dry them out in the refrigerator to ensure extra crispy skin, before simply dipping the turkey in buttermilk and seasoned flour. I guarantee that using this method will give you perfect results every time.
Like this fried turkey recipe? Save it on Pinterest.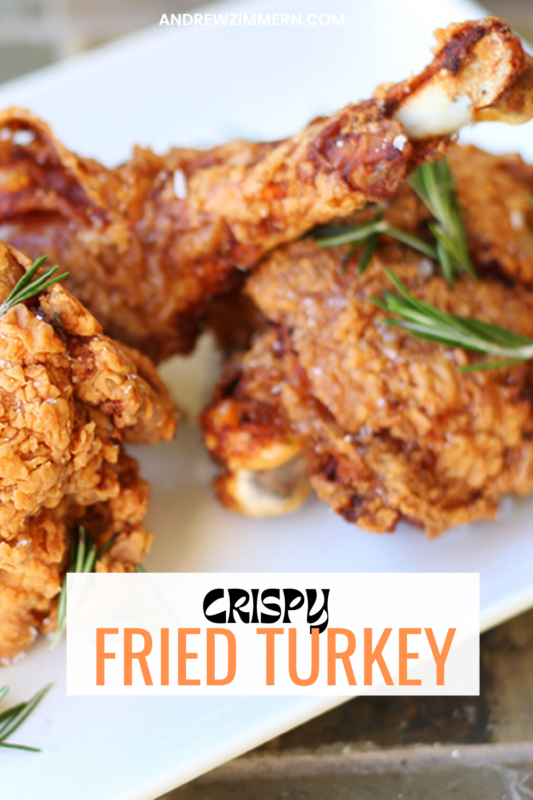 How to Make Perfect Fried Turkey
---
Ingredients
1 cup sugar
1 cup salt
8 stems fresh thyme
3 stems fresh rosemary
2 stems fresh sage
1 tablespoon peppercorns
1 fresh turkey, broken down into legs, thighs and breasts
Peanut oil for frying
4 cups flour
Salt
1 quart buttermilk
Rosemary and thyme sprigs, for garnish
Instructions
First, brine the turkey pieces for a few hours. Place the sugar, salt, herbs and peppercorns in a large stockpot. Add water and whisk until the sugar and salt is dissolved. Place the turkey pieces in the stockpot, adding more water if needed to cover the turkey. Place in the fridge and brine for 6 hours. Take them out of the brine, and pat dry with paper towels. Lay the turkey pieces on a baking sheet and place in the fridge uncovered for a few hours, or better yet overnight.
Place peanut oil in an outdoor turkey fryer or deep fryer. Heat to 365 degrees F.
Put the flour in a large mixing bowl, season well with salt. Put the buttermilk in another large mixing bowl.
Make a cut across the pieces of turkey so that it cooks more evenly and quickly. Cut each turkey breast in half. Season the pieces with salt. Dip each piece of turkey in the buttermilk, allowing excess to drip off, then into the seasoned flour. Fry pieces a few at a time in the peanut oil, for 20 to 25 minutes. Sprinkle the hot turkey with salt and aromatics like rosemary or thyme.
Serve.
• The Best Way to Grill a Turkey
• Wine-Braised Turkey with Creamy Gravy
• Classic Buttermilk Fried Chicken