Grilled Spatchcocked Turkey
Oven space is always at a premium on Thanksgiving, so why not put the turkey on the grill? Spatchcock and brine the bird before laying it flat on the grill with the dark meat closest to the fire. This method will take less time and leave you with an evenly cooked, moist turkey.
Like this recipe? Save it on Pinterest.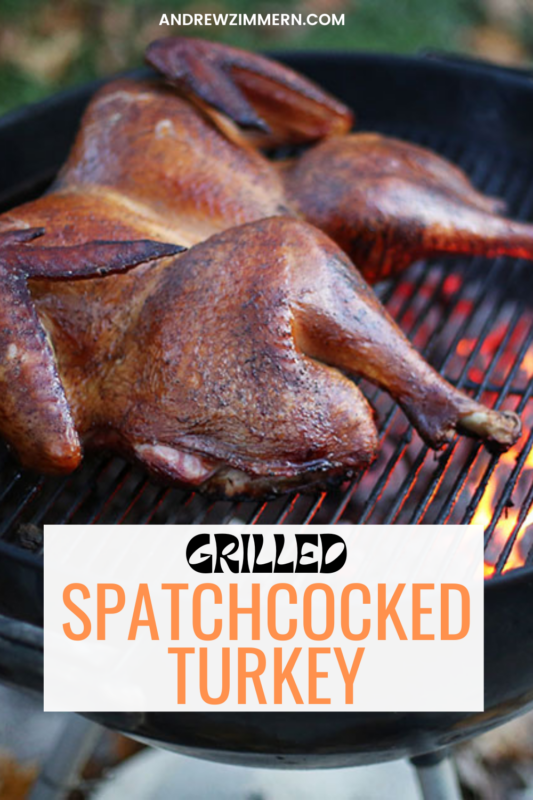 The Best Way to Grill a Turkey
---
Ingredients
1 fresh turkey, 16-20 pounds, spatchcocked (backbone, neck and giblets removed)
1 cup sugar
1 cup salt
8 stems fresh thyme
3 stems fresh rosemary
2 stems fresh sage
1 tablespoon peppercorns
Salt & pepper
Smoking chips, such as cherry or pecan (optional)
Instructions
First, brine the turkey. Place your turkey in a large stock pot. Add enough cold water to cover the bird. Remove bird and reserve to a platter for a moment. Add the sugar, salt, herbs and peppercorns to the pot. Whisk to dissolve the sugar and salt. Return bird to the pot and refrigerate for 12 to 24 hours.
Remove the turkey from the brine, rinse under water and then pat dry (if you have the time, lay the turkey on a baking sheet uncovered in the fridge for an additional 12 hours; this will result in extra crispy skin). Season with salt and pepper.
Prepare the grill for medium indirect cooking. Light one full chimney of charcoal. Once the coals are lit, add them to the grill, keeping them pushed up against one side. Place a small handful of smoking chips on the coals, if desired.
Oil the grill grate, and place the turkey on the grill with the legs and thighs closest to the coals. Cover the grill and cook for 90 minutes to two hours depending on the size of your turkey. You want the thighs to be above 160 degrees F and the breasts above 145 degrees F. If you have a large turkey, you may need to add more charcoal after an hour of cooking.
Remove the turkey and let rest on a cutting board for 30 minutes. Carve and serve.
Photographs by Madeleine Hill.
• How to Roast a Perfect Turkey
• Smoked Turkey Legs
• Boneless Stuffed Turkey Breast