A Worthy Alternative to the Traditional Bird
If you don't want to roast a whole turkey, or you're just looking for a new tradition, try this boneless stuffed turkey breast. The butchery is easier than you think, but you can always have the butcher do it for you! The chestnuts and the liver in the stuffing add a great nutty flavor that pairs well with the turkey breast without overpowering the meat.
Like this recipe? Save it on Pinterest.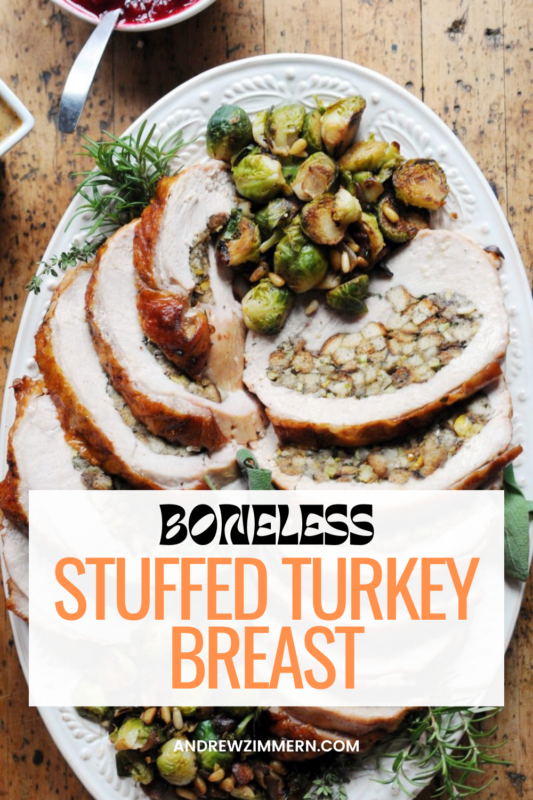 Boneless Stuffed Turkey
---
Ingredients
Stuffing
12-14 chestnuts
1 cup celery, minced
1 cup onion, minced
2 tablespoons fresh parsley, minced
4 ounces chicken livers
3 tablespoons melted butter
1/4 cup heavy cream
6 cups dried bread cubes for stuffing (seasoned store-bought varieties are fine)
2 teaspoons dried sage
1 teaspoon dried tarragon
Salt
Pepper
Turkey
One whole 4 (roughly) boneless breast of turkey (both breast lobes attached, skin on)
1 teaspoon dried thyme
6 sage leaves, chopped fine
Salt
Pepper
1 recipe stuffing (see below)
2 tablespoons butter
1 teaspoon paprika
Butchers string/cooking twine for securing breast
Instructions
Make the Stuffing
Preheat the oven to 350 degrees.
Make an incision about 1/8-inch deep through each chestnut shell, just into the flesh of the nut, and work your way almost around its circumference. After slitting the shells, transfer the chestnuts to a rimmed baking pan, and roast them in a 350-degree oven for about 35 minutes. While the chestnuts are hot, remove and discard each shell and the papery skin. Chop the chestnuts.
Mince the celery, onion and parsley. Set aside.
Mince the chicken livers very fine.
Combine the chestnuts, celery, onion, parsley, liver, butter, cream, bread cubes and spices in a large mixing bowl. Season with salt and pepper.
Prepare the Turkey
Place the turkey skin down on a cutting board and slice open the middle of each breast, cutting away from the center. Your knife will be parallel to the cutting board, slicing toward the outer edges of the roast. You are opening up the breast meat to even out the thickness of each breast. The new meat flaps should open up from the middle of each breast like pages of a book folding out to each side.
Season with the thyme, sage, salt and pepper.
Place stuffing on the breast and fold the edges of the turkey "envelope" over the stuffing. You should have a "football" of turkey.
Flip to skin side up. Roll and tie turkey with butcher's string.
Rub the turkey with butter and sprinkle with paprika and sea salt.
Place the turkey on a rack fitted into a large pan.
Roast at 350 degrees for 1 hour.
Raise temperature to 400 degrees and continue roasting until internal temperature of the meat is 160 degrees. Keep an eye on your roast, this may not take as long as you think.
Let rest for 10 minutes, slice and serve with the gravy.