Easy Homemade Baked Beans
By Madeleine Hill
These baked beans were one of my favorite dishes growing up. The variety of beans adds a great textural contrast; the bacon, a smoky accent; the onions, a nice crunch. Every time we make these, it always turns out a bit different… sometimes I'll add a bit more heat, other times a few more splashes of vinegar, so feel free to play around with the ingredients.
Like this recipe? Save it on Pinterest!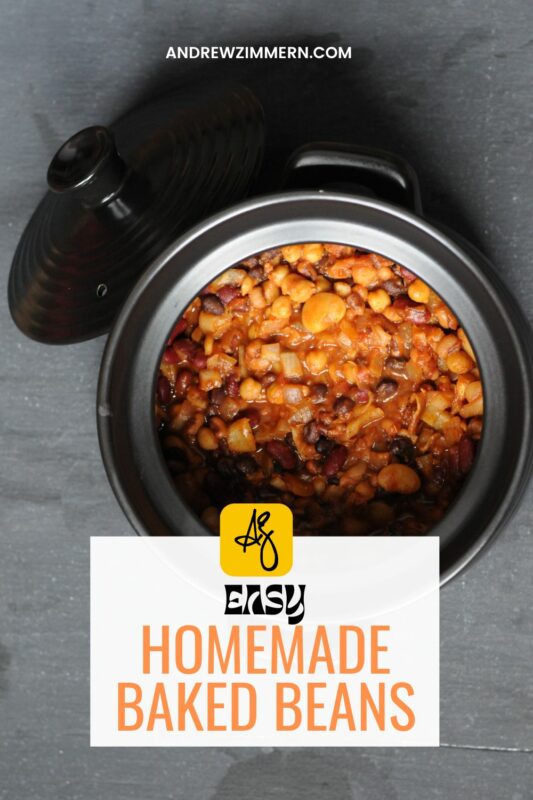 The Best Baked Beans
---
Ingredients
1 can (15 ounce) black beans
1 can (15 ounce) red kidney beans
1 can (15 ounce) garbanzo beans
1 can (15 ounce) butter beans
1 can (15 ounce) black eyed peas
5 strips of bacon, plus 1 tablespoon reserved bacon drippings
1 medium onion, chopped
3 cloves garlic, minced
1 cup brown sugar
1 cup crushed tomatoes
1/2 cup ketchup
1/4 cup mustard
1 tablespoon Worcestershire sauce
3 tablespoons apple cider vinegar
Pinch of red pepper flakes
1 teaspoon kosher salt
1 teaspoon ground black pepper
Instructions
Preheat the oven to 375 degrees F.
Cook the bacon until crispy. Drain on a paper towel, chop and reserve. Place one tablespoon bacon drippings in a large mixing bowl.
Wash and drain all of the beans. Reserve.
Mix together all of the remaining ingredients in the mixing bowl with the bacon drippings. Add the reserved beans. Pour into a large oven-proof ceramic bean pot, fitted with a lid. Cover and bake for 40 minutes.
Uncover the pot, and bake for an additional 20 minutes. Serve.
Photograph by Madeleine Hill. 
• Chicken & Black Beans
• Grilled Fingerling Potatoes
• Pulled Pork with Homemade BBQ Sauce