Low & Slow Barbecue Pulled Pork
This melt in your mouth pulled pork is so tender. Eat it as is or put it in a sandwich. But don't forget to relax and be patient, because the best barbecued pork takes time.
Like this recipe? Save it on Pinterest!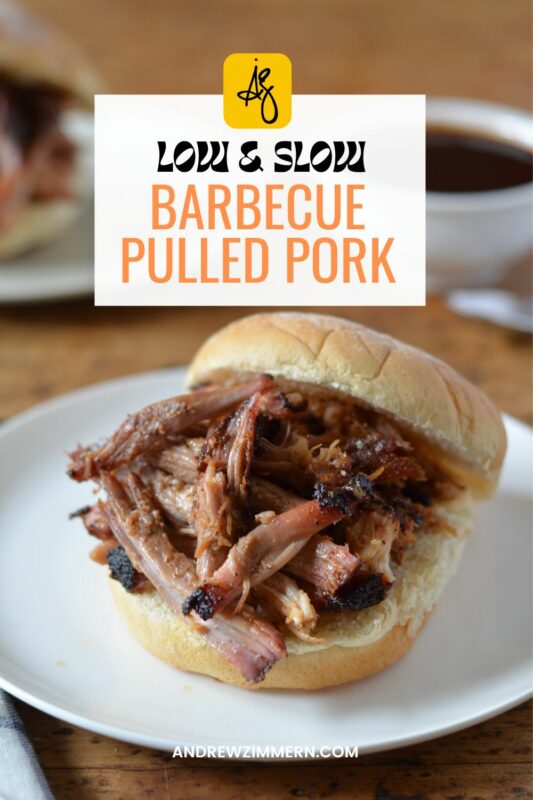 Pulled Pork with Homemade BBQ Sauce
---
Ingredients
1 bone-in pork shoulder, roughly 5-6 pounds
The rub
1/4 cup brown sugar

1/4

cup paprika

3 tablespoons ground black pepper

3 tablespoons kosher salt

1 tablespoon garlic powder

1 tablespoon onion powder

1 tablespoon celery seeds

1 teaspoon cayenne pepper

1 teaspoon ground ginger
The Basting Sauce
1  1/2 cups cider vinegar

1 small onion minced

1 teaspoon hot red chile flakes

1 tablespoon kosher salt

1/4 cup brown sugar

1 teaspoon ground black pepper
The Sauce
3 cups cider vinegar

3 tablespoons molasses

2 tablespoons dark corn syrup

1 cup Heinz chile sauce

1/3 cup brown sugar

2 teaspoons kosher salt

2 tablespoons Crystal hot sauce

2 tablespoons Worcestershire sauce

2 teaspoons red chile flakes, or more to taste

1 teaspoon ground black pepper
Instructions
The Night Before
Combine the rub ingredients, set aside.
Combine barbecue sauce ingredients over medium heat in a small pot. When simmering, lower heat to maintain simmer and gently cook until barbecue sauce consistency is reached, 30 to 40 minutes. Cool and refrigerate overnight.
Massage pork shoulder with the rub and let sit overnight in the refrigerator.
The Day Of
Combine the basting sauce ingredients, whisking until sugar and salt are dissolved, set aside.
Prepare a charcoal grill to cook the pork over indirect low heat, keeping charcoal to one side. 'Grill' the pork shoulder over indirect medium low heat, using smoking chips if desired to establish a deeper smoke flavor. You will want to keep adding hardwood or charcoal every 40 minutes or so to maintain a medium low heat of roughly 275 degrees. For gas grills you also want to maintain a temperature of roughly 275 degrees and cook over indirect heat. Baste every hour with the basting sauce.
Pork is done when the meat is fork tender, and almost falls apart. It will have shrunken back from the bone. This will take 6 to 7 hours, depending on the size of the shoulder.
Let rest for 15 minutes. Pull apart with a fork. Serve with the barbecue sauce.
Photograph by Madeleine Hill. 
• Pineapple-Glazed Baby Back Ribs
• Franklin Barbecue's Beef Ribs