Quintessential Grandmother Cooking at its Best
This is the Japanese equivalent of Jewish penicillin, also known as chicken noodle soup. Instead of chicken broth, we use smoky dashi, and instead of noodles, we make cool, craggy gnocchi-like dumplings out of just flour and water. Every family throughout the countryside has its own version. This is my favorite.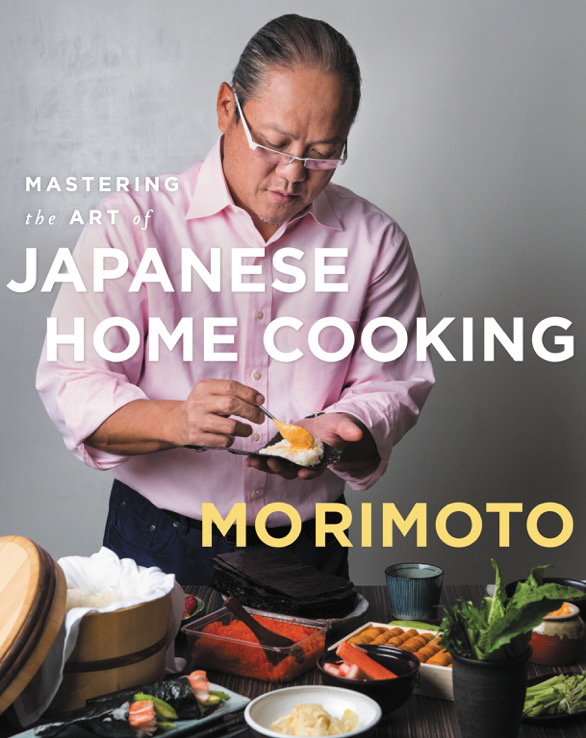 Morimoto's Japanese-Style Chicken and Dumpling Soup
---
Ingredients
1 tablespoon vegetable oil
Generous 1/4 pound boneless skinless chicken thighs (about 2 small thighs), cut into 1-inch pieces
1 cup thick batons (about 1 by 1/2-inch) peeled, seeded kabocha or another winter squash
3/4 cup chopped (about 1/4-inch-thick bite-size pieces) peeled daikon
1/2 cup matchsticks peeled burdock (gobo) or parsnip
1/2 cup matchsticks peeled carrot
4 medium fresh or rehydrated dried shiitake mushroom caps, quartered
5 cups Dashi (dried fish and kelp stock, recipe here)
2 tablespoons sake (Japanese rice wine)
1 tablespoon usukuchi (Japanese light-colored soy sauce)
2 teaspoons kosher salt
3/4 cup cake flour or all-purpose flour
Instructions
Combine the oil and chicken in a medium pot and set the pot over medium heat. Cook, stirring occasionally, until the chicken is no longer pink, 3 to 4 minutes. Add the vegetables and cook, stirring occasionally, for 2 minutes. Add the dashi and increase the heat to bring the dashi to a boil. Skim off any froth from the surface. Reduce the heat to maintain a gentle simmer and cook until the vegetables are tender with a slight bite, about 10 minutes. Stir in the sake, usukuchi, and salt.
Increase the heat to bring the liquid to a strong simmer. In a small bowl, whisk together the cake flour and 1/4 cup plus 2 tablespoons water until very smooth. Add the mixture by the soup spoonful into the broth, leaving some space between each addition. The mixture will sink to the bottom. Do not stir. After about 4 minutes the dumplings will begin to rise from the bottom. Continue to cook until the dumplings are no longer gummy in the center, about 6 minutes more. Serve immediately.
Recipe from Mastering the Art of Japanese Home Cooking by Masaharu Morimoto (November 8, 2016, Ecco, $45). Photographs by Evan Sung. 
• Morimoto's Dashi Stock
• Matzoh Ball Soup
• 12 Japanese Recipes to Make at Home