Spicy, Charred Broccoli Rabe Pasta
I was having dinner at Chi Spacca in Los Angeles and one of the side dishes we tried was charred broccoli rabe, super-young stuff, just a few inches high with tender young stalks. They had been charred on the grill, then piled into a small cast-iron pan, roasted in the wood-burning oven and drizzled with olive oil and lemon. It was perfect. I thought about this dish every day for weeks! My stepfather loves broccoli pastas; I grew up eating broccoli rabe once a week and treasuring the leftovers. So I merged the ideas and created this. You'll freak, in a good way.
Like this recipe? Save it on Pinterest!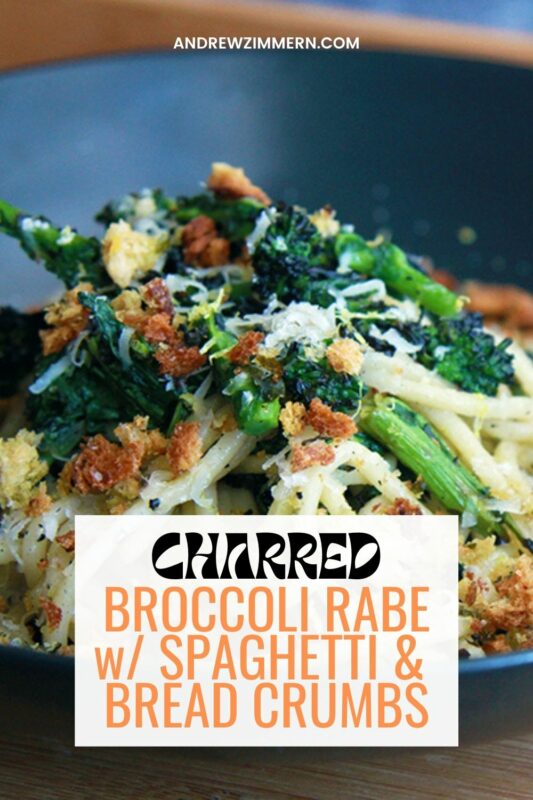 Charred Broccoli Rabe with Chitarra & Lemony Bread Crumbs
---
Ingredients
Crumbs
1/4 pound day-old Italian bread, torn into chunks
1/4 cup lightly packed flat-leaf parsley leaves
2 tablespoons extra-virgin olive oil
1 teaspoon finely grated lemon zest
1 small garlic clove, minced
Salt
Pepper
Pasta
1 pound broccoli rabe, stem tips trimmed
1/2 cup extra-virgin olive oil
Salt
Pepper
1 pound chitarra or spaghetti
3 garlic cloves, thinly sliced
1/2 teaspoon crushed red pepper
1 tablespoon fresh lemon juice
Freshly grated Parmigiano-Reggiano cheese, for serving
Instructions
Make the Bread Crumbs
Preheat the oven to 375°. In a food processor, pulse the bread with the parsley, olive oil, zest and garlic until coarse crumbs form. Season with salt and pepper, then spread on a large rimmed baking sheet. Bake for 7 to 10 minutes, until golden and crisp; let cool.
Make the Pasta
Light a grill. In a large bowl, toss the broccoli rabe with 2 tablespoons of the olive oil and season with salt and pepper. Grill over high heat, turning occasionally, until crisp tender and lightly charred all over, 3 to 5 minutes. Transfer to a work surface and let cool slightly, then finely chop.
Meanwhile, in a large saucepan of salted boiling water, cook the pasta until al dente. Reserve 1/2 cup of the cooking water, then drain the pasta.
Wipe out the saucepan and heat 1/4 cup of the olive oil in it until shimmering. Add the garlic and crushed red pepper and cook over moderately high heat, stirring, until fragrant and just starting to brown, about 1 minute. Add the pasta, broccoli rabe, reserved cooking water, lemon juice and the remaining 2 tablespoons of olive oil and cook, tossing, until the pasta is coated, about 2 minutes. Season with salt and pepper.
Transfer the pasta to a serving bowl and scatter some bread crumbs on top. Serve right away, passing additional bread crumbs at the table.