Flavors of the Yucatan
This bright, citrusy salsa is made with fresh tomatillos rather than tomatoes to give it a tangy, piquant flavor profile often found in Yucatan cuisine. This salsa makes a great (and healthy!) dip all on its own, served with tortilla chips and fresh veggies such as red pepper slices, jicama and radishes. It's also a nice addition to any grilled or roasted meat, poultry or seafood.
Like this recipe? Save it on Pinterest!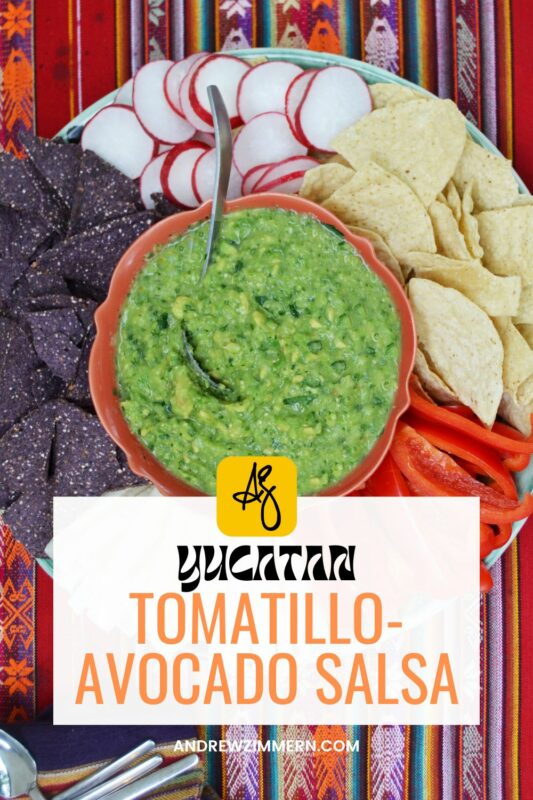 Tomatillo-Avocado Salsa
---
Ingredients
1/2 pound tomatillos, husked, rinsed and quartered
2 garlic cloves, minced
1 teaspoon salt
1/2 cup onion, minced very fine
2 serrano chiles, deseeded, minced very fine
3 tablespoons fresh chopped cilantro leaves
1 ripe avocado
2 tablespoons fresh lime juice
Tortilla chips, jicama, red pepper and radish, to serve
Instructions
Remove the husk from the tomatillos and rinse. Cut into quarters.
Combine the garlic, salt, onion, Serrano chiles and cilantro in a food processor. Pulse to combine (do not over puree). Reserve.
Halve the avocado, remove and discard pit and scoop out the flesh. Discard skin. Using a fork, mash the avocado into the sauce with the lime juice. Season with additional salt if need be and serve.
Photograph by Madeleine Hill.