My Riff on a Classic Lebanese Salad
Tabbouleh is chock full of fresh, in-season summer ingredients such as tomatoes, cucumbers and fragrant herbs. It's not only healthy and packed with that bright citrusy flavor you crave this time of year, tabbouleh is a cinch to make. Be sure to let the composed salad rest for a couple hours before serving, allowing all of the flavors to meld together. Serve on its own, with grilled chicken and veggies, or try stuffing it in a pita with hummus and feta.
Like this recipe? Save it on Pinterest!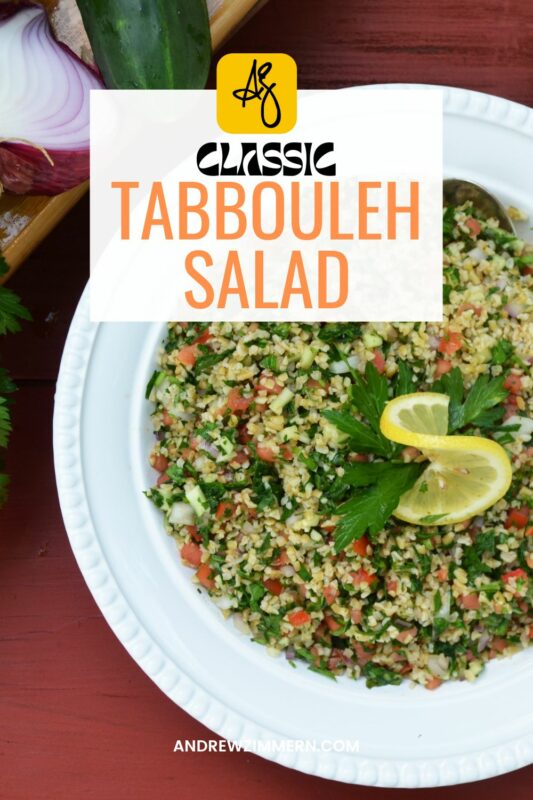 Tabbouleh
---
Ingredients
3/4 cup bulgur wheat
1  1/2 cups minced parsley
1/4 cup minced mint
1/4 cup minced cilantro
2/3 cup peeled, seeded and finely diced cucumber
4 medium roma tomatoes, seeded and diced
2/3 cup minced red onion
1 tablespoon minced garlic
2 tablespoons lemon juice, or more to taste
6 tablespoons olive oil
1 teaspoon salt, or more to taste
Black pepper
Instructions
Wash bulgur wheat in several changes of cold water, until water runs clear. Drain well.
Soak the bulgur wheat for one hour in cold water to cover.
After an hour, drain the wheat in a fine sieve and place in a large stainless steel bowl.
Add all of the remaining ingredients, tossing well. Season with the salt and fresh ground black pepper.
Cover and refrigerate for 2 hours.
Remove from fridge one hour before serving, and adjust seasonings as needed.
Photograph by Madeleine Hill.