Unique Vegetable Side Dish
This endive casserole is rich and flavorful, similar to a savory bread pudding.
Savory Endive Gratin
---
Ingredients
1 tablespoon soft butter for pan
2 c ups water
4 tablespoons butter
1/4 cup lemon juice
1 clove garlic, smashed and peeled
2 scallions, chopped
A few sprigs each of asssorted fresh herbs: parsley, tarragon, thyme
Pepper
1/2 teaspoon salt
10 whole endives, bottoms trimmed, outermost leaves discarded, cut in half lengthwise, washed and dried
2 tablespoons tomato paste
2 tablespoons butter
Pinch of nutmeg
Topping
1 pound loaf challah or egg bread, trimmed of crust, and ground briefly in a food processor to coarse crumbs
1/2 cup salted butter, melted
Additional salt and pepper
Instructions
Preheat oven to 375 degrees. Coat a 9×13 baking pan (or similarly sized casserole dish) with butter.
Put water, 4 tablespoons butter, lemon juice, garlic, scallions, herbs and seasoning in a large stock pot with a lid and heat, covered, over medium high heat until the broth boils. Turn heat to low so broth is summering, then add endive halves one at a time so they remain intact.
Recover pot, bring back to a boil, and simmer over low heat for 10 minutes or until endives are starting to become tender. Remove endive halves from broth with tongs, tipping each spear to drain liquid back into the pot before arranging evenly over the bottom of the buttered 9×13 pan. Sprinkle endives with a bit of salt and a few grinds of pepper.
Heat the remaining broth once again over medium heat to a simmer, then cook uncovered until broth is reduced by half to a glaze, about 10 minutes. Strain hot broth through a colander into a small bowl, pressing on solids (discard). The whisk tomato paste, 2 tablespoons butter and nutmeg into the broth. Correct the seasoning with salt and pepper as desired, and pour over endives.
Put bread crumbs in a large bowl and slowly mix in the melted butter. Press buttered crumbs over endives to cover completely. Bake for 30 minutes or until crumbs are nicely browned. Let sit for 5 minutes before serving.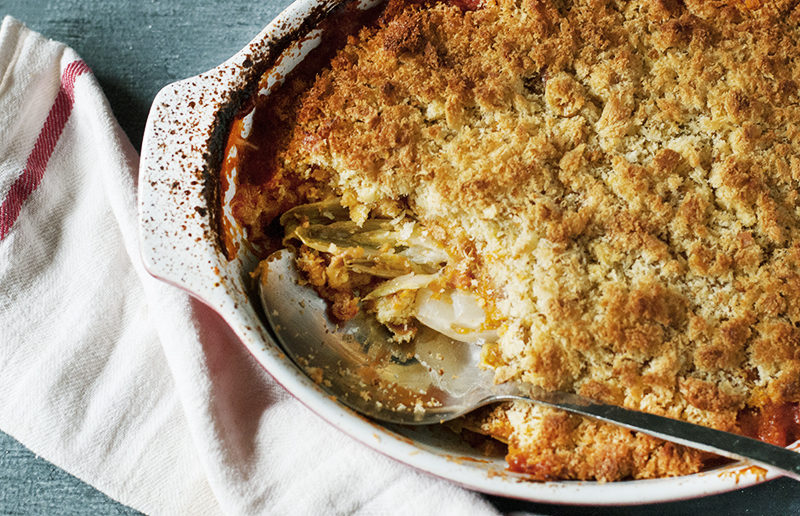 Photographs by Madeleine Hill. 
• Spaghetti Squash Crumble
• Scalloped Potatoes with Blue Cheese & Roasted Garlic
• Root Vegetable Puree