Cumin-Roasted Carrots & Muhammara Toast
This toast is a homage to one from Chef Dan Kluger: a cumin-roasted carrot and avocado salad that took New York City by storm. Here, the carrots are roasted with cumin and honey and then heaped over muhammara, a tangy walnut spread made with sweet-tart pomegranate molasses. The leftover muhammara makes an excellent dip for veggies or chips.
Recipe from Toast by Raquel Pelzel.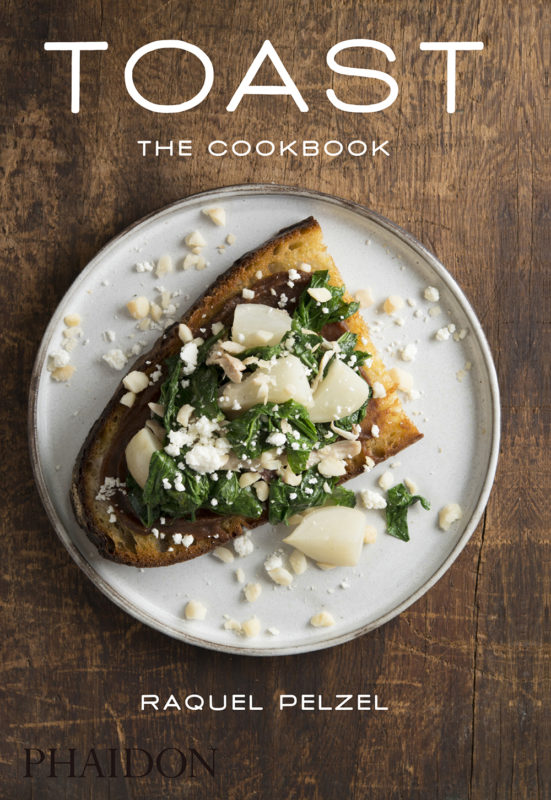 Cumin-Roasted Carrots & Muhammara Toast
---
Ingredients
Carrots and Muhamarra
6 medium carrots, halved lengthwise
3 tablespoons extra-virgin olive oil
1 tablespoon honey
1 teaspoon ground cumin
1  1/2 teaspoons kosher (coarse) salt
2 large red bell peppers
1 garlic clove, unpeeled
1 cup (100 g) walnuts, toasted
1  1/2 teaspoons pomegranate molasses
1/4 teaspoon smoked paprika or hot paprika
1/4 teaspoon freshly ground black pepper
Toast
Four 3/4 inch (2 cm) thick slices country-style bread
Extra-virgin olive oil, for the bread
Flaky salt
1/2 lemon
Honey, for serving
2 tablespoons salted, roasted sunflower seeds
2 tablespoons finely chopped fresh mint leaves
Instructions
Make the carrots: Position one oven rack in the upper third and a second in the lower third of the oven and preheat to 400F. Line a baking sheet with foil.
Arrange the carrots on the baking sheet and drizzle with 2 tablespoons of the olive oil and honey. Sprinkle with the cumin and 1/2 teaspoon salt and use your hands to roll the carrots around the spices, making sure each carrot is evenly coated. Roast for 15 minutes. Shake the pan and roast until golden brown and tender, 10-15 minutes longer. Remove from the oven and set aside.
Make the muhammara: Preheat the broiler (grill) to high. Arrange the peppers and garlic on the same foil-lined baking sheet and broil on the upper rack, turning occasionally, until the peppers are charred and blackened on all sides and the garlic clove is golden brown, 12-15 minutes total. Transfer the vegetables to a medium bowl, cover well, and let steam for 20 minutes.
Once the peppers are cool enough to handle, peel off the skin and remove the stem and seeds. Peel the garlic and place the clove in a food processor along with the roasted peppers, walnuts, pomegranate molasses, the remaining 1-tablespoon of olive oil, remaining 1-teaspoon salt, paprika, and pepper. Pulse until well combined and chunky, five to six 1-second pulses.
Make the toast: Toast the bread using your broiler. To serve, spread each toast with a generous few spoonful's of the muhamarra and top with a few carrots. Finish with a squeeze of lemon juice, a pinch of flaky salt, and a drizzle of honey. Sprinkle with the sunflower seeds and mint.
Adapted from Toast: The Cookbook by Raquel Pelzel (Phaidon, $24.95, September 2015)
Photography by Evan Sung.