Classic Chicken Parmesan
This chicken parmesan is my love letter to the Italian-American red sauce classic everyone craves. Sure you can gussy it up, but this recipe sticks to the basics—fried chicken topped with an easy homemade tomato sauce, creamy ricotta, mozzarella melted under the broiler, and a touch of fresh basil. It's truly a dinner of champions.
Andrew Zimmern Cooks: Chicken Parmesan
---
Ingredients
Tomato Sauce
2 tablespoons olive oil
2 garlic cloves, minced
1/2 medium onion, minced
1 basil sprig
Pinch of crushed red pepper
2 tablespoons Andrew Zimmern's Tuscan Sun Badia Seasoning
1/2 cup dry white wine
Pinch of sugar
1 tablespoon tomato paste
1/2 cup dry white wine
Kosher salt
Pinch of sugar
1 tablespoon tomato paste
One 28-ounce can tomato puree
Pepper
Chicken
2 boneless chicken breasts
2 tablespoons olive oil
Salt
Pepper
4 cups toasted bread crumbs
1 cup grated parmesan cheese
2 cups flour, well-seasoned with salt, pepper and Andrew Zimmern's Tuscan Sun Badia Seasoning
5 beaten eggs
2 cups canola oil, for frying
1 cup whole milk ricotta cheese
2 cups mozzarella pearls or diced fresh mozzarella, drained well
1/4 cup fresh basil leaves, julienned
Instructions
First, make the tomato sauce. In a large saucepan, heat the olive oil until shimmering. Add the garlic, onion, basil, a pinch of chile flake and the Tuscan Sun seasoning. Cook over medium heat for 3 minutes. Add the wine and cook for 1 minute. Season with salt and sugar. Add the tomato paste and tomato puree. Stir to combine and simmer over moderately low heat for 20 minutes. Taste the sauce and season with salt and pepper as needed. Reserve.
Place the chicken breasts one at a time between sheets of wax paper or plastic wrap. Drizzle the olive oil over the chicken and then pound out with a mallet until the breasts are about 1/4-inch thick. Season with salt and pepper.
In one bowl, combine the breadcrumbs with the parmesan cheese. Place the seasoned flour and beaten eggs in separate bowls to make a breading station. Dredge each chicken breast in the seasoned flour, dip in the beaten egg and then dredge in the breadcrumb cheese mixture. Set aside.
Heat the oil in a 14-inch skillet over medium heat to 375 degrees F. One at a time, fry the chicken pieces until cooked through and golden brown, about 4 minutes per side.
Place both fried chicken cutlets on a baking tray, smear with the ricotta, top with some tomato sauce, and season as needed. Cover with the mozzarella cheese and broil until cheese is bubbling and starting to brown. Serve immediately, garnishing with fresh basil.
---
Get my FREE 25 Best Recipes digital cookbook.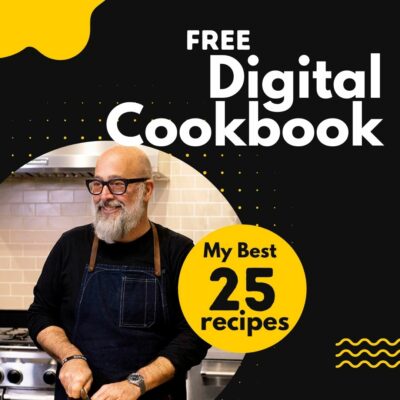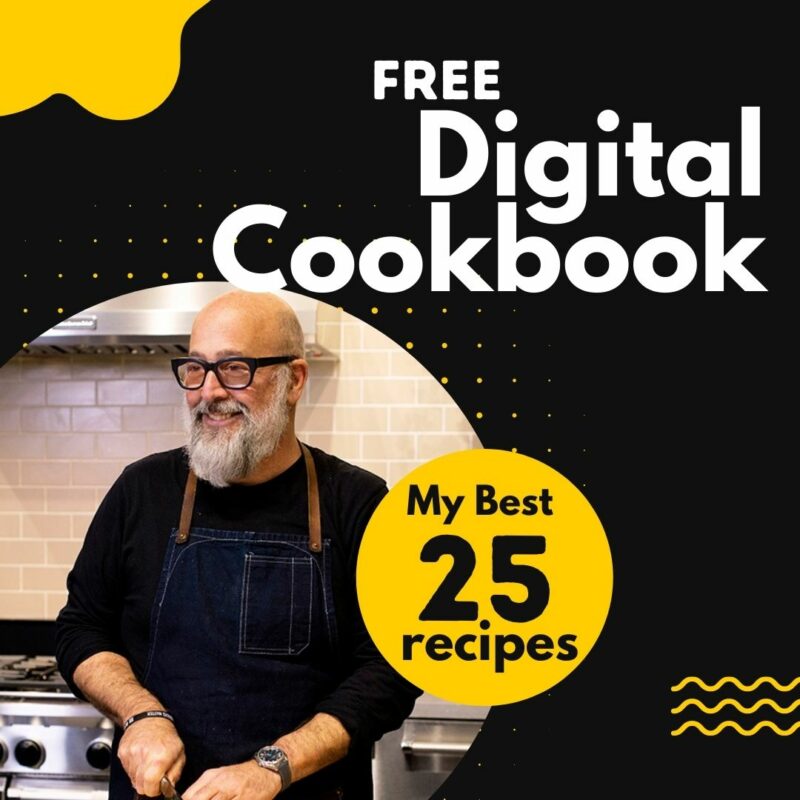 Plus exclusive recipes, travel recs and unique videos– all sent to your inbox! Sign up for my Spilled Milk newsletter. Once subscribed, check your email for the free download.- AZ