Chestnut Stuffing for Thanksgiving
I like to make my stuffing the same way my grandmother did, with the classic combination of turkey livers, roasted chestnuts and plenty of fresh herbs.
Like this recipe? Save it here.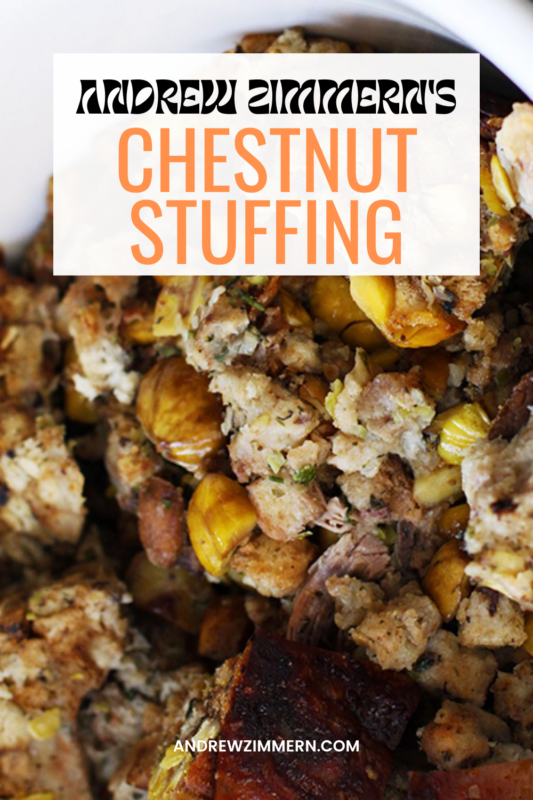 Chestnut Stuffing Recipe
---
Ingredients
1 pound fresh chestnuts, in the shell
8 cups dry seasoned bread cubes
1 cup onion, minced
1 cup celery, minced
2 tablespoons fresh sage leaves, minced
1 tablespoon fresh thyme leaves
2 tablespoon parsley, minced
2 tablespoons butter, melted
Salt
Pepper
1/2 cup turkey (or chicken) livers, minced
2 to 3 tablespoons heavy cream or milk
Instructions
Preheat oven to 350 degrees F.
Score the tops of the chestnuts with an 'X' mark using a paring knife or small serrated knife. Roast for 25 to 30 minutes, until cooked through. Peel and reserve meats, slicing them into quarters as best you can.
Reduce oven to 325 degrees F.
In a large mixing bowl, combine the bread cubes, onion, celery, sage, thyme, parsley and butter. Season with salt and pepper. Add the chopped chestnuts and minced livers. Moisten with a few tablespoons of cream and mix well to combine. Stuff the turkey, front and back. Tie or skewer legs together. Roast the stuffed turkey for 15 minutes per pound, or until the internal temperature of the thigh meat and stuffing reaches 160 degrees F.
Alternatively, place the stuffing in a casserole dish loosely tented with aluminum foil, and bake at 375 degrees F for about 40 minutes.
Like this recipe? You may also enjoy: 
• Boneless Stuffed Turkey Breast
• Roasted Chestnuts
• My Best Thanksgiving Side Dishes