Hearty Brisket Chili
What do you do with leftover brisket? Make one of my favorite dishes, this hearty meal in a bowl.
Watch Andrew make this recipe:
Like this recipe? Save it on Pinterest.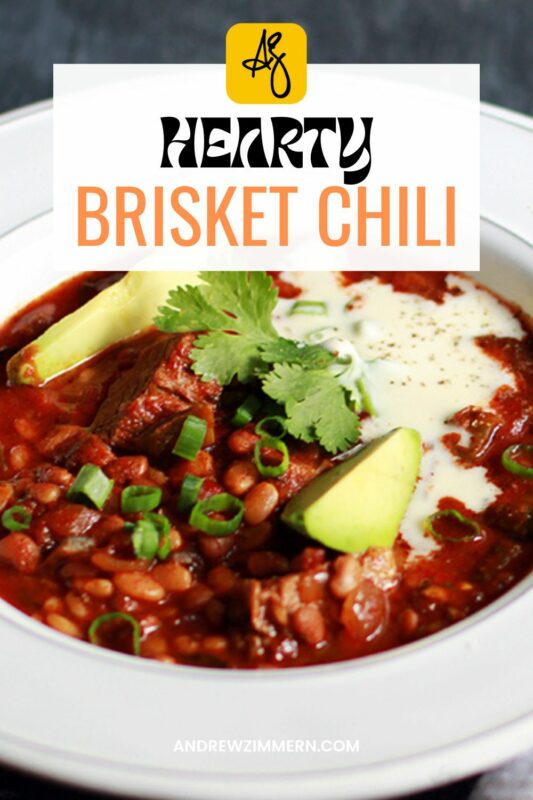 Brisket Chili
---
Ingredients
2 tablespoons vegetable oil
1 large onion, diced
2 slices of bacon, chopped
2 poblano chiles—stemmed, seeded and diced
Kosher salt and freshly ground pepper
5 garlic cloves, grated on a microplane
1 tablespoon dried oregano
3 tablespoons cumin
1/3 cup ancho chile powder
1/4 cup minced cilantro, plus more for serving
4 chipotle chiles in adobo sauce, chopped
1 pound dried tepary beans, soaked overnight and drained
One 28-ounce can whole tomatoes
3 cups dark beer
5 cups chicken stock
1 pound cooked brisket, chopped
3 tablespoons corn flour
3 tablespoons water
Scallions, avocado slices, crème fraiche and lime juice, for garnish
Instructions
In a large stock pot, heat the oil until shimmering over medium heat. Add the onion, bacon and poblano peppers. Season with salt. Cook for 5 minutes, letting the fat from the bacon render out.
Add the garlic, oregano, cumin, ancho chile powder, cilantro, chipotle chiles in adobo and tepary beans. Cook until fragrant, about 2 minutes.
Crush the whole tomatoes with your hands and add them to the pot. Add ¾ of the beer and ¾ of the chicken stock, reserving the remaining liquid to add as needed throughout the cooking process. Bring to a boil, then lower heat to maintain a slow simmer. Cook uncovered for about one hour. Check beans for tenderness, they should be almost cooked through before adding the brisket. Add more liquid if necessary.
Stir in one pound of chopped leftover brisket.
In a small bowl, whisk the corn flour with the water until smooth. Slowly whisk the mixture into the chili until incorporated. Cook for another 20 minutes, or until beans are tender. Taste the chili and season with salt and pepper as needed.
Serve, garnishing with sliced scallions, cilantro, avocado slices, a dollop of crème fraiche and lime juice.
• Green Chile & Pork Chili
• Pork & Black Bean Chili
• Italian Wedding Soup with Meatballs