Braised Brisket with Fennel & Onions
This classic braised brisket is a riff on my grandmother's recipe. It was one of the first dishes I helped my grandmother make and a staple at my family's holiday table for generations. Braised in the oven with fennel and onions, it's perfectly melting and tender.
Watch Andrew make this recipe:
Like this recipe? Save it on Pinterest.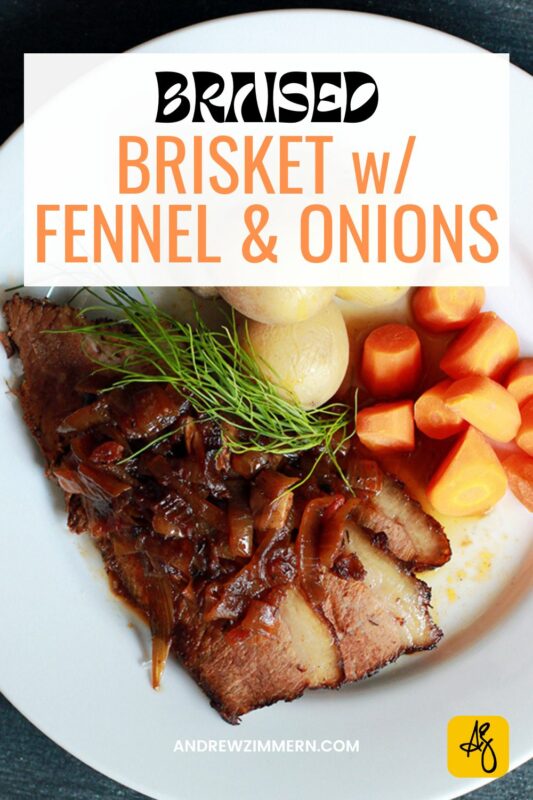 Braised Brisket
---
Ingredients
1 tablespoon fine sea salt, plus more for seasoning
1 tablespoon freshly ground pepper
2 tablespoons dried thyme
2 tablespoons sweet paprika
2 tablespoons dried sage
One 9 to 10-pound whole beef brisket
1/4 cup grapeseed oil
8 medium onions (3 pounds) sliced
1 teaspoon black peppercorns
3 bay leaves
10 garlic cloves, peeled
1 cup tomato puree
2 cups beef stock
1 cup Banyuls vinegar or aged red wine vinegar
3 fennel bulbs, each cut through the core into  1  1/2-inch wedges
Instructions
In a bowl, whisk together the salt, pepper, thyme, paprika and sage. Rub the spice mixture all over the brisket and let stand at room temperature for 1 hour.
Preheat the oven to 300°. In a large flameproof roasting pan set over 2 burners, heat the oil. Add the brisket to the roasting pan and cook over moderately high heat, turning once, until browned, about 6 to 7 minutes per side. Transfer the brisket to a large baking sheet.
Add the onions and a generous pinch of salt to the roasting pan. Cook over moderate heat, stirring occasionally, until the onions are softened and well browned, about 15 minutes. Add the peppercorns, bay leaf, garlic cloves, tomato puree, stock and vinegar. Bring to a simmer. Return the brisket to the roasting pan, placing it fat side up. Nestle the fennel in the braising liquid around it.
Tent the brisket with foil and bake for 6 to 7 hours depending on the size of your brisket, or until very tender. Transfer the brisket to a carving board, tent with foil and let rest for 20 minutes. Skim the fat off the braising liquid and discard the bay leaf. Carve the brisket and transfer to a platter. Serve with the onion gravy pan juices.
• Perfect Pot Roast
• Essential Tips for Braising
• Make Corned Beef Brisket at Home