One of My Favorite Ways to Use Leftover Turkey
This is one of the great comfort foods of all time, and if it doesn't become a post-Thanksgiving favorite in your house, I will be shocked. Creamy and sublime, Old World and rustic in the best farmhouse sense possible, this dish, served with a pot of long-grain Carolina rice, can't be beat.
Oftentimes, I serve this with a side of roasted endive gratin, because it pairs really well: Poach whole endive in just enough water to cover, seasoned with butter, salt and honey. Then drain and drip-dry, arrange in a baking dish, cover with fresh butter and toasted bread crumbs and bake until crispy.
Watch Me make This Turkey a la King Recipe:
Like this recipe? Save it on Pinterest.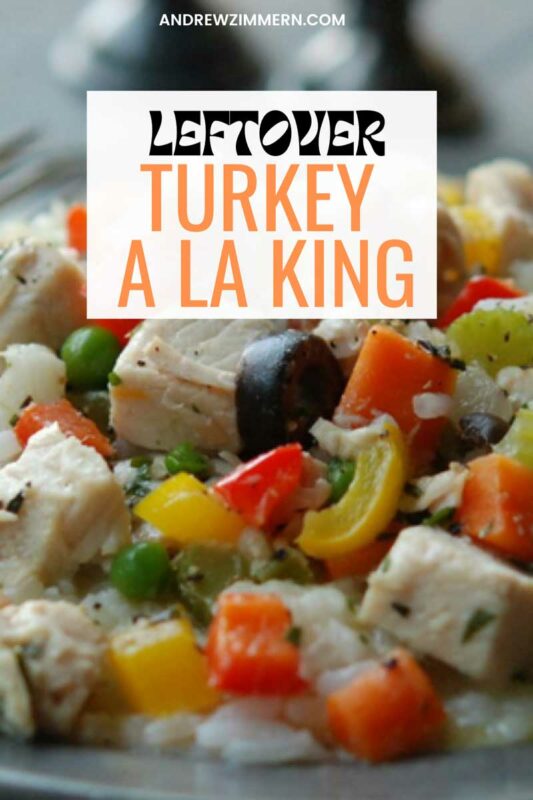 Turkey A La King Recipe
---
Ingredients
4 tablespoons unsalted butter
1 medium onion, cut into 1/4-inch dice
2 celery ribs, cut into 1/4-inch dice
2 carrots, cut into 1/4-inch dice
1/2 red bell pepper, cut into 1/4-inch dice
1/2 yellow bell pepper, cut into 1/4-inch dice
1/2 cup frozen peas, thawed
1/3 cup sliced black olives
1/4 cup finely chopped flat-leaf parsley
1 tablespoon finely chopped tarragon
1 tablespoon chopped thyme
3 tablespoons all-purpose flour
4 cups leftover turkey, cut into 1-inch pieces
2  1/4 cups turkey or chicken stock or low-sodium chicken broth
3/4 cup milk
Salt and freshly ground white pepper
Steamed white rice, for serving
Instructions
In a large, deep skillet, melt the butter over moderately high heat. Add the onion, celery, carrots, bell peppers and peas and cook, stirring occasionally, until the onion is translucent, about 2 minutes. Stir in the olives, parsley, tarragon, thyme and flour and cook, stirring constantly, until the flour is fully incorporated and slightly browned, about 2 minutes.
Add the turkey to the skillet and cook for 1 minute. Gradually add the stock, stirring well and scraping up any browned bits from the bottom of the pan. Simmer over low heat until slightly thickened, about 3 minutes. Pour in the milk and return to a simmer. Cook until thickened, about 5 minutes. Season the stew with salt and white pepper and serve with rice.
MAKE AHEAD The stew can be refrigerated overnight. Reheat gently before serving.
Originally published in Andrew Zimmern's Kitchen Adventures on foodandwine.com.
Photo by Stephanie Meyer.