An Andrew Zimmern-Style Snackadium
This year we decided to ride the Super Bowl snackadium trend wave, and make the ultimate food-filled novelty snack station. And, of course, we had to attempt one that looked like the new U.S. Bank Vikings stadium. The focal point of this snackadium is my Canteen Dog—a Piedmontese beef dog topped with roasted vegetable mayo, spicy dark mustard, pickled jalapenos and a simple cabbage slaw. Then we added a few of my favorite recipes: Chinese sticky chicken wings, Saigon beef rolls and chicken satay with peanut sauce (recipes below). Plus, easy grab-and-go snacks like tortilla chips, soft pretzels and fruit, for a little color and a healthy balance. If you need more inspiration for snackadium fillings, check out my Super Bowl recipes on Pinterest.
Tips for making your own snackadium:
Start with cardboard magazine filers (available at Target, Office Depot, etc). They make perfect dividers for stands. Hot glue each section together. We had 6 sections on each side and 3 on the ends, but you can make it as big or little as you want! To make up the corners, you could cut styrofoam or cardboard. We cut 2-x-4s to fit in the corners and glued foam core to the back. The middle "field" is made from aluminum foil pans, cut to fit together; and aluminum dividers to make end zones. Then it's time to fill… and make sure you invite plenty of friends over to enjoy!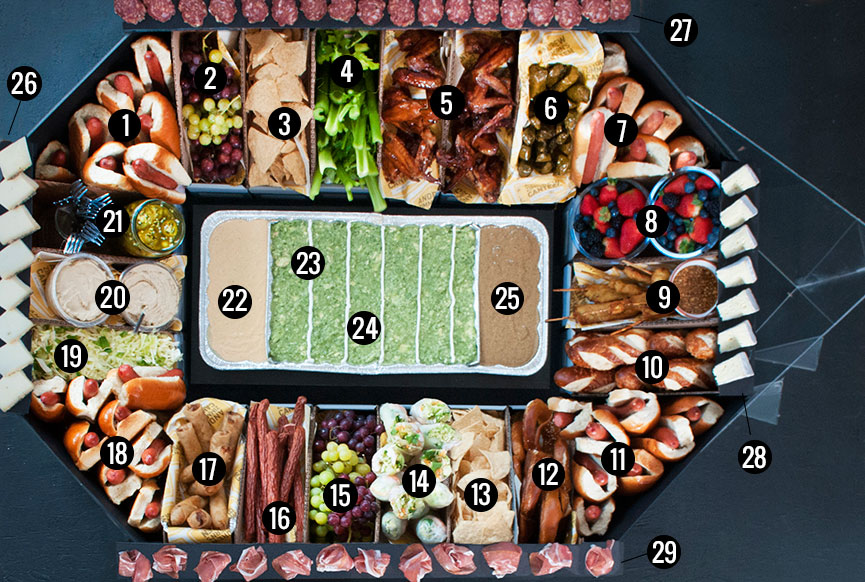 1. Piedmontese Hot Dogs & Buns
2. Grapes
3. Tortilla Chips
4. Celery
5. RECIPE: One-pot Chinese Chicken Wings
7. Piedmontese Hot Dogs & Buns
8. Strawberries, Blueberries & Blackberries
9. RECIPE: Chicken Satay & Peanut Sauce
10. Soft Pretzels
11. Piedmontese Hot Dogs & Buns
12. Soft Pretzels
13. Tortilla Chips
14. RECIPE: Fresh Shrimp Springs Rolls
15. Grapes
16. Spicy Beef Sticks from Kramarczuk's
17. RECIPE: Fried Pork Egg Rolls
18. Piedmontese Hot Dogs & Buns
20. Babaganoush
22. RECIPE: Roasted Vegetable Mayo
23. Sour Cream Stripes
24. RECIPE: Tomatillo-Avocado Salsa
26. Cheese
27. Salami
28. Camembert Triangles
29. Prosciutto