Replace the Casserole
These green beans are a great replacement for Grandma's traditional casserole with canned cream of mushroom soup. Variety really is the spice of life.
Save my Steamed Green Beans with Toasted Almond-Mushroom Pesto recipe on Pinterest: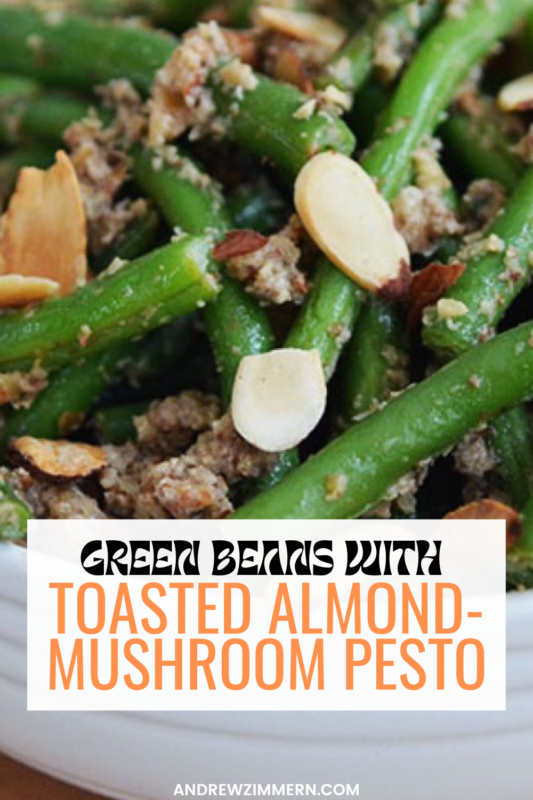 Steamed Green Beans with Toasted Almond-Mushroom Pesto
---
Ingredients
2 pounds green beans, tipped and trimmed
1 tablespoon olive oil, plus 2 teaspoons
12 ounces stemmed and sliced mushrooms (cremini and shiitake are a nice mix for this dish)
1 small onion, chopped
2 cloves minced garlic
1 tablespoons fresh tarragon
1 cup toasted almonds
1 tablespoon lemon juice
1 tablespoon soy sauce
Sea salt and white pepper to taste
Toasted almonds for garnish (optional)
Instructions
SERVINGS: 6
Place 1 tablespoon of the oil in a large no-stick skillet. Saute the onion, garlic and mushrooms until lightly browned.
Pull from heat. Add the tarragon and cool for 5 minutes.
Pulse puree the mushroom mixture in the food processor, being careful not to overmix. Add the almonds, lemon juice and soy sauce and pulse to combine. Reserve to a work bowl.
Steam the beans until crisp tender and reserve.
Right before serving, place the no-stick pan on high heat. Add the 2 teaspoons of oil, and add the beans, tossing until heated through. Add the mushroom mixture and toss to combine.
Cook for a few minutes and serve, seasoning with sea salt, ground white pepper and toasted almond slices.
 Photograph by Madeleine Hill.