Seared Scallops with Corn, Spinach & Bacon
By Hugh Acheson
We don't put bacon in everything in the South, contrary to what some people think. But we do use it in this recipe because the kinship between corn, scallops, and bacon is undeniably great. You'll want to use really good scallops, and getting them is easiest if you have a good relationship with a fishmonger—a relationship that, when nurtured, will garner you the best seafood, always in season, that you could possibly get your hands on.
Recipe from The Broad Fork by Hugh Acheson. Order your copy here.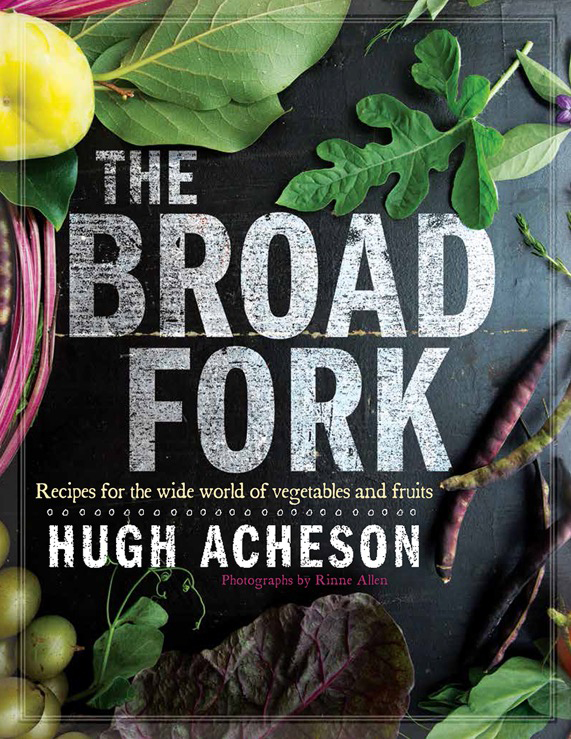 Seared Scallops with Corn, Spinach & Bacon
---
Ingredients
1/2 pound bacon, diced
2 shallots, sliced into rings
4 ears corn, kernels removed from the cob
Sea salt
2 tablespoons unsalted butter
1 pound spinach
1 tablespoon freshly squeezed lemon juice
12 large (U10 size) dry-packed scallops (make sure they are preservative-free)
2 tablespoons canola oil
Instructions
Place the bacon in a medium sauté pan over medium- high heat, and cook until the fat starts to foam and the bacon is crisp, about 4 minutes. Drain off most of the bacon fat and add the shallots to the pan. Cook the shallots for 2 minutes, and then add the corn kernels. Continue to cook for an additional 4 minutes, until the kernels are tender but still have some pop. Season with sea salt to taste, and add 1 tablespoon of the butter. Add the spinach and cook just to wilt it, about 1 minute. Then finish with the lemon juice and more sea salt to taste. Remove from the heat and keep warm on the stovetop, but not directly over the heat.
Pat the scallops dry with a paper towel and season them all over with sea salt. Heat the canola oil in a large sauté pan over high heat. Once the oil has come to a slight smoke, add the scallops and sear for 3 minutes on one side. They should caramelize and develop a good golden-brown color. Add the remaining tablespoon of butter to the scallops and allow it to melt. Flip the scallops over and quickly spoon the butter over them, cooking for 1 minute more. Remove the scallops from the sauté pan and place them on a plate lined with a paper towel.
Spoon the spinach/bacon/corn mixture onto individual plates, and arrange the scallops on top. Eat.
Recipes reprinted from The Broad Fork: Recipes for the Wide World of Vegetables and Fruits. Copyright ©2015 by Hugh Acheson. Photographs by Rinne Allen. Published by Clarkson Potter/Publishers, an imprint of Penguin Random House LLC.