Upgrade Your Thanksgiving Stuffing
This holiday season, I've decided to upgrade the classic American stuffing with this take on a savory, rich bread pudding. Even if you're a Thanksgiving menu purist, this recipe will win you over.
Like this recipe? Save it on Pinterest.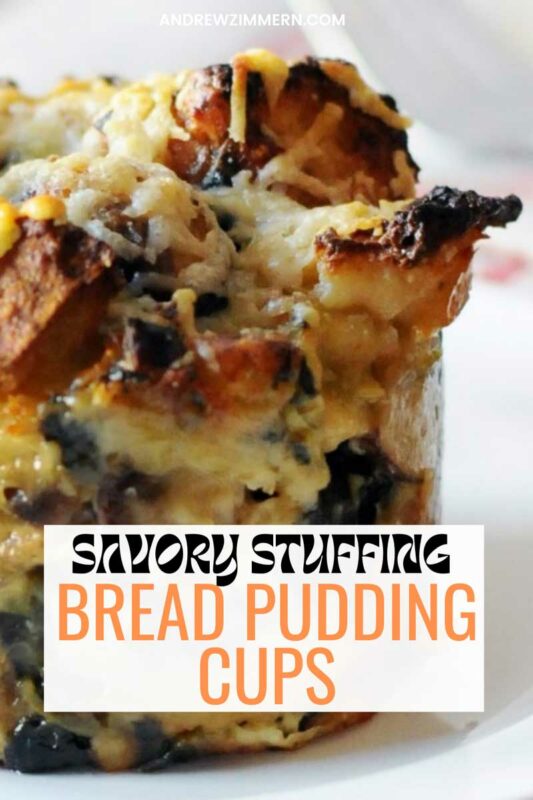 Savory Stuffing Bread Pudding Cups
---
Ingredients
4 tablespoons butter
4 tablespoons shallots, minced
2 cups leeks, white and pale green parts minced
12 ounces mushrooms, thinly sliced
8 ounces of cooked spinach, squeezed dry (frozen is fine to use)
1 pound of crusty bread, cut into 1-inch cubes
2 cups Fontina, shredded
1 cup Parmesan cheese, grated
2 large eggs
1  1/2 cups milk
1  1/2 cups heavy cream
Instructions
Place 3 tablespoons of the butter in a large sauté pan over high heat. Add the shallots, leeks and mushrooms and cook until caramelized (be careful to not let them burn). When almost finished add the spinach and stir to combine.
Place this mixture in a large work bowl and stir in the bread, fontina cheese and half the parmesan. Reserve.
Beat the eggs in a mixing bowl. Bring the milk and cream to a bare simmer over medium heat. Whisk the hot cream mixture into the eggs. Stir this custard mixture into the bread mix and combine well. cLet sit for 30 minutes in the fridge.
Preheat the oven to 400 degrees F.
Remove the bread mixture from the fridge and divide into 8 buttered ramekins (you can also use a brownie pan if you prefer). Place in the oven and cook for 25 minutes.
Unmold individual stuffing bread puddings and sprinkle with the remaining parmesan. Place back in the oven and brown underneath a broiler. If you're using a brownie pan, sprinkle remaining parmesan on the top of the family style option and brown the same way. Serve.
Photograph by Madeleine Hill.
• Roast Crown of Goose with Stuffing
• Perfect Turkey, Stuffing & Gravy
• Kale, Leek & Ricotta Bread Pudding