Tomato Sauce Sous Vide-Style
By Madeleine Hill
Look, I'm not Andrew Zimmern, but I do work for him (both a blessing and a curse). I love to cook, but I didn't go to culinary school. Three years ago, I turned a hobby into a job when I started testing Andrew's recipes for Food & Wine magazine and andrewzimmern.com, and now I'm bringing my own kitchen experiments to life in a new series. 
• • •
Does anyone need a sous vide machine in their kitchen cabinets? No, of course not; cooks have survived without them for millennia. But, what they will do is enrich your food world if you love to cook, the same way one good knife or one quality copper pan is worth investing in.
Does using the sous vide method, in some applications, result in better tasting food with replicable consistency? Yes. Case in point: the sous vide beef tenderloin I made that turned out to be the best piece of meat to ever come out of my kitchen—tender and moist, evenly cooked, and if I dare say, just perfect.
This time around I asked: what vegetables would truly benefit from the sous vide method? Root vegetables, radishes, artichokes all come to mind. But we're coming up on the height of tomato season, and if you're anything like me, you're looking for an interesting way to use them up. My solution? A batch of sous vide tomato sauce. The results were just as I had hoped, a sauce fresh enough to taste like it came straight from my garden, but with an intensified, rich tomato flavor typically achieved by hours of simmering on the stove. And instead of the herbs being muddled into the background, they stayed true to their raw flavor making it the perfect summery pasta sauce.
Kitchen Experiments: Sous Vide Tomato Sauce
---
Ingredients
2 tablespoons olive oil
1/2 cup shallot, chopped
1/2 cup onion, chopped
2 garlic cloves, sliced
3 sprigs fresh oregano, stemmed
2 pounds ripe tomatoes
3 sprigs fresh thyme, whole
6 large basil leaves, chopped
1/3 cup parsley leaves, chopped
Instructions
Over medium heat, saute the onion, shallot, garlic and oregano in the olive oil for 5 to 7 minutes.
Fill your largest stock pot with water and attach the sous vide machine, following operating instructions. Set temperature to 83 degrees C.
Place the tomatoes in a food safe plastic zip-bag with the herbs, sautéed vegetable mix, salt and pepper. Remove the air by holding the top of the bag open and lowering the bag into the water bath. When just the top of the bag is above the water, zip it closed and drop it into the water. Cook for 50 minutes.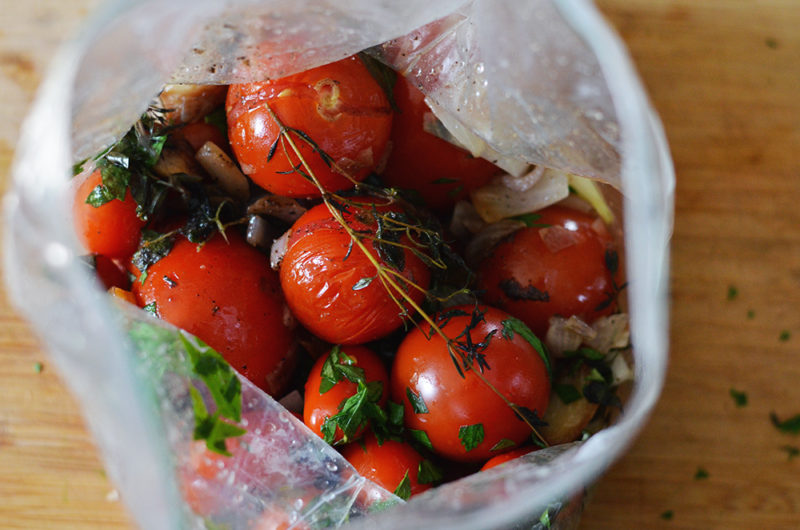 Remove bag from the water, open and let cool for a few minutes. Peel the tomatoes—the skin should come off very easily after cooking. Remove the thyme stems and discard. Place the peeled tomatoes and the remaining contents of the bag in a food processor and blend until desired texture (I left a few chunks in mine).
Serve. If using with pasta, mix tomato sauce and al dente noodles in a pot on the stove and cook for a few minutes to incorporate the sauce.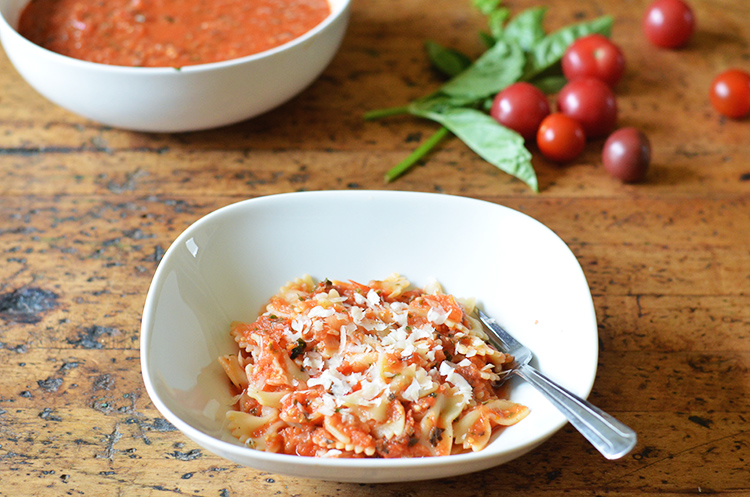 • 9 Ways to Use Summer Tomatoes
• Kitchen Experiments: Sous Vide Beef Tenderloin
• Classic Tomato Sauce
Photographs by Madeleine Hill.