My Favorite Fallen Dessert
Five years ago, I ate a Huguenot torte in the 17th-century Charleston home of a friend of the South Carolina cookbook authors Matt and Ted Lee. After getting the basic idea of the recipe from the Lees, I re-created a fruit version of the simple crisp the following week. The achingly perfect, meringue-like mantle of this classic pie is almost identical to the classic 19th-century Russian dessert referred to as Fallen Ruins. Fallen desserts resemble a hot mess when they are served, but you will want to make this for your family again and again. It proves that visual perfection isn't a prerequisite for eating pleasure.
Like this recipe? Save it on Pinterest.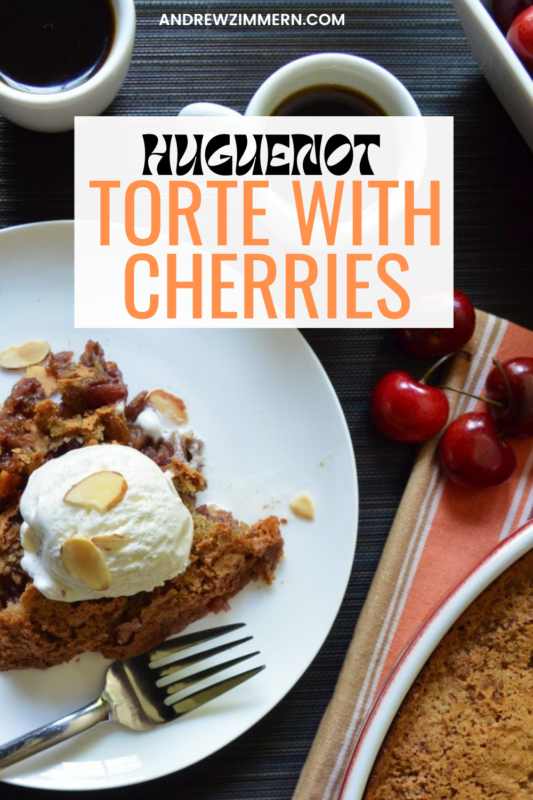 Huguenot Torte with Cherries
---
Ingredients
Softened unsalted butter, for greasing
1  1/2 cups sliced almonds
2 large eggs
3/4 cup dark brown sugar
1/2 cup granulated sugar
1 teaspoon pure vanilla extract
1/2 teaspoon pure almond extract
1/3 cup all-purpose flour
2 teaspoons baking powder
Fine salt
1/2 pound sweet cherries, pitted and halved
Vanilla ice cream, for serving
Instructions
Preheat the oven to 325°. Butter a 2-quart oval baking dish. Spread the almonds on a large rimmed baking sheet and toast for about 10 minutes, until light golden; let cool completely. Leave the oven on.
In a large bowl, beat the eggs until frothy. Whisk in both sugars along with the vanilla and almond extracts, then whisk in the flour, baking powder and a generous pinch of salt. Fold in the cherries and 1 cup of the toasted almonds. Scrape the mixture into the prepared baking dish.
Bake the torte for about 50 minutes, until the top is browned and crisp. Let cool for 20 minutes. Serve with vanilla ice cream and the remaining 1/2 cup of toasted almonds.