My Favorite Chickpea Salad
Dressed with lemon juice, Banyuls vinegar, earthy capers and fresh herbs, this flavorful salad is one of my go-to side dishes all year round. It makes great leftovers as well.
Like this recipe? Save it on Pinterest!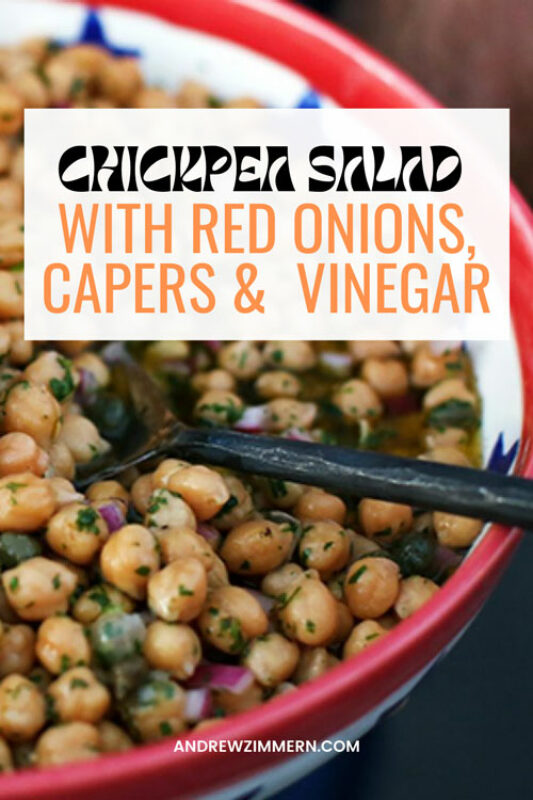 Chickpea Salad with Red Onions, Capers & Banyuls Vinegar
---
Ingredients
2 cups dried chickpeas
1 bay leaf
2 garlic cloves
1 cup olive oil
1 teaspoon salt
1 teaspoon sugar
1 red onion, diced
1/2 cup Banyuls vinegar
Freshly cracked black pepper
2/3 cup salt packed capers, rinsed
3 tablespoons Italian parsley, chopped
2 tablespoons tarragon, chopped
Juice of 1 lemon
Maldon sea salt
Instructions
Place the chickpeas in a stock pot with the bay leaf and garlic cloves, adding enough water to cover them by 3 to 4 inches. Bring to a boil slowly, skimming the foam as it starts to heat up. Once boiling, turn down to medium and cover. Keep your eye on the chickpeas as they cook, if it boils too hard take off the lid and if you lose the boil, throw the lid back on. It will take a good 2 to 3 hours before the chickpeas are cooked. You want them to be tender and soft, not al dente. They can be chilled and stored with some of the cooking liquid at this point, or used for this salad.
To make the salad, drain the beans and toss in a bowl with the olive oil. Place the diced onions in a separate bowl and season with the salt and sugar. Let it sit for 5 minutes, then add the Banyuls vinegar. Stir to dissolve the salt and sugar. Season with fresh crack pepper and then pour over the chickpeas. Add the capers, chopped herbs, 1/2 of the lemon juice and an extra drizzle of olive oil. Taste for seasoning, adding sea salt, pepper and additional lemon juice if necessary. Serve.
Photograph by Madeleine Hill. 
• Endive, Celeriac & Avocado Salad
• Kale Salad with Miso & Pistachios
• Shaved Brussels Sprouts with Burrata