Rustic Pear Tart
This free-form pear galette makes a regular appearance at my dinner parties. Rich from the caramel and spices, and sweet with ripe pears, it's my idea of a cool weather dessert. Bonus: you don't have to worry about perfectly crimping the edge of your pie crust.
Like this post? Save it on Pinterest.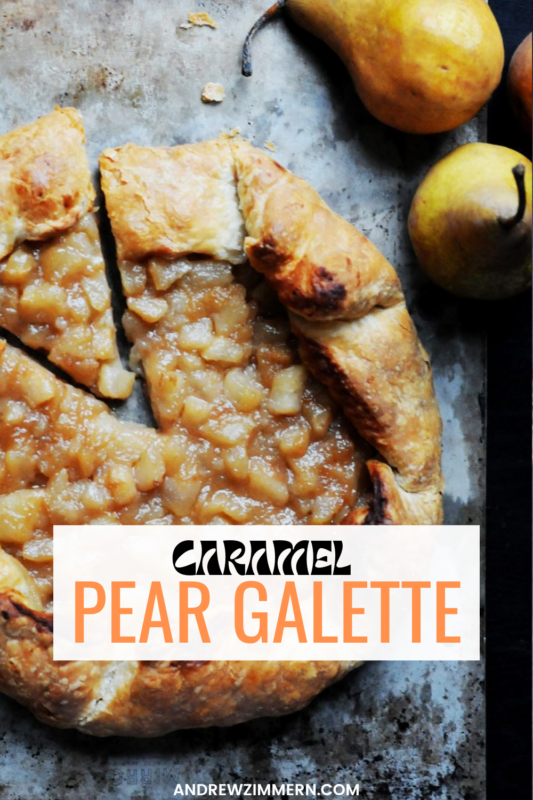 Caramel Pear Galette
---
Ingredients
8 ripe Bosc pears
4 tablespoons sugar
2 tablespoons brown sugar
5 tablespoons butter
1 teaspoon cinnamon
Pinch each ground ginger, allspice, clove and nutmeg
1 sheet puff pastry, store bought is fine
Whipped Cream
1 cup heavy whipping cream
1/2 cup crème fraîche
1 teaspoon vanilla
2 tablespoons powdered sugar
Instructions
Preheat the oven to 400 degrees F. Peel, core and dice the pears.
Place the butter and sugars in a large nonstick pan over high heat to caramelize for about 5 minutes. Caramel may break, this is ok.
Add the pears and spices, and saute for 20 minutes over medium heat, tossing to reconstitute the caramel. The cooking process will extract and evaporate the pear juices. Cool briefly while you prepare the galette crust.
On a floured surface, roll out chilled, but defrosted, puff pastry dough into an 11-inch disc. Transfer dough to a nonstick cookie sheet (or a cookie sheet with parchment paper). Fill center of the pie crust with the pear filling. Working in a circle, pull up the dough over the filling to form a one inch crust around the tart.
Bake at 400 degrees for 40 to 45 minutes, or until the crust is a nice golden brown. Cool.
While the pear galette is cooling, make the seasoned whipped cream. In a deep bowl or stand mixer, beat the heavy cream with the crème fraîche and vanilla until soft peaks form. Sprinkle powdered sugar over cream. Beat until soft peaks return. Do not overbeat.
Photographs by Madeleine Hill. 
• Pear Tarte Tatin with Anise Seed Caramel
• Pecan Tart
• The Perfect Pumpkin Pie