Potato Salad
Everyone needs a potato salad recipe in their back pocket during backyard barbecue season. I'm channeling my inner French grandmother in this version with fingerling potatoes glossed in a warm, rich bacon vinaigrette. It's always the first thing to disappear off the potluck table… just saying.
Watch Andrew make this recipe:
Like this post? Save it on Pinterest!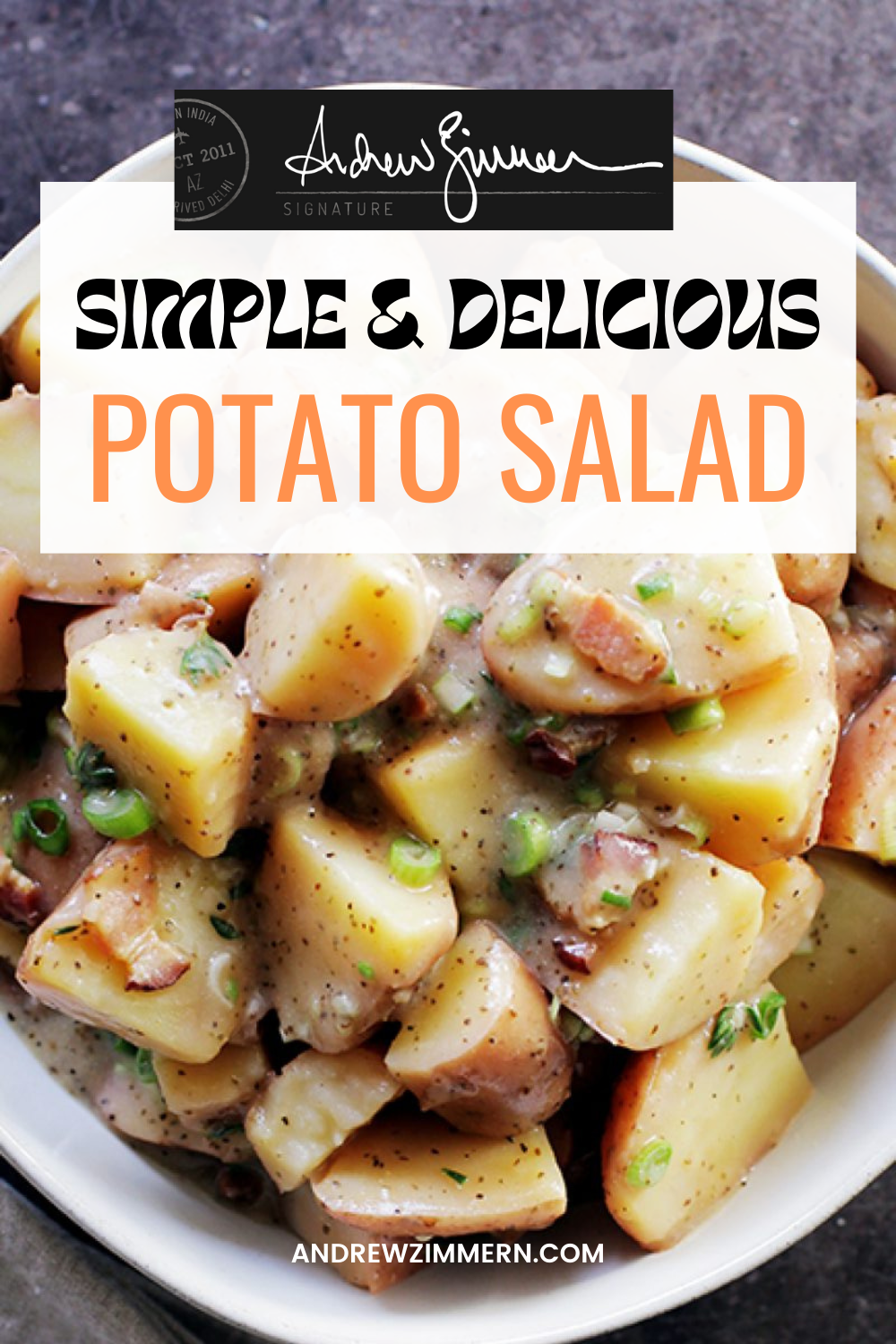 Potato Salad
---
Ingredients
2 pounds fingerling potatoes
Salt
1/3 pound apple wood smoked bacon, cut in matchsticks
1/2 cup scallions, minced
2  1/2 tablespoons flour
1  1/2 cups rich chicken stock
2 tablespoons brown sugar
2 tablespoons fresh thyme leaves
1 teaspoon celery seeds
1/2 teaspoon ground black pepper
2 teaspoons dry mustard
1/3 cup cider vinegar
Instructions
Place the potatoes in 3 quarts of rapidly boiling salted water. Bring back to a boil, lower heat to maintain a simmer and cook for 12 minutes. Drain and rinse for a few minutes with cold water. Drain a second time. Quarter the potatoes and reserve to a large mixing bowl.
In a sauté pan over medium heat, fry the bacon until crisp. Drain on a paper towel.
While the bacon is frying, mince your scallions and place them in the bowl with the cooked potatoes. Season the potatoes with salt.
Reserve 2 tablespoons of the bacon fat in the pan and put over low heat. Add the flour and cook briefly. Form a paste and gently whisk the stock into the pan. Continue to cook, whisking until the sauce is smooth and has thickened, about 5 minutes.
Add the brown sugar, thyme, celery seeds, black pepper, mustard powder and vinegar. Stir well to combine. Remove from heat and pour over the potatoes. Sprinkle with the bacon and toss to evenly coat the potatoes. Serve warm or at room temperature.