Mayonnaise Dips & Sauces
Now that I've taught you how to make homemade mayonnaise, here are a few ways to jazz it up for a dip, marinade, salad dressing or sandwich spread. Really, the possibilities are endless, so season to your liking with whatever herbs, citrus and spices you have on hand. Want a little heat? Add a minced jalapeño. Need a sauce for french fries? Roast a head of garlic. Craving a tangy dip? Stir in a scoop of plain yogurt. Looking for a party appetizer? Try my warm artichoke and crab dip. Making a cold seafood platter? Whip up a batch of my herbed aioli. You get the idea.
Watch Andrew make this recipe:
Like these recipes? Save them on Pinterest.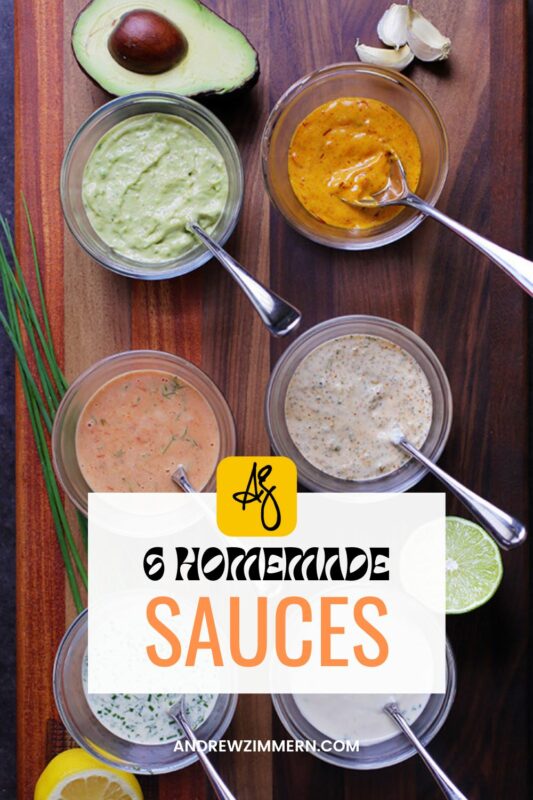 Instructions
Russian Dressing
Schmear it on a roast beef sandwich or use as a dressing for an iceberg wedge salad.
1/2 cup mayonnaise
1/3 cup Heinz chili sauce
1 tablespoon chili paste
1/4 cup onion, minced
1 tablespoon dill, chopped
1 tablespoon lemon juice
Herbed Vegetable Dip
The perfect accompaniment to carrot and celery sticks for the kids.
1/2 cup mayonnaise
1 tablespoon lemon juice
2 tablespoons chives, thinly sliced
1 tablespoon Dijon mustard
1/2 cup sour cream
Chicken Marinade
Finish the marinaded chicken under the broiler for a fantastic glaze.
1/2 cup mayonnaise
1 tablespoon dried kale flakes
1 tablespoon chile-lime seasoning
1 tablespoon lemon juice
1/4 cup sour cream
Avocado & Lime Mayo
Great on tacos and tortas, or with chips and salsa.
1/2 cup mayonnaise
1 tablespoon lime juice
2 teaspoons Worcestershire
1/2 cup mashed avocado
1 teaspoon cumin
1 teaspoon oregano
1 teaspoon hot sauce
Lemon & Herb Seafood Sauce
Serve with fish or shrimp after it comes off the grill.
1/2 cup mayonnaise
3 tablespoons chives, thinly sliced
2 tablespoons dill, minced
3 tablespoons lemon juice
Bouillabaisse Sauce
Use as the rouille for your next seafood stew.
1/2 cup mayonnaise
Pinch of saffron
1 tablespoon lemon juice
1 tablespoon fresh red chile, minced
1 clove garlic, grated
1/2 teaspoon smoked paprika