Apple Tarte Tatin
A classic Parisian recipe, tarte tatin is an upside-down apple tart made famous by the Tatin sisters more than a century ago. The best autumnal treat I can think of, this stunning caramelized apple dessert is an easy show stopper.
Watch Andrew make this recipe:
Like this recipe? Save it on Pinterest.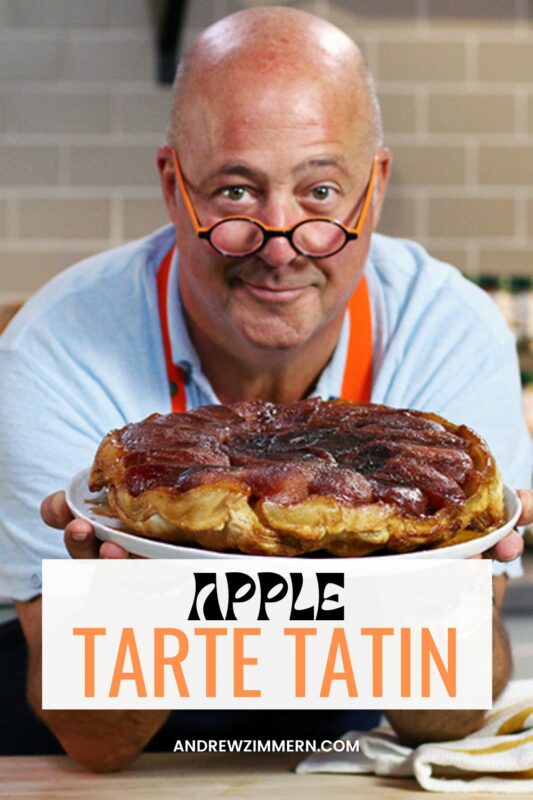 Apple Tarte Tatin
---
Ingredients
14 apples
4 tablespoons unsalted butter
3/4 cup sugar
Pinch of ground clove
Pinch of allspice
Pinch of nutmeg
1 teaspoon cinnamon
1/2 teaspoon ground ginger
2 sheets frozen puff pastry (about 17 ounces), defrosted but chilled
Crème fraîche or whipped cream, for serving
Instructions
Peel, core and halve the apples. Reserve.
Preheat the oven to 400 degrees F.
In a 12-inch nonstick skillet, melt the butter over medium heat. Add the sugar and cook, swirling the mixture, until a deep caramel forms, about 7 minutes.
Arrange the apples in the pan, beginning with the outer rim, standing up on their sides, pinwheel style. Fill the center with as many apple halves as possible. Lay any remaining apples on top (the apples can be packed down as they shrink). Cover with an inverted large steel bowl and cook over medium heat. After 10 minutes, wriggle in a few of the apples that you placed on top to tighten your spirals. Cook for another 10 minutes, continuing to pack down the apples. Mix together the spices and sprinkle over the apples.
When the liquids are thick and the apples are tender, drape the pastry over the top of the apples and tuck in the edges. Bake for about 30 minutes, until the pastry is golden brown and cooked through. Remove from the oven and let stand for 10 minutes. Cover the tart with a large plate and very carefully invert the tart onto the plate. Using a rubber spatula dipped in butter, smooth the top of the apples out. Serve with crème fraîche or whipped cream.
• Apple & Cranberry Crumble
• Apple Crumb Cake
• Fried Apple Hand Pies