By Andrew Zimmern
Just in time for Father's Day, I made a delicious Thai grilled beef salad. With aged beef and fresh veggies and herbs, you can put together a healthy, satisfying meal that is sure to wow Dad and your guests. Also, I used four different cuts of meat from Snake River Farms, and I teach you how to butcher, grill, and slice them! This post contains affiliate links, but all opinions are my own.
Here are a few of my favorite cuts for this recipe:  New York Strip | Flat Iron | Hanger | Skirt Steak
Watch me make this recipe :
Like this recipe? Save it on Pinterest!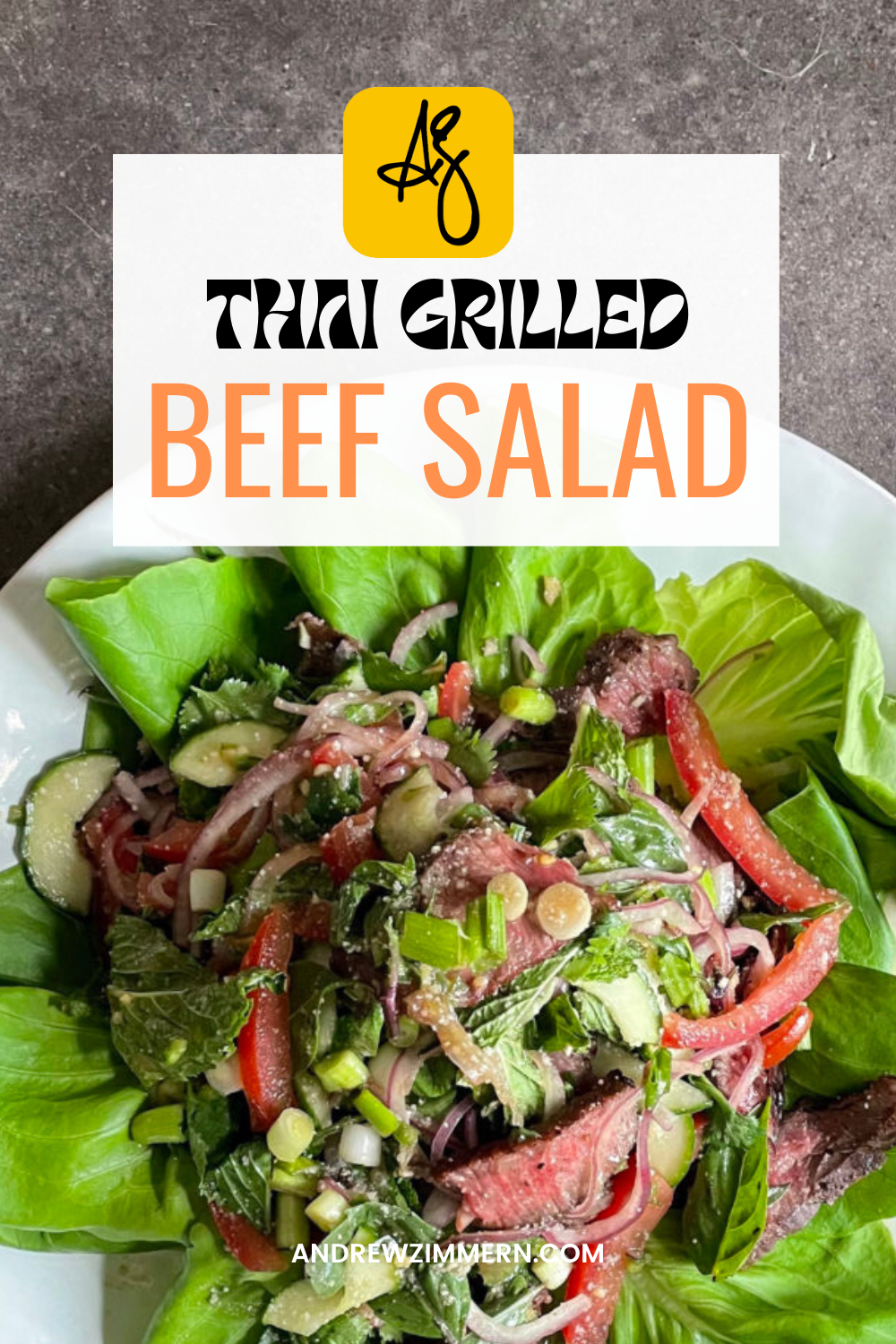 Thai Grilled Beef Salad Recipe
---
Ingredients
1 pound aged beef. Flat iron, skirt steak or a NY strip work great.
1 small red onion, halved and sliced
3 roma tomatoes or similar, seeded and trimmed, cut in julienne
1/3 cup mint leaves
1/3 cup cilantro leaves
Handful of Thai basil leaves, torn
1 minced serrano chile or 2 Thai bird chiles
1 minced garlic clove
1 teaspoon minced ginger
4 scallions, chopped
2 tablespoons brown sugar or more to taste, some like it sweeter.
2 tablespoons fish sauce
2 tablespoons lime juice
1/2 teaspoon ground white pepper
1 tablespoon toasted rice powder or more to taste.
Large butter lettuce leaves to serve in, use the interior of the heads, chopped in the salad.
Sliced Cucumbers, mint sprigs and cilantro sprigs for garnish
Instructions
Grill/char your steak over a natural hardwood charcoal fire to just past rare. It needs to rest for 25 minutes.
While meat is resting on a plate, assemble the rest of the salad.
Combine the chiles, ginger, pepper, sugar, fish sauce, lime juice and garlic. Set aside.
Combine the onion, tomato, mint, basil, cilantro, and rice powder. Set aside.
Lay a lettuce leaf or two on each of 4 plates/bowls.
Slice the meat paper thin and toss with the dressing. Toss the dressed meat with the vegetable-herb mixture.
Immediately divide the salad onto the lettuce leaves, garnish with herb sprigs, cucumber slices and serve.