By Andrew Zimmern
Thai basil makes this easy weeknight chicken stir fry sing. Garnish with cashews, black sesame and cilantro for a perfect, craveable meal.
Like this post? Save it on Pinterest!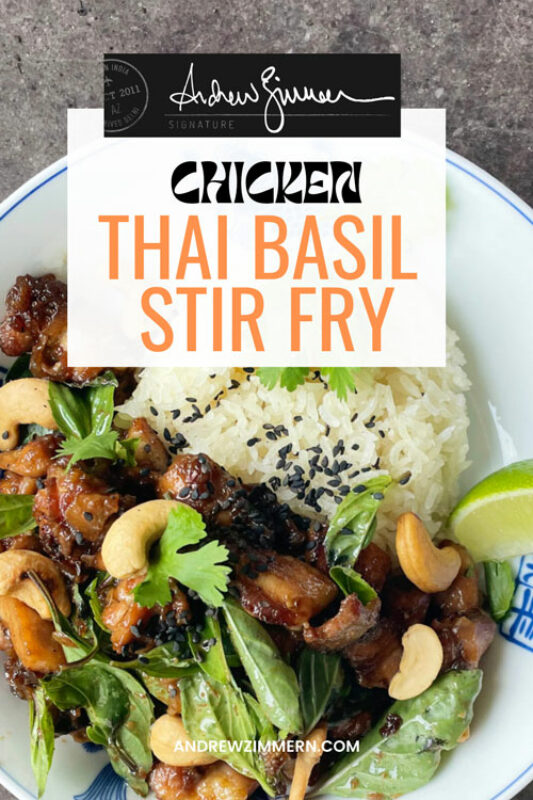 Chicken & Thai Basil Stir Fry
---
Ingredients
2 or 3 Serrano or red Fresno chiles, chopped
1 golf ball sized piece of ginger, sliced
3 garlic cloves, sliced
1 tablespoon oyster sauce
1/4 cup brown sugar
2  1/2 tablespoons fish sauce
3 tablespoons peanut oil
1 pound boneless skinless chicken thighs, cubed
3 tablespoons toasted rapeseed oil (Chinese toasted canola oil)
Several sliced shallots
1 large fistful Thai basil leaves
Garnish: cilantro sprigs, lime wedges, black sesame seeds, toasted cashews
Cooked rice, for serving
Instructions
Combine the peppers, ginger, garlic, oyster sauce, sugar, fish sauce, salt, and peanut oil in a blender. Combine marinade and chicken in a work bowl and toss.  Refrigerate for an hour or two.
Place the toasted rapeseed oil in a large seasoned skillet over high heat. When oil smokes add the shallots and chicken. Leave any marinade behind. Cook for a few minutes to cook through, it shouldn't take long. Pull pan from the heat and toss the basil in… plate over rice bowls, garnishing as you like, see tips above.