Pickled Shrimp, Crisp Artichokes & Butter Lettuce
By Hugh Acheson
The core of this dish is a timeless pickled shrimp recipe from my first book. Here you take those beautiful shrimp and turn them into a meal with sweet, crisped artichokes that will delight everyone at the table. The ingredients list looks long, but don't let it fool you. You can just prepare the shrimp and enjoy them all by themselves if you want.
Recipe from The Broad Fork by Hugh Acheson. Order your copy here.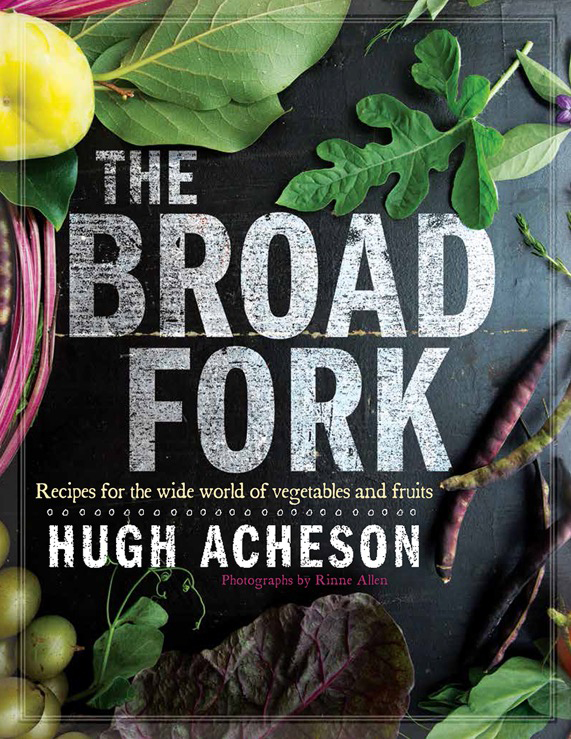 Pickled Shrimp, Crisp Artichokes & Butter Lettuce
---
Ingredients
2 tablespoons freshly squeezed lemon juice
6 baby artichokes
1/2 cup olive oil
Kosher salt
1 tablespoon white wine vinegar
2 tablespoons chopped capers
1 tablespoon salt-packed anchovies, rinsed and finely minced
1/2 cup chopped Pickled Fennel
2 tablespoons thinly sliced scallions (white and pale green parts)
Pickled Shrimp (recipe follows), drained, bay leaves discarded
6 leaves butter lettuce, torn in half
Pickled Shrimp
2 tablespoons Old Bay Seasoning
1 pound shrimp (I like 26 to 30 count for this), peeled and deveined
1/2 teaspoon celery seeds
1/4 teaspoon allspice berries
1/2 teaspoon crushed red pepper flakes
1 tablespoon sea salt
1 cup olive oil
1/3 cup freshly squeezed lemon juice
2 garlic cloves, minced
12 dry bay leaves, or 6 fresh bay leaves
1/4 cup fresh flat-leaf parsley leaves, minced
1/2 medium Spanish onion, thinly sliced
Instructions
Fill a medium-size bowl with cold water and add 1 tablespoon of the lemon juice to it. Set it near your work area.
Peel off and discard the tough exterior leaves of the baby artichokes. Using a serrated knife, slice off the stiff tips of the artichokes. Then, using a paring knife, peel away the skin from the stems. Slice each artichoke in half lengthwise. Cut each half into 3 wedges. As you work through this process, place the cut artichokes in the bowl of acidulated water; this will prevent them from oxidizing and browning.
Once the artichokes have all been prepared, remove them from the water and thoroughly pat them dry with paper towels. Place a large sauté pan over medium-high heat. Add 1/4 cup of the olive oil, and when it is shimmering hot, add the artichokes, giving them room in the pan to brown well. Cook them for about 2 minutes, turn them over, and cook for another 2 minutes, until golden and crisp. Remove from the pan and set on paper towels to drain.
Place the crisped artichokes in a bowl and dress them with kosher salt to taste, the remaining tablespoon of lemon juice, the remaining 1/4 cup of olive oil, and the vinegar, capers, and anchovies. Add the pickled fennel, scallions, and pickled shrimp, and toss gently. Add the butter lettuce, toss once, and serve.
Pickled Shrimp
Instructions
Makes 1 pound, plus pickling liquid
Prepare an ice bath and set it near the stove.
Bring 2 quarts of water to a boil in a large saucepan. Add the Old Bay and the shrimp, and immediately reduce the heat to low. Cook for about 2 minutes, or until the shrimp are pink and just cooked through. Drain, and plunge the shrimp into the ice water to cool. When the shrimp have cooled, drain them, and reserve in the fridge until you have your pickling stuff all prepped.
Grind the celery seeds and allspice berries together in a spice grinder. Set aside.
Combine the ground celery seed and allspice, the red pepper flakes, and the salt, olive oil, lemon juice, garlic, bay leaves, and parsley in a bowl and stir to combine.
In a clean, nonreactive container, arrange the shrimp, onions, and pickling mixture in layers. Repeat. Cover, and let sit in the fridge for 24 hours before serving. The shrimp will keep in the fridge for 3 to 4 days.
Recipes reprinted from The Broad Fork: Recipes for the Wide World of Vegetables and Fruits. Copyright ©2015 by Hugh Acheson. Photographs by Rinne Allen. Published by Clarkson Potter/Publishers, an imprint of Penguin Random House LLC.