Shakshuka
A one skillet recipe with bright North African and Mediterranean flavors, shakshuka is an easy dish of eggs baked in a savory, red pepper and spicy tomato sauce. It's an impressive but foolproof brunch or lunch, and a compelling argument for eggs for dinner.
Tips for making a delicious shakshuka:
In the summer, I love making this dish with yellow tomatoes. I peel 4-5 pounds of yellow tomatoes, pass them through a food mill, and use that instead of canned tomatoes.
I never used to add feta cheese to my shakshuka, but I started to a few years ago and WOW is amazing.
I like to use shallot in my recipe. As a variation, you can also use onion, leeks, or chives. I personally love biting into big pieces of cooked shallot mixed with the tomato-y sauce.
If you don't like spicy food, you can skip the hot chile (I like serranos here). I like it in mine, and traditionally in Israel they serve this with a big bottle of hot sauce on the table.
A trick for the garlic in this recipe: place it on top of the shallots, not directly into the oil, which will keep it from scorching. Eventually, you'll work it into the sauce.
I like to serve this with crusty bread, but pita bread works, too.
You can buy roasted peppers, but they're nothing compared to roasting them yourself. In the video below, you can see how I do this in my own kitchen.
Like this post? Save it on Pinterest!
Like this post? Save it on Pinterest!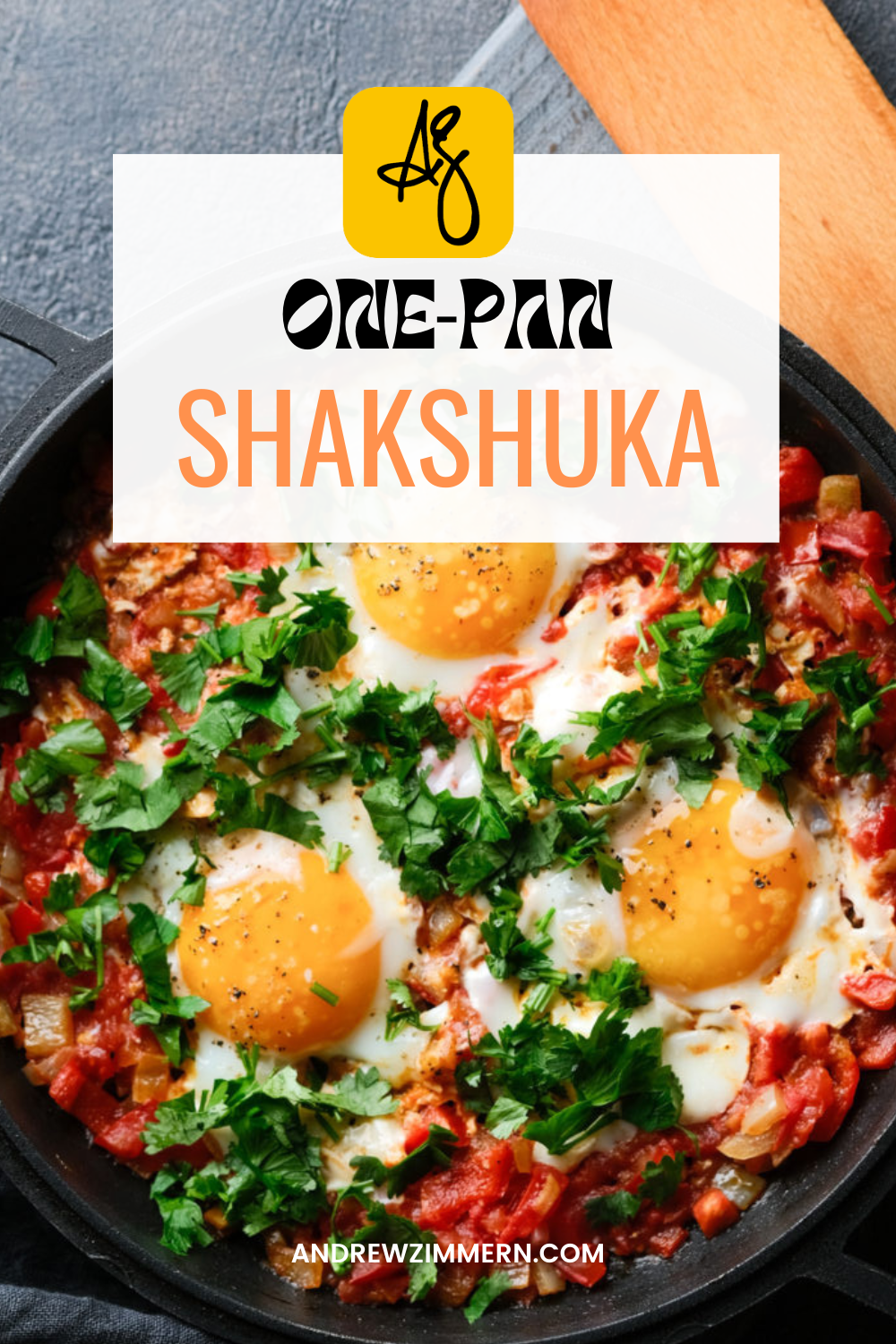 Watch me make this live on Instagram:
View this post on Instagram
Shakshuka Recipe
---
Ingredients
1/4 cup olive oil
4 shallots, peeled and halved (or 1 onion, halved and thinly sliced)
3 garlic cloves, thinly sliced
1 fresh hot chile, minced (I prefer serrano chiles for this)
1/2 cup dry red wine
1 tablespoon AZ & Badia Moroccan Moon spice blend
1 28-ounce can whole plum tomatoes with their juices, coarsely chopped (I use scissors to cut them while the tomatoes are in the can)
1 large red bell pepper, roasted over open flame, peeled, seeded and chopped
Salt and pepper
6 ounces good quality feta
6 large eggs
 Chopped cilantro and/or parsley, for garnish
Instructions
Preheat oven to 400 degrees.
Heat oil in a large ovenproof skillet over medium-low. Add shallots and cook until starting to brown. Add the garlic and chile and cook for a minute. Add the wine and Moroccan Moon spice blend. Cook until pan is almost dry. Pour in tomatoes and peppers, and season with salt and pepper. Simmer until tomato juices have almost evaporated and sauce is thickened, about 12 minutes. Taste and adjust seasoning.
Gently crack eggs into skillet over tomatoes, evenly spaced. Sometimes I make small depressions with a spoon so they are seated more evenly. Season with salt and pepper. Sprinkle crumbled feta around the eggs. Put skillet into oven and bake until eggs are just set, 7 to 10 minutes. Sprinkle with cilantro and serve.