Classic Roast Chicken
The classic way to cook chicken is still the simplest and best. Roasting the bird at high temperature crisps the skin as it protects the flesh, keeping it moist. And roasting the chicken on its side helps the legs, which usually take longer than the breast, cook faster, and also keeps the breast moist. Do not cover the bird with foil after it is roasted, or it will steam and taste reheated. For maximum flavor, the chicken should be served no more than 45 minutes after roasting.
Recipe from Jacques Pépin Poulet & Legumes, a limited edition cookbook of Jacques' favorite recipes for chicken and vegetables.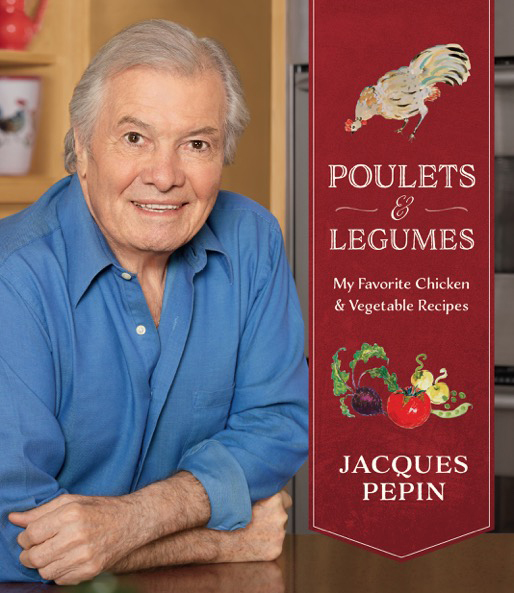 How to Roast a Chicken Like Jacques Pepin
---
Ingredients
1 chicken (about 3  1/2 pounds)
1/2 teaspoon salt
1/2 teaspoon freshly ground black pepper
1 tablespoon olive oil
2 to 3 tablespoons water
1 bunch watercress, trimmed, washed, and dried
Instructions
Preheat the oven to 425 degrees.
Sprinkle the chicken inside and out with the salt and pepper.
Heat the oil in a large ovenproof nonstick skillet until it is hot but not smoking. Place the chicken on its side in the skillet and brown it over medium-high heat for about 2½ minutes. Turn the chicken over and brown it on the other side for 2½ minutes.
Place the skillet, with the chicken still on its side, in the oven and roast, uncovered, for 20 minutes. Turn the chicken onto its other side and roast for another 20 minutes. Finally, turn the chicken onto its back, baste it with the fat that has emerged during cooking, and roast for 20 minutes, or until an instant-read thermometer reads between 150 and 160 degrees.
Remove the chicken from the oven and place it, breast side down to keep the breast meat moist, on a platter. Pour the drippings from the skillet into a bowl and set aside.
Deglaze the skillet by adding the water and stirring to loosen and melt the solidified juices. Add to the drippings in the bowl and let stand briefly, then skim off and discard most of the fat, leaving the natural pan juices.
To serve, carve the chicken, separating the drumsticks from the thighs and cutting each breast in half. Arrange a piece of dark meat and a piece of white meat on each of four plates. Garnish each serving with a few sprigs of watercress and serve with the pan juices.
• Jacques Pepin's Eggs in Pepper Boats
• Chicken Jardiniere
• Roasted Chicken with Ratatouille